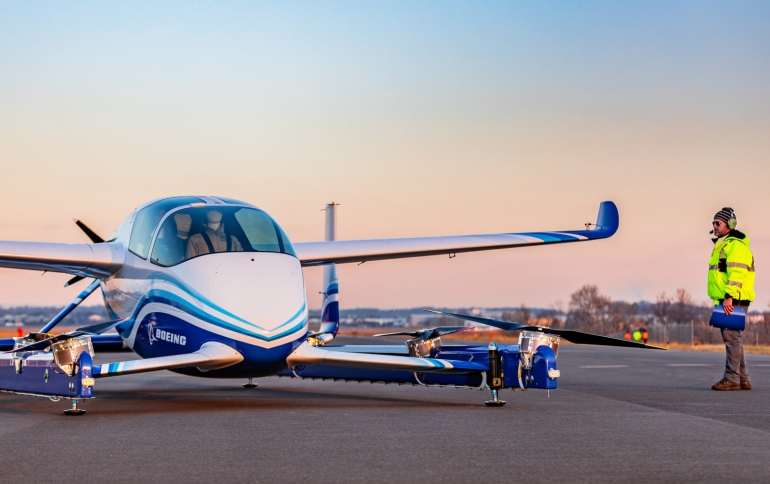 Boeing Successfully Tested Flying Passenger Drone
A Boeing flying car designed to cary passengers over congested city streets and dodge skyscrapers completed its first test flight on Tuesday.
The first test flight of the company's autonomous passenger air vehicle (PAV) prototype was completed in Manassas, Virginia.
Boeing NeXt, which leads the company's urban air mobility efforts, utilized Boeing subsidiary Aurora Flight Sciences to design and develop the electric vertical takeoff and landing (eVTOL) aircraft.
The PAV prototype completed a controlled takeoff, hover and landing during the flight, which tested the vehicle's autonomous functions and ground control systems. Future flights will test forward, wing-borne flight, as well as the transition phase between vertical and forward-flight modes. This transition phase is typically the most significant engineering challenge for any high-speed VTOL aircraft.
"In one year, we have progressed from a conceptual design to a flying prototype," said Boeing Chief Technology Officer Greg Hyslop. "Boeing's expertise and innovation have been critical in developing aviation as the world's safest and most efficient form of transportation, and we will continue to lead with a safe, innovative and responsible approach to new mobility solutions."
Powered by an electric propulsion system, the PAV prototype is designed for fully autonomous flight from takeoff to landing, with a range of up to 50 miles (80.47 kilometers). Measuring 30 feet (9.14 meters) long and 28 feet (8.53 meters) wide, its advanced airframe integrates the propulsion and wing systems to achieve efficient hover and forward flight.
The test flight represents the latest milestone for Boeing NeXt. The division works with regulatory agencies and industry partners to lead the introduction of a new mobility ecosystem and ensure a future where autonomous and piloted air vehicles safely coexist. In addition to the PAV, the Boeing NeXt portfolio includes an unmanned fully electric cargo air vehicle (CAV) designed to transport up to 500 pounds (226.80 kilograms) and other urban, regional and global mobility platforms. The CAV completed its first indoor flight last year and will transition to outdoor flight testing in 2019.
The Chicago-based plane maker and arch rival Airbus SE are among a slew of companies racing to stake a claim on flying cars and parcel-hauling drones, which have the potential to be the next disruption to sweep the aerospace industry. Boeing's push was boosted by a 2017 acquisition of Aurora Flight Sciences, whose projects include a new flying taxi it is developing with Uber Technologies Inc.
Others are also rushing rotorcraft concepts to market. Vahana, the self-piloting air taxi developed by A3, Airbus's tech-centric Silicon Valley outpost, completed its first test flight last year. Intel and EHang Inc. are also testing their flying vehicles.
Airbus SE's prototype flying taxi will also take to the skies in coming weeks after powering up for the first time toward the end of last year.
The CityAirbus will be trialed at the planemaker's helicopter plant in Donauworth, Germany, it said Wednesday. Initial flights will be unmanned as Airbus seeks to establish the four-seat model's capabilities for full autonomy and focuses on tests that don't require a pilot.
The CityAirbus is designed to operate within urban environments at three times the speed of average road vehicles. The aircraft, which is propelled by electric motors and can take off and land vertically, could enter service as early as 2023.
Flight testing will begin with brief takeoffs, building up to longer missions. Should the project get the go ahead, the model would fly either with a full load of passengers or three passengers and a pilot, depending on the regulatory situation at the time.
es.