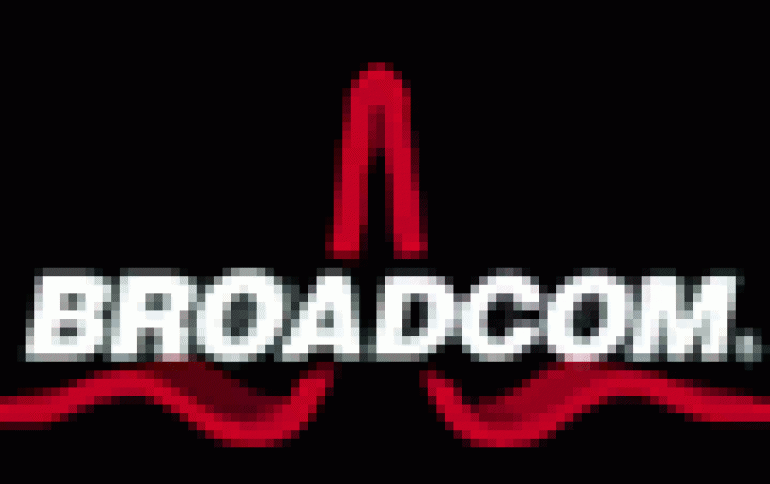 Broadcom Launches First 5G Wi-Fi Chips at CES
Broadcom today introduced its first family of 802.11ac (5G WiFi) chips designed for a broad range of product segments. The new IEEE 802.11ac chips are three times faster and up to six times more power efficient than equivalent 802.11n solutions.

5G WiFi is the next generation Wi-Fi standard. Based on 802.11ac, 5G WiFi is a major step from the existing 802.11a/b/g/n networks. Broadcom's 5G WiFi improves the wireless range in the home, allowing users to watch HD-quality video from more devices, in more places, simultaneously. Since 5G WiFi transfers the same volume of data at a much faster rate, devices enter low-power mode faster, which results in significant power consumption advantages.

Broadcom's family of 5G WiFi solutions includes the BCM4360, BCM4352, BCM43526 and BCM43516. All new 5G WiFi solutions support the following features:

- 80 MHz channel bandwidth that is 2 times wider than current 802.11n solutions
- 256-QAM, a higher modulation scheme that increases data transfer efficiency
- Transmit and receive beamforming
- Low Density Parity Check (LDPC) Codes
- Space-Time Block Codes (STBC)

- The BCM4360 supports the PCIe interface and implements 3-stream 802.11ac specifications, and reaches speeds up to 1.3 Gbps.

- The BCM4352 and BCM43526 implement 2-stream 802.11ac specification to reach up to 867 Mbps. BCM4352 supports PCIe interface; BCM43526 supports the USB interface.

- The BCM43516 supports USB and reaches speeds of up to 433 Mbps with its single stream 802.11ac implementation.

Chips with the PCIe interface are ideal for access points, routers, DSL/cable gateways and PC products; chips that use USB are ideal for consumer electronics devices including televisions, set-top boxes and Blu-Ray players.

Designed on 40nm manufacturing process, the new chips are smaller and more power efficient. They are also working with all legacy 802.11 standards and complement other wireless technologies - like Wi-Fi Direct, Bluetooth and NFC.

Broadcom is currently sampling 5G WiFi solutions to its early access partners including retail and PC OEMs, service providers and carriers, and will be demonstrating 5G WiFi capabilities at CES.

First Integrated MoCA 2.0 System-on-a-Chip

Broadcom will also showcase the industry's first MoCA 2.0-Integrated Portfolio including six new set-top box (STB) and Hybrid IP Gateway system on a chip (SoC) platforms at CES 2012.

MoCA 2.0 redefines the standard for video distribution in the home by providing more than double the throughput performance and capacity compared to MoCA 1.1; critical power management capabilities for new low power requirements; and enhanced security for additional content protection.

The 40-nm MoCA 2.0-integrated STB and Gateway platforms are powered by its high performance dual-thread Zephyr (MIPS-based) CPU that delivers 3000 DMIPS with industry-leading processor capability.

By integrating MoCA 2.0 directly in the STB SoC Broadcom's new portfolio of HD STB and Hybrid IP Gateway solutions realize the benefits of MoCA 2.0 including double the video bandwidth, increased security and lower power. Broadcom's BCM7425 Dual HD Transcoding Gateway STB SoC features dual HD decoding and dual transcoding support for streaming simultaneous video broadcast content wirelessly to multiple devices, paving the way for advanced services like video conferencing and faster channel change with Broadcom's FastRTV technology.

Top operator support for MoCA 2.0 includes Charter, Cogeco, Comcast, Cox Communications, DIRECTV, DISH Network, Rogers Communications Inc., Time Warner Cable and Verizon's FiOS services.