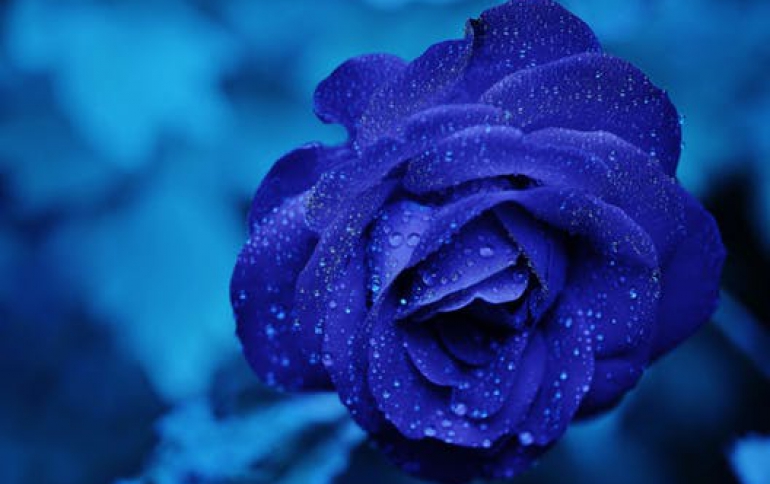 Canon Launches New Digital Cinema Camera For Motion Picture Production
Canon today raised the curtain on an all-new interchangeable-lens digital cinema camera that combines high imaging performance with mobility and expandability to meet the production needs of today's motion picture industry. The camera, which features a newly developed Super 35 mm-equivalent approximately 8.29-megapixel CMOS sensor, will be available in two models: the EOS C300 Digital Cinema Camera, equipped with an EF lens mount for compatibility with Canon's current lineup of interchangeable EF lenses for EOS single-lens reflex (SLR) cameras and new EF Cinema Lens lineup; and the EOS C300 PL Digital Cinema Camera, with a PL lens mount for use with industry-standard PL lenses.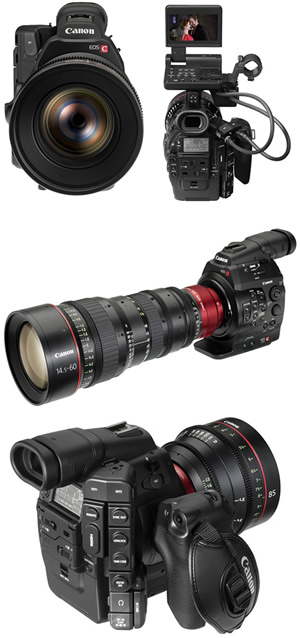 Equipped with an EF lens mount, the EOS C300 is supported by a cast of EF lenses, not only the array of interchangeable EF lenses for EOS SLR cameras, but also the EF cinema lenses in the Cinema EOS System. When outfitted with a Canon EF lens, the C300's peripheral illumination correction automatically corrects for vignetting in accordance with each lens's optical characteristics, and enables iris control from the camera. Canon EF lenses also enable the recording of such metadata as the name of the lens used, aperture setting and shutter speed.
The Canon EOS C300/C300 PL's newly developed Super 35 mm-equivalent CMOS sensor incorporates approximately 8.29 million effective pixels and has a pixel size that is larger than that for conventional professional camcorders, enabling greater light-gathering capabilities for enhanced sensitivity and reduced noise. The sensor reads Full HD (1920 x 1080 pixels) video signals for each of the three RGB primary colors, decreasing the incidence of moire while realizing high resolution with 1,000 horizontal TV lines.
Supported by a heightened signal read-out speed, the CMOS sensor reduces rolling shutter skews, a phenomenon prevalent with CMOS sensors in which fast-moving subjects may appear diagonally distorted. Additionally, the combination of the sensor with Canon's DIGIC DV III image processor facilitates high-precision gamma processing and smooth gradation expression.
In addition to MPEG-2 Full HD (MPEG2 422@HL compliant) compression, the EOS C300/C300 PL employs 4:2:2 color sampling for high-resolution performance that minimizes the appearance of "jaggies" at chroma edges. Additionally, with a maximum recording rate of 50 Mbps, the camera supports the recording of high-quality video.
The camera's video and audio recording file format adopts the industry-standard MXF (Material eXchange Format), an open source file format ideally suited for non-linear editing systems. Recording to CF cards, the EOS C300/C300 PL realizes high cost-performance and, equipped with two CF card slots, makes possible the simultaneous recording of video data to two CF cards.
With a compact body design measuring 5.2 (w) x 7.0 (h) x 6.7 (d) inches, the Canon EOS C300/C300 PL delivers maneuverability. In accordance with on-location shooting needs, the camera can be outfitted with a handle, grip, thumb rest and monitor unit, and offers an array of terminals, including HD/SD-SDI video output for the external recording of high-quality video content.
The camera is equipped with four start/stop buttons positioned at various locations to satisfy any preferred camera-holding style, and can be outfitted with a variety of third-party accessories, including matte boxes, follow focuses and external video and audio recorders. The unit also achieves integration with third-party editing systems and features dust-proof, drip-proof construction and built-in cooling system.
The new camera allows users to adjust image quality to match that of professional camcorders and EOS-series digital SLR cameras, and offers Canon Log Gamma, enabling flat image quality with subdued contrast and sharpness for freedom in post-production editing and processing. In addition to frame rates of 59.41i, 50.00i, 29.97P, 25.00P and 23.98P, the EOS C300/C300 PL features a 24.00p mode, matching the 24 frame-per-second frame rate of film cameras for high compatibility with common film-production workflows.
Other features include fast-motion shooting, achieved by capturing fewer frames per second to create action up to 60x normal speed, and slow-motion down to 1/2.5x made possible by capturing more frames per second. Frame rates between 1 and 60 frames per second (fps) can be adjusted in increments of 1 fps. Additionally, a selection of Custom Pictures lets users freely adjust image quality for greater control over how content looks.
The Canon EOS C300 (EF mount) digital cinema camera is scheduled to be available in late January 2012 for an estimated list price of $20,000. The Canon EOS C300 PL (PL mount) digital cinema camera is scheduled to be available in late March 2012 for an estimated list price of $20,000.