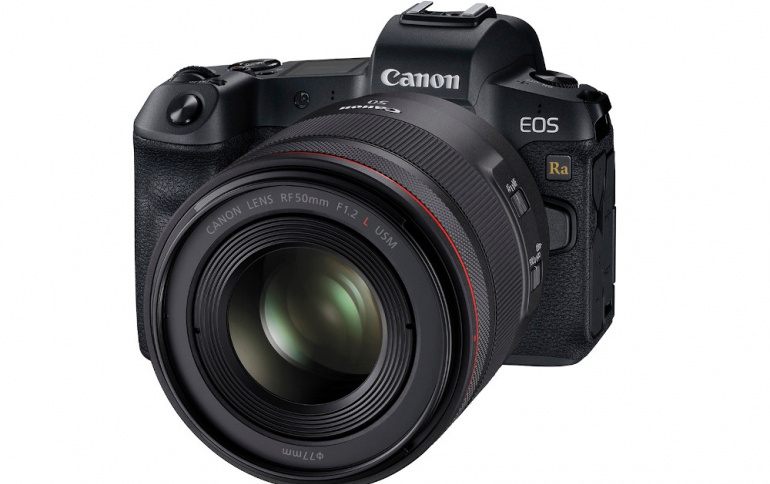 Canon Releases the EOS Ra Full-Frame Mirrorless Camera For Astrophotography
Helping to gaze and capture the beauty of the stars and beyond, Canon announced the company's first full-frame mirrorless camera for astrophotography, the EOS Ra.
Targeting the needs of astrophotographers, the new EOS Ra full-frame mirrorless camera incorporates many advanced features of the EOS R, such as RF mount design, a 30.3MP CMOS sensor, high-precision electronic viewfinder, high-sensitivity, low-noise performance and 4K time-lapse shooting. Optional accessories include an AC adapter kit, which allows the camera to be powered through an AC wall outlet or a battery-powered inverter, a BG-E22 battery grip and three EF-EOS R mount adapters to accommodate the entire range of over seventy EF & EF-S lenses.
Other features include:
Enhanced transmission of Hα rays (656.3 nm wavelength) through an infrared cutoff filter, helping to capture high-precision images of the deep-red wavelengths emitted by nebulae in vivid color, without any special camera alterations.
A 30x maximum magnification, allowing users to make extremely precise manual focus adjustments.
Support for all Canon RF, EF and EF-S lenses (with the use of an optional EF-EOS R mount adapter), including more than 70 lenses from the EF series as well as RF series lenses. The variety of lenses, such as the large-diameter f/1.2 lenses, ultra-wide-angle lenses, and super-telephoto EF lenses, among others, are all suited to help photographers to choose the best match for their specific astrophotography purposes.
The Canon EOS Ra full-frame mirrorless camera is scheduled to be available in mid-December 2019 for an estimated retail price of $2,499.00 for the body only.