Canon Unveils 12.8mp SLR Camera
Canon has announced the EOS 5D, which includes a 12.8-megapixel, full-frame 35mm CMOS sensor. The company has also debuted an improved version of the EOS-1D Mark II, which gains an N suffix. The EOS 5D is Canon's first SLR to combine a full-frame sensor - which measures 35.8-x-23.9mm - with a lightweight magnesium alloy body that weighs only 810g. It's driven by the same DIGIC II processor found in Canon?s higher-end EOS-1D SLRs. The full frame sensor sensor delivers a full angle of view without magnification or cropping effect. It provides tighter control over depth of field and improves image quality by capturing more light with its larger pixels.
The SLR can capture 60 large JPEG files at three frames per second, and has a 0.2 second start-up time, according to Canon. It features a 2.5-inch 230,000-pixel LCD monitor, which has a 170-degree field of view, says the company.
The camera features a new 9-point autofocus system that features six additional invisible Assist AF points located inside the spot-metering circle.
For photographers in a hurry, the EOS 5D includes a series of presets similar to those found in comsumer compact cameras. These include Portrait for optimized skin tones; Landscape for deep greens and blues; and Monochrome for black-&-white shooting - plus three user settings.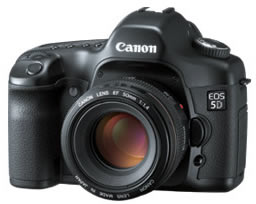 The SLR is compatible with all of Canon's EF lenses, including the EF 24-105mm f/4L IS USM lightweight image-stabilized lens, which was announced at the same time. The camera connects to computers using USB 2.0, or by the optional Wireless File Transmitter WFT-E1, which connects to any Wi-Fi network.
The EOS 5D costs $3900 plus VAT, with the EF 24-105mm f/4L IS USM lens costing $1330 plus VAT.
Upgraded EOS-1D
The EOS-1D Mark II N offers the same 8.2-megapixel resolution as its predecessor, and can capture images at 8.5fps. The upgraded buffer allows it to capture 48 frames in one burst in JPEG mode, and 22 in RAW mode.
The LCD monitor has increased in size from 2.0-inches to 2.5-inches, and a separate SD card slot (alongside the original CompactFlash slot) allows images to be capture in both RAW and JPEG.
The SLR features the same presets as the EOS-5D, replacing the Colour Matrix and parameter settings. It costs $4680 plus VAT.