Canon's new EOS 20Da
Canon has today announced that its specialized EOS 20Da, which was at first introduced as a Japan-only model, will now be available in the rest of the world. This camera is suited to astrophotography as well as infrared photography. The EOS 20Da is identical to the EOS 20D except for a modification to the low-pass filter, which now filters less infrared (IR). This camera is best suited to astrophotography as well as infrared photography. It would be possible to use it as a normal camera but would require an external IR cut filter. In addition the camera has a partially transmissive mirror, which enables live focusing on the LCD monitor (this can only be done for short times and requires the mirror to be locked up). Pricing has not yet been announced.
The low-pass filter positioned in front of the EOS 20Da?s 8.2 Megapixel CMOS sensor has been modified to yield sharper and higher contrast images of various astronomical phenomena such as diffuse reddish nebulae. The modification increases the transmission of light at the wavelength of 656nm, known as the Hydrogen Alpha line, or Hα wavelength, by a factor of 2.5x compared to the standard EOS 20D digital SLR.
While traditional digital SLRs lack a live preview on the LCD monitor due to the reflex mirror and shutter, the EOS 20Da digital SLR resolves this issue by locking up the mirror and opening the shutter to display a magnified live view of the subject on the 1.8? LCD monitor. (This feature is effective for night viewing conditions only. It cannot be used in bright light.) To ensure a sharp focus, the central portion of the image can be magnified on the LCD by 5x (4% of the picture area) or 10x (1% of the picture area). The live view mode can also be viewed through a TV monitor while connected to the EOS 20Da camera?s video OUT terminal.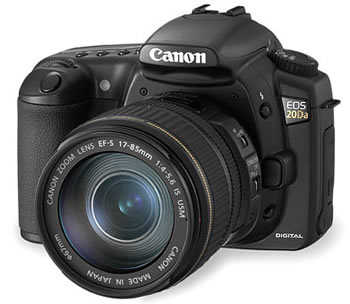 The EOS 20Da is compatible with all Canon EF and EF-S lenses including select image stabilised telephoto lenses. Photographers can also attach the EOS 20Da digital SLR to a telescope through the use of widely available T-mounts.
The EOS 20Da digital SLR features enhanced noise reduction for long exposures; achieved by incorporating an optimised CMOS control system. A custom function is also available for noise reduction, so users can enjoy the wide array of ISO settings ranging from 100-3200.
Other features
include an intelligent nine point autofocus system, full manual controls, five frames per second burst mode, and RAW, JPEG, and RAW+JPEG image recording capabilities. To reduce vibration at the start of the exposure, self-timer and mirror lock-up functions are integrated into the camera. The camera also features a backlit LCD display on top for easy setting adjustments in the dark.
Software
EOS 20Da is supplied with Canon EOS Solution Disk 9.1, containing EOS Viewer Utility 1.2, EOS Capture v1.2 and PhotoStitch 3.1. Canon Digital Photo Professional v1.6 and Adobe Photoshop Elements 2.0 is included to allow comprehensive image manipulation when needed.
Astrophotography accessories
To support the needs of astrophotography, Canon provides a full line of EOS system accessories compatible with the EOS 20Da digital SLR. For control over shutter release timing and to reduce vibration, Canon offers remote control solutions such as the Timer Remote Controller TC-80N3, and Remote Switch RS-80N3. When the camera is attached to a telescope, low angles can make composing shots through the viewfinder difficult ? Canon?s Angle Finder C attaches to the camera?s eyepiece allowing adjustment of the viewing angle while providing a 2.5x magnification. To increase battery life for even longer exposures, the optional Battery Grip BG-E2 uses two powerful Lithium-Ion battery packs. It can also be used with six AA batteries in the supplied BM-E2 battery magazine.
Availability
As a specialised product, the EOS 20Da is only available to order from selected dealers; each country has a number of specialist dealers that can take orders for this camera. These dealers will have the opportunity to place orders for a limited time only.