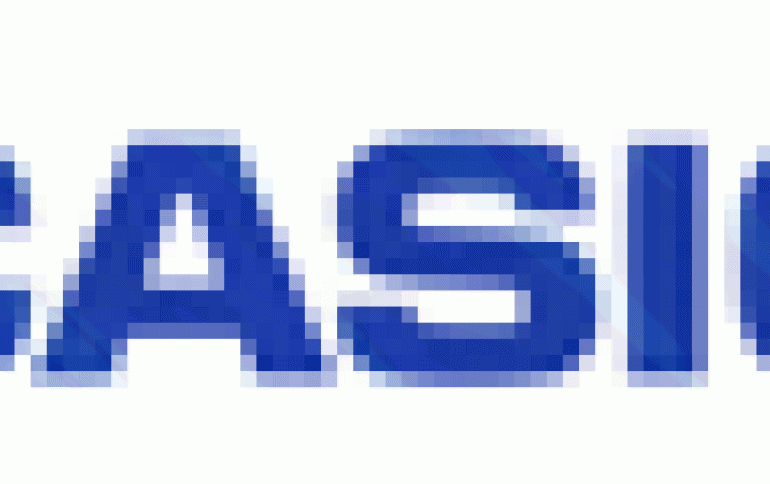 Casio Introduces New EX-P505 Digital Camera
The new Exllim Pro EX-P505 is a stylish digital camera equipped with a 5.0 megapixel imaging element and a 5X optical zoom.
The EX-P505 features a 5X optical zoom, an imaging CCD with 5.0 mega effective pixels, Casio's "EXILIM engine", and a large 2-inch TFT color rotating screen that makes angle shots a snap. It offers the same manual operation made famous by the EX-P600, as well as high-quality video shooting capability of 30 frames per second, in VGA size, thanks to the incorporation of MPEG-4 technology.
The very first EXILIM PRO model, EX-P600, is equipped with a 6.0 megapixel imaging element and a 4X optical zoom, along with user selectable aperture, shutter speed and other effects, assuring the exact desired results when taking portraits or other types of photos. Manual operation is so easy that beginners can enjoy taking great pictures right away. The EX-P700, the second in the series, continued the tradition of the EXILIM PRO series, and remains hugely popular with photographers of all levels.
Authentic manual operation puts the user in control With a CCD imaging element with 5.0 mega effective pixels, along with the advanced Exilim engine, remarkably detailed images can be taken with ease. The 5X optical zoom lens has macro capability down to 1 cm, as well as aperture priority or shutter priority automatic setting, along with manual exposure mode for completely manual operation.
High quality video shooting
The adoption of MPEG-4 technology enables full-scale high quality video shooting in VGA size (640 x 480 pixels) at 30 frames per second. "Movie BEST SHOT" allows the user to select from sample scenes for a wide range of shooting styles. "Short Movie" lets users film short movies during a single shutter, while other shooting and editing functions such as "MOTION PRINT" can be used to obtain a still image from a movie. The EXILIM PRO EX-P505 will be available at retail the end of February, MSRP $499.99.
From DesignTechnica