Cebit is about to begin
A large crew is working 24 hours a day in order to have everything prepared for the Cebit opening. We visited the preparations for watching the backstage's enviroment.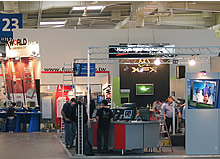 As it was expected all the greatest manufacturers are taking their places in a great booth for each. Sony is located in Hall 2 in an awsome place while Philips in order to impress everybody with the revealance of its dual layer recording has everything hide, away from sight. We got impressed from LG's booth which is large with a great decoration. Thus Pioneer is placed i Hall 1.