CES 2018: iBUYPOWER, MSI and ORIGIN Announce new Gaming PCs
CES closes its gates for this year but let's have a quick look at some interesting gaming PCs by iBUYPOWER, MSI and ORIGIN.
iBUYPOWER Case Builder
Built with creativity in mind, the Case Builder project allows you to con­figure the look and structure of your computer case upon purchase. Paint your canvas and fuel your imagination with the Snowblind Element, featuring a transparent LCD monitor display embedded into the PC case.
Designed and engineered by iBUYPOWER, the RGB Cable Combs serves as the final piece of the RGB puzzle, illuminating your cable management.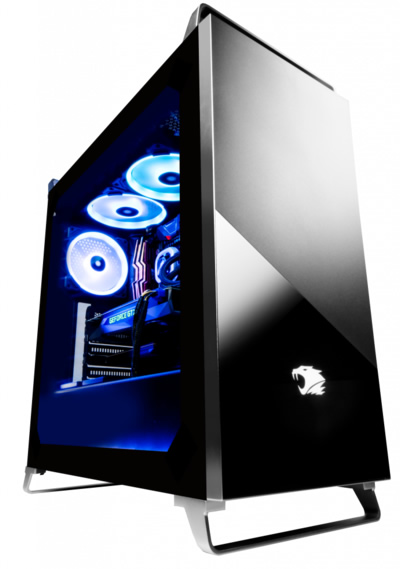 MSI
MSI launched three new gaming products at CES: the new Optix gaming monitor line-up, new gaming desktops, a motherboard, a graphics card, and the new GT75VR Titan Pro with Killer Wireless-AC 1550.
MSI is expanding its Optix gaming monitor line-up with the MPG curved gaming monitors. The new Optix MPG series will consist of two 27-inch monitors, the Optix MPG27C and Optix MPG27CQ. These have a curved VA panel with an 1800R curve. Both models feature a 144Hz refresh rate and 1ms response time, and the MPG27CQ is equipped with a 1440p WQHD screen, while the MPG27C has a 1080p screen.
Other features include:
SteelSeries GameSense built-in
Using the five RGB zones on the front of the monitor, gamers can program lighting effects in SteelSeries Engine to notify them of in-game timers or cooldowns, Discord notifications or other information they want at-a-glance. The back of the monitor has RGB lighting as well.
178-degree viewing angles
The screen uses an anti-glare VA panel with 100 percent and 115 percent coverage of the NTSC and sRGB spectrums respectively. It features 2 HDMI (2.0) ports, 1 DisplayPort (1.2), 1 USB 3.0 Type B, an Earphone out port, Kensington Lock, 1 Mic in port, 1 audio combo jack and 2 USB 3.0 Type A ports. It also has an adjustable stand and supports VESA mounting.
The Trident 3 Arctic
The Trident 3 Arctic has gotten even better with an upgraded Intel 8th Generation processor and NVIDIA GTX 1080 graphics card.
The Infinite X
The Infinite X features a more traditional tower design than the Arctic. It uses either dual steel or dual tempered glass side panels, Mystic Light RGB LEDs, MSI's graphics cards, Intel's 8th Generation CPU and MSI's Silent Storm Cooling 3 Pro liquid cooling. MSI also adds gaming benefits such as Silent Storm Cooling, automatic overclocking with Game Boost, super-speed storage configurations, Audio Boost and Nahimic for an incredible in-game sound experience.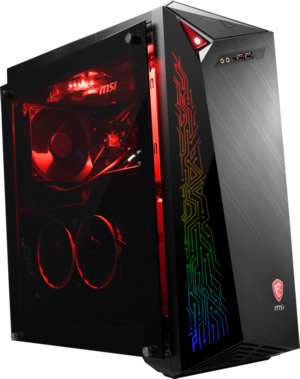 Additionally, the Aegis Ti3 gaming desktop will be available with an Intel 8th Generation processor later this year.
Z370 GODLIKE GAMING Motherboard
MSI showcased the Z370 GODLIKE GAMING motherboard based on the latest Intel 8th generation platform.
It handles internet connectivity fast thanks to the Killer xTend. The Killer xTend combines a built-in switch with wireless extender. Killer allows for traffic prioritization.
The motherboard supports Triple Turbo M.2 with M.2 Shield V2, Turbo U.2 with Steel Armor and has an Xtreme Audio DAC with Nahimic 2. The Z370 has four available slots for DDR4 RAM with Steel Armor. Steel Armor keeps the DIMM slots shielded to protect DDR4 modules and deliver pure data signals. It also supports multiple GPUs via NIVIDIA SLI or AMD CrossFire, with optimal slot placement for the best possible airflow.
MSI also unveiled a new GT75VR Titan Pro with the all-new Killer Wireless-AC 1550. Developed in partnership with Intel, the Killer Wireless-AC 1550 is a very fast 2x2 11ac wireless networking adapter delivering up to 1.73Gbps of throughput. The Killer 1550 features 160MHz channel support and can deliver twice the throughput of what standard 2x2 11ac adapters can deliver.
ORIGIN
ORIGIN PC announced this week the launch of their next-generation GENESIS, MILLENNIUM, and L-Class desktops for gamers.
Designed and built from the ground up by ORIGIN PC and running Windows 10, the next generation GENESIS, MILLENNIUM, and L-Class desktops now feature a new aluminum exterior with tempered glass side panels, tool-less upgradeability, and ORIGIN PC's patented Variable Mounting technology, which allows the motherboard to be mounted in four different orientations: Standard ATX, Inverted ATX, 90 degrees or Inverted 90 degrees and with no additional modifications needed.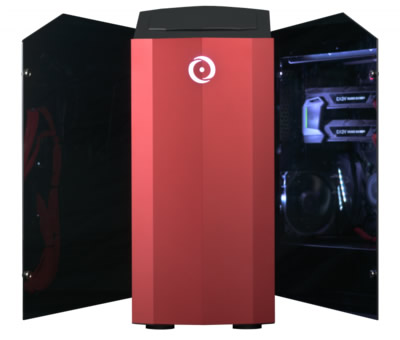 ORIGIN PC also gives you the ability to convert your MILLENNIUM or L-Class Full Tower into a GENESIS or L-Class Super Tower with an optional super tower expansion kit. With the optional super tower expansion kit, you can store additional dual 360mm radiators for improved system cooling, or add up to 12 (3.5 inch) or 24 (2.5 inch) storage drives for maximum storage.
Other features include:
Tool-Less Upgradability: Magnetic side panels and thumbscrews
Customizable and Swappable Tempered Glass or Aluminum Side Panels
Multiple PCI Cards in Any Orientation: ORIGIN Support any PCI based cards such as graphics cards, capture cards, or PCIe SSDs in any desired orientation.
Interchangeable Aluminum Front Door: Configure your ORIGIN PC desktop to open the front door to the left or right for convenient access to your optical drives, media card reader and all of your bay devices.
Top Panel Cover for Concealing Ports/Buttons: Gain instant access to your power and reset buttons or popular I/O ports such as (2) front mounted USB 3.0
Ports and (1) USB Type C Gen 2.0 ports by easily sliding the top panel cover up or down.
Super Tower Bottom Expansion Kit: Convert your MILLENNIUM or L-Class Full Tower to a GENESIS or L-Class Super Tower with the Super Tower
Bottom Expansion allowing space to add dual 360 radiators for increased cooling support or up to 24 (2.5 inch) additional storage drives.
Remote Controlled LED Lighting w/Motherboard RGB support: Customize the beautiful internal LED lights with over 16 colors and four effects using
ORIGIN PC's RF remote control. Switch between your case lighting synced with your motherboard or remote control with the push of a button. Every GENESIS, MILLENNIUM, or L-Class Desktop can sync with optional motherboard lighting software so you can have universal lighting inside and out.