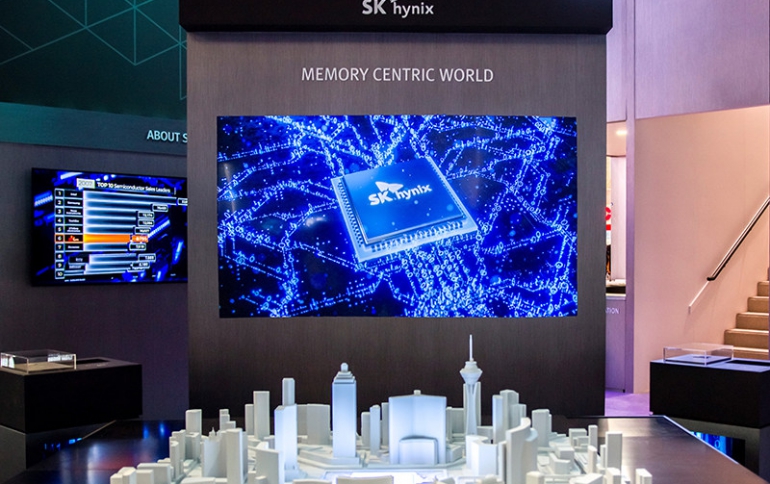 CES 2020: SK hynix Displays its Semiconductor Technologies
SK hynix Inc. presents its semiconductor technologies leading the 4th Industrial Revolution at CES 2020.
In line with its "Memory Centric World" theme, SK hynix depicts a futuristic city which effectively utilizes enormous amounts of data. The company also showcases its semiconductor solutions across six crucial business fields – artificial intelligence (AI), augmented reality (AR) / virtual reality (VR), automotive, Internet of Things (IoT), big data and 5G.
Headlining at CES 2020 are SK hynix's memory solutions including HBM2E, DDR5 for servers, and SSD. Other products are the company's LPDDR4X and eMMC 5.1, which are optimized for automobiles. What's more, SK hynix is displaying its LPDDR5 and UFS that enhance the performance of 5G smartphones as well as CIS (CMOS Image Sensor) which is essential in establishing effective environments for AR/VR and IoT.
The company's new DRAM products at CES 2020 also include its High Bandwidth Memory Extension product called HBM2E, which comes with enhanced data process capacity.
At the heart of SK hynix's work with AI is HBM2E, one of its latest innovations, which features the world's fastest high bandwidth memory. The ultra-high-performance product uses TSV technology to revolutionize the data processing speed faster than conventional DRAM.
Enterprise solid-state drives (eSSDs) also play a large role as they are specialized in AI servers where it is important to reliably store and manage vast amounts of data. eSSDs have high reliability, durability, and a power loss protection (PLP) function to ensure stability.
SK hynix's innovative memory semiconductor products such as LPDDR4X and eMMC 5.1 realize the next-generation advanced driving assistance systems (ADAS), in-vehicle infotainment (IVI), and dashboard systems.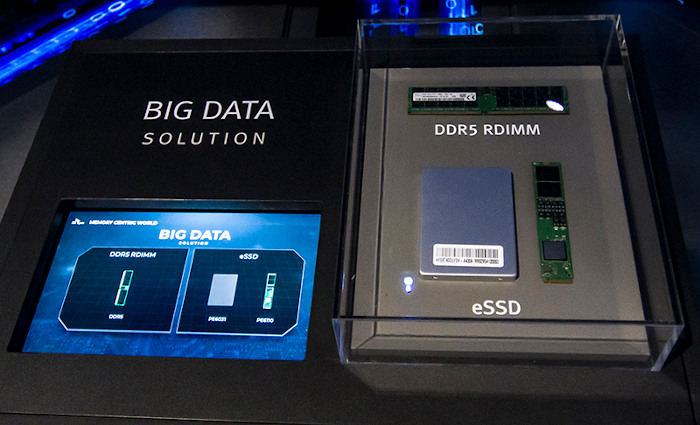 Additionally, SK hynix's LPDDR5 can be installed into homes and small companies. With its low power consumption, ultra-micro size, and ultra-high speed features, LPDDR5 is also one of the essential components of IoT devices.
DDR5 RDIMM offers ultra-high speed, high density, and stability. It is thus used for enterprise servers, machine learning, high-performance computing, and data centers, all of which process large amounts of data. Unlike general PC DRAM, they are equipped with a high-capacity module, and have secured reliability with ECC (Error-correcting code) function.
One of the most anticipated technology and biggest highlights at CES this year is 5G. For SK hynix that means:
Process 409GB of data per second with one HBM
Process 51GB, equivalent to 14 full HD movies (3.7GB each), in one second with 8GB LPDDR5, enabling high-quality streaming and mobile games
Transfer one full HD movie in 3 seconds with UFS 3.0 when transferring data stored in mobile device to PC with NVMe SSD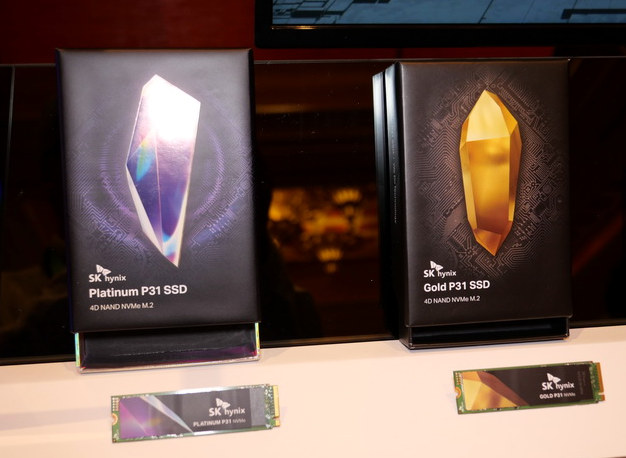 SK hynix is unveiling its PCIe NVMe SSD for general consumers for the first time at CES 2020. Available in a M.2 2280 form factor, the new "Platinum P31 NVMe" and "Gold P31" SSDs are based on the 128-layer NAND which was first mass-produced by SK hynix in June 2019. Compared to the previous SATA consumer SSD released in August 2019, the new product's read and write speed improved by over six times, according to the company. Their main differemce is only their capacities. The Platinum P31 NVMe is has a capacity of 2TB, while the Gold P31is available in capacities of 500GB and 1TB. Sequential read speeds are up 3,500MB / s, and write up to 3,200MB / s. They also offer excellent in durability -- the 2TB Platinum P31 NVMe is rated at 1,500TBW, while the 1TB Gold P31 SSD has a 750TBW. Based on an in-house developed controller, the new consumer SSDs will be available in mid-2020.
"SK hynix will begin the mass-production of its Terabyte-level high-performance NAND solution based on the 128-layer 4D NAND, and 1Znm DRAM in 2020," said an official at SK hynix. "The company plans to proactively respond to market changes by releasing highly-competitive products at the right time, all based on customers' demand."