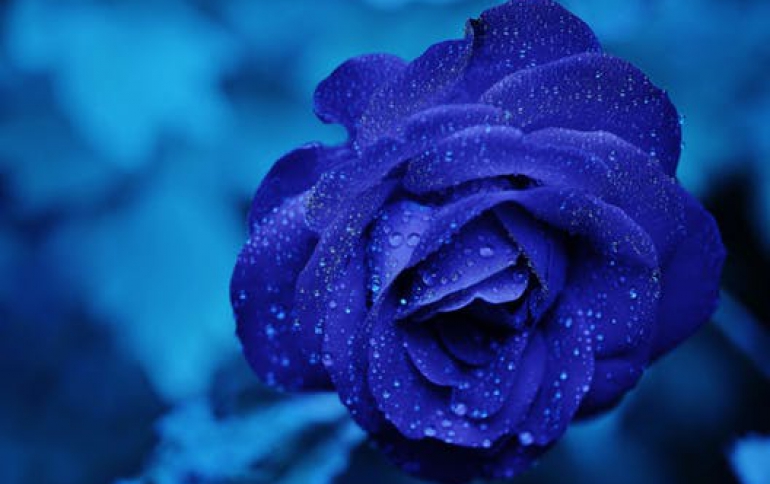 CES: Garmin Introduces Wearable In-Sight Display, New Sport Watches
Garmin International showcases at CES the Varia Vision, an in-sight display that helps enhance cyclists' road awareness by putting information in their line of sight. The company also announced an update to the fenix 3 multisport watches. Varia Vision
Varia Vision's mounting attaches to cyclists' sunglasses and displays key data from a compatible device, including performance data, turn-by-turn directions, incoming smart notifications and more. When paired with the Varia rearview radar system Varia Vision warns users of traffic approaching from behind.
Featuring eight hours of always-on battery life and a glove and wet-weather friendly touch panel to rotate between data displays, Varia Vision makes it easy than ever for cyclists to keep focus while riding. Its adaptable mounting allow it to attach on either arm of the glasses with a fully adjustable arm and eyepiece for optimum display positioning. Varia Vision is weighing approximately one ounce (29.7 grams) and its integrated ambient light sensor and color display ensure readability in all conditions.
Connect Varia Vision with a compatible Edge device (Edge 1000 Edge 520 EdgeExplore 1000) for integrated, customizable data screens to view performance stats and turn-by-turn prompts, including distance to turn plus street name and directional arrows. Varia Vision also connects with Varia rearview radar for in-ride, in-sight visibility of vehicles approaching from behind.
Vision also features vibration alerts for performance, navigation, or cycling awareness prompts, as well as incoming smart notifications allowing riders to receive alerts for incoming calls, texts and more without taking their eyes off the road.
Varia Vision in-sight display will begin shipping in Q1 and is available for $399.99.
New fenix 3 Sapphire multisport watches
Garmin has also updated the fenix 3 multisport watches that includes Garmin Elevate wrist-based heart rate technology, additional activity profiles and new watch bands.
The three new sapphire-lens options include a premium version featuring a titanium bezel and band, a version with interchangeable leather and nylon straps, and a version touting Garmin Elevate wrist-based heart rate. All watches are also getting a software update with new activity profiles for golf, stand up paddleboarding and rowing, as well as the latest running dynamics and physiological measurements.
This free update will be available to all current fenix 3 owners.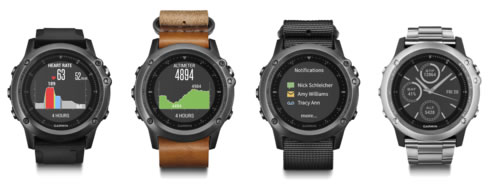 Now featuring Garmin Elevate wrist-based heart rate technology, fenix 3 HR users now have the freedom to measure heart rate 24/7 at the wrist. Users can get credit for their workouts and extra effort with the Intensity Minutes. By tracking daily Intensity Minutes, users can monitor their progress against weekly aerobic activity goals recommended by leading health organizations like the American Heart Association. Depending on settings, fenix 3 HR can get up to 40 hours of battery life in UltraTrac mode, 16 hours in GPS training mode, 3 weeks in watch mode and 2 weeks in smartwatch mode.
In addition, fenix 3 users will be able to utilize more data and physiological measurements. The new metrics include:
Stride Length: Measures the length of a runner's stride in real time.
Ground Contact Time Balance: Measures a runner's ground contact symmetry, which some runners have found to correlate with injuries or strength imbalances.
Vertical Ratio: The cost-benefit ratio of vertical oscillation to stride length, serving as one indicator of a runner's efficiency.
Lactate Threshold: Estimates the level of effort at which fatigue rapidly increases in terms of a runner's heart rate and pace.
Stress Score: Measures heart rate variability to make an assessment of a user's overall level of stress.
Performance Condition: Provides a real-time fitness-level measurement relative to a runner's average baseline, which indicates performance readiness for the day's workout or race.
The new fenix 3 models will still be compatible with the Connect IQ platform for customization options. Through the Connect IQ store in the Garmin Connect mobile app, users can download any of the free apps, widgets, watch faces or data fields.
The new fenix 3 Sapphire watches will be available in Q1 2016. The fenix 3 HR will have a suggested retail price of $599.99, the titanium fenix 3 Sapphire will have a suggested retail price for $799.99, and the fenix 3 Sapphire with leather and nylon bands will have a suggested retail price of $599.99.