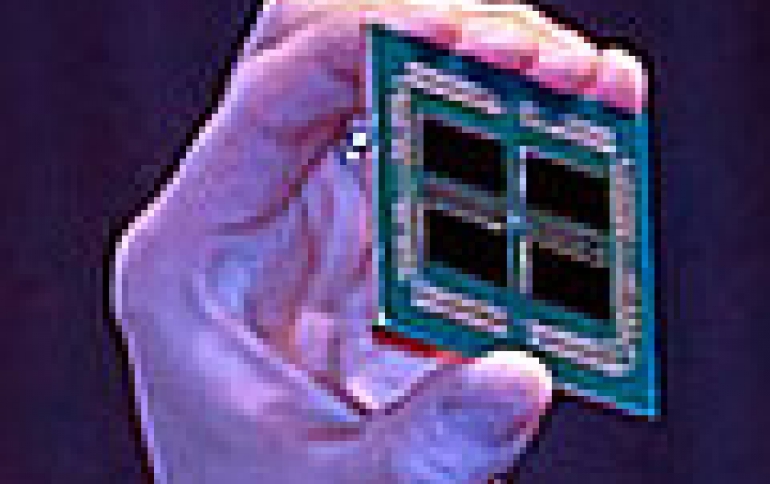 Computex: AMD to Launch 32-core Threadripper 2 this Year, Vega 7nm in the Works
AMD at Computex demonstrated its next generation of CPU and GPU product lineup, which includes the 7nm AMD Radeon Vega GPU products slated for launch in 2018, and the 12nm 2nd Generation AMD Ryzen Threadripper processors with up to 32 cores slated for launch in Q3 2018.
AMD also announced the availability of EPYC processors through Tencent Cloud Services, a new HPE single-socket system, details of its first Cisco UCS server platform, and that the next generation 7nm EPYC processor, codenamed "Rome", will begin sampling in 2H 2018.
AMD delivered the first public demonstration of 2nd Generation AMD Ryzen Threadripper processors - the second AMD 12nm product family - featuring up to 32 cores and 64 threads. 2nd Gen Ryzen Threadripper processors are scheduled to launch in Q3 2018, and promise to offer "outstanding performance in rendering, post production, and encoding workloads."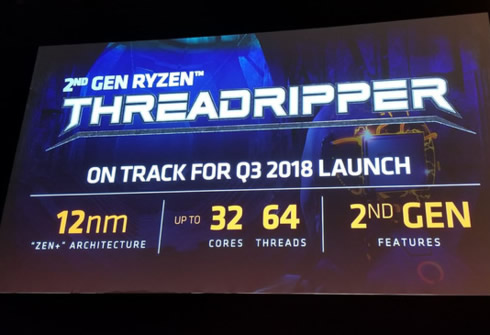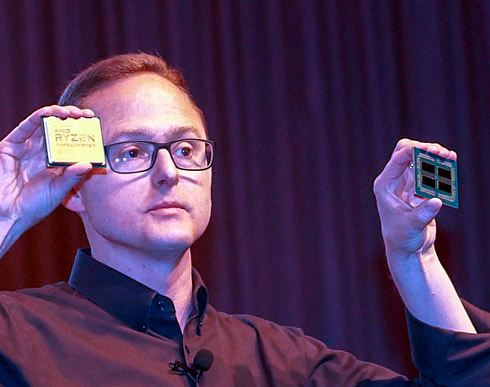 One day eralier, Intel wowed the Taipei crowds with a 28-core Core chip, which the company promised by the end of the year.
Threadripper 2 will be modeled on the second-generation Ryzen processor, based on 12nm, and the Zen+ architecture. It will be compatible with the same TR4 socket-and it will be air-cooled.
AMD emphasized on the 32 cores, 64 threads Threadripper 2 CPU, but more versions are also in the works, including a 24-core version that will appear in the third quarter.
According to the motherboard vendors, the new Threadripper 2000-series processors will have a peak TDP rating of 250W - much higher than 180W we saw on the 1950X. This means that some of the current X399 motherboards on the market might struggle with power delivery to the new parts, and so we are likely to see a motherboard refresh.
In notebooks, AMD launched a mobile version of Ryzen last October, pairing that up with a similar product for commercial systems in May. AMD claims it is delivering about 30 percent more CPU performance and about 100 percent more GPU performance than its competition from Intel.
AMD also continued to expand upon the AM4 desktop ecosystem for Ryzen desktop processors with the announcement of AMD B450 chipset-based motherboards. Optimized for 2nd generation Ryzen desktop processors, B450 chipsets, designed to offer a balance of features, performance, and value, will be available from ASRock, ASUS, Biostar, Gigabyte, and MSI.
David Wang, senior vice president of engineering for Radeon, showed off the company's roadmap, which includes the Radeon Vega GPU based on 7nm process technology built specifically for professional/datacenter applications. The Vega 7nm includes better security, Infinity Fabric, hardware virtualization, and deep learning logic. It will be complemented with an open software ecosystem for machine learning, Wang said. AMD showed off the 7nm GPU in action, paired with 32GB of HBM2 memory in a Cinema4D rendering demonstration.
The company said that 7nm Radeon "Vega" architecture-based Radeon Instinct has started sampling and will launch in both server and workstation form factors for key compute use cases in 2H 2018. The company also advised users to "stay tuned" for 7nm consumer GPUs.
AMD disclosed that the prototype Radeon Vega Instinct accelerator card carried 32 GB of HBM2 memory spread across four KGSD stacks. Assuming that these are 1024-bit HBM2 stacks, it looks like the new Vega got a 4096-bit bus.
AMD CEO Lisa Su reiterated that AMD's GPU roadmap hasn't changed from earlier this year. This means that after the 7nm Vega GPU for compute users, AMD will be bringing 7nm GPUs out to gamers & other consumers as well in the form of Navi.
AMD also revealed the Radeon RX Vega56 "nano" graphics card from PowerColor that enables small form factor enthusiast gaming performance, the latest Radeon FreeSync technology adoption with Samsung's 80" QLED TV for tear free and smooth gameplay directly from a Radeon RX graphics card equipped PC or with an Microsoft Xbox One S or Xbox One X console.
In addition, Freesync support with HDR1 now available in Ubisoft's recently launched AAA game Far Cry 5.
In the server segment, AMD announced growth in its EPYC processor.
The company said that the new HPE ProLiant DL325 Gen10 one socket server for virtualization and software-defined storage applications with up to 27% lower cost per virtual machine than the "two-socket competitor," pointing at Intel.
In addition, AMD has made available the EPYC based SA1 Tencent Cloud Service.
Last but not least, AMD dislosed that the next generation 7nm EPYC processor, codenamed "Rome" and featuring Zen2 architecture, is now running in AMD labs and will begin sampling in the second half of this year, ahead of launch in 2019.