1. Introduction
Connect3D X850 XT PE - 01 - Introduction
Connect3D is a manufacturer of graphics cards for the PC industry and a long time certified partner of ATI. From the Radeon 7000 to the latest X850 cards, Connect3D has always been present with competitive prices, top-notch products and excellent support.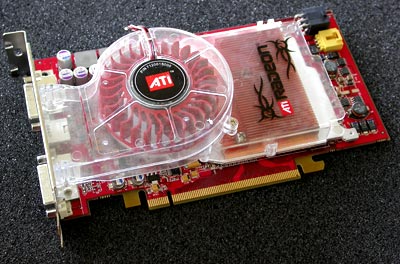 Connect3D X850 XT PE
The X850 XT cards are powered by ATi's latest GPU codenamed R480. This new processor is here to replace the R430 on the X800 XT. So what we have here, is a new series of high-end cards that this time offer native PCI-Express support. Time has proved that the number of X800 XT and XT PE chipsets manufactured could not cover the public's demand, but this time ATi seems confident that this won't happen again.
- Packaging/Bundle
Connect3D ships the card in a relatively small package, similar to that of the X800 XT PE. The basic features, such as model type (XT Platinum Edition), 256MB GDDR3 and PCI-Express bus support are printed on the sticker found on the box.
Apart from the ATI Radeon Driver CD, you won't find any other software bundled with the X850 XT. However inside the box, you will find one VGA to DVI adaptor, one 9-pin HDTV cable, one S-Video cable, one composite RCA video cable, one 4-in-1 VIVO cable and finally an adapter for the new 12V power connector found on the card.