1. Introduction
Club3D X850 XT - 01 - Introduction
Club3D has been one of the leading VGA companies in Europe. Apart from the production of all widely known ATi and Nvidia based graphics cards, recently they have set up a collaboration with S3 and XGI, introducing some alternative solutions into the market.
The X850 XT cards are powered by ATi's latest GPU, codenamed R480. They come in two flavours, the X850 XT and X850 XT Platinum Edition (from now on just PE). In this review, we'll be reviewing an X850 XT card from Club3D and see how well it performs against our previous review of a PE card from Connect3D.
- Packaging/Bundle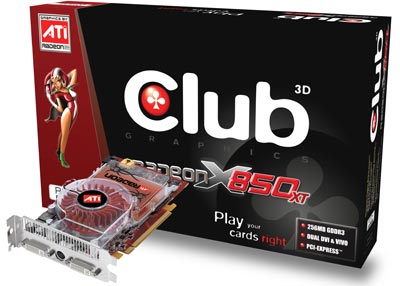 Club3D X850 XT
The Club3D X850 XT is packaged in an impressively designed box. Opening the cover unveils the card and the various accessories included with the card:
- DVI-to-VGA adaptor
- 9-pin HDTV Output Cable
- Composite (RCA) Video Cable
- S-Video Cable
- 9-pin VIVO Cable
- 12V PCI-E power connector
- a Club3D sticker for your case
Apart from these accessories, you will also find 3 CD-ROMs. A full version of Colin McRae Rally 04, one with Cyberlink's PowerDVD and PowerDirector 3 DE for DVD playback and video editing and finally a Club3D Graphics CD. This last CD includes ATi's Catalyst drivers, some ATi demos (unfortunately not the one with Ruby) and a Club3D screensaver.