16. Conclusion
Club3D X850 XT - 16 - Conclusion
Performance-wise, the Club3D X850XT holds the power to run most games with great framerates, encouraging you to enable features such as Anti-Aliasing and Anisotropic-Filtering to improve image quality.
The cost of the Club3D X850 XT varies around US$530. With the small performance difference we saw against a Platinum Edition X850 XT, it becomes clear that the X850 XT card offers much more bang for your buck.
Also with a little overclocking applied on the card, you can easily reach the frequencies of a PE. If you decide to push the clocks a bit further, the Club3D X850 XT can even outperform a PE.
The bundle includes a full version of Colin McRae Rally 04, Cyberlink's PowerDVD and PowerDirector 3 DE. The latter two are very common and accompany many products so you may already hold a copy of each. However, CM04 is a new addition, and as announced by Club3D, it will be bundled along with all high-end graphics cards.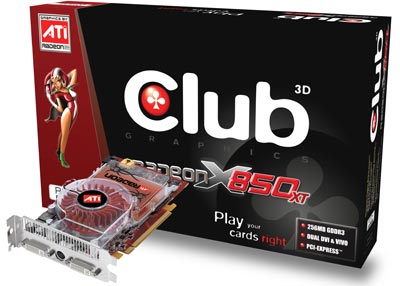 Pros:
-Great performance
-Overclockable to PE clock speeds.
-Low noise fan.
Cons:
-Expensive for most users

| | |
| --- | --- |
| | |
| | |
| | |
| | |