15. Overclocking
Club3D X850 XT - 15 - Overclocking
No matter your graphics card, there comes a time in your computer's life when it can no longer cope with the latest technology the ever so popular games use. This is one of the main reasons for overclocking your graphics card. Gamers are always looking forward for a little extra boost in terms of framerate. Even though most of the times the boost is far from noticeable, overclocking remains the last resort when you can't afford to buy a brand new VGA card.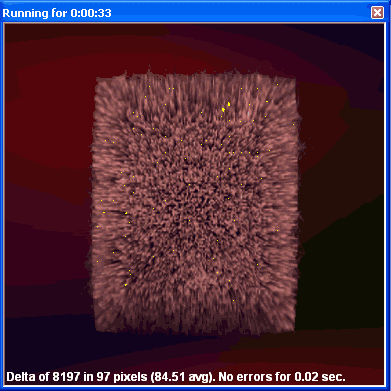 Increasing the memory clock too much,
produces the so-called "artifacts".
The default clock speeds for the Club3D X850 XT are 520MHz for the GPU and 540MHz for the memory. Our target is to clock the card up to a PE, which means 540MHz GPU and 590MHz memory frequency. For this purpose, we used ATITool version 0.0.23: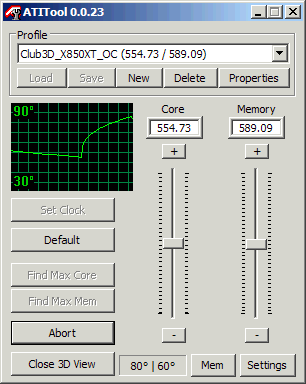 The highest stable settings we could achieve
Not only was 540/590 a stable combination of clock speeds but we were able to set the GPU clock much higher, up to 555MHz. Hopefully, these settings will help the X850XT overcome the difference in performance from a PE :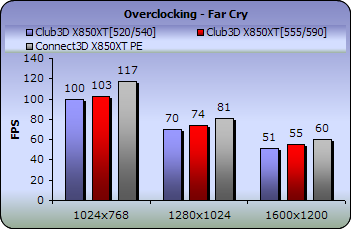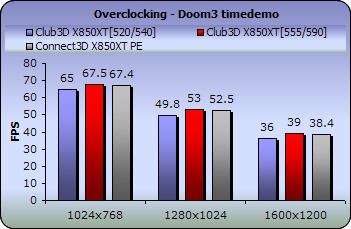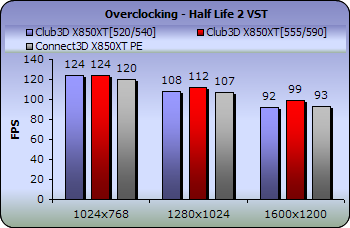 Except for Far Cry, with both Doom 3 and Half Life 2, the overcloked X850 XT from Club3D managed to edge out the Platinum Edition X850 XT. In Far Cry, the boost of 3-4 fps was unfortunately not enough to cover the 10fps difference.