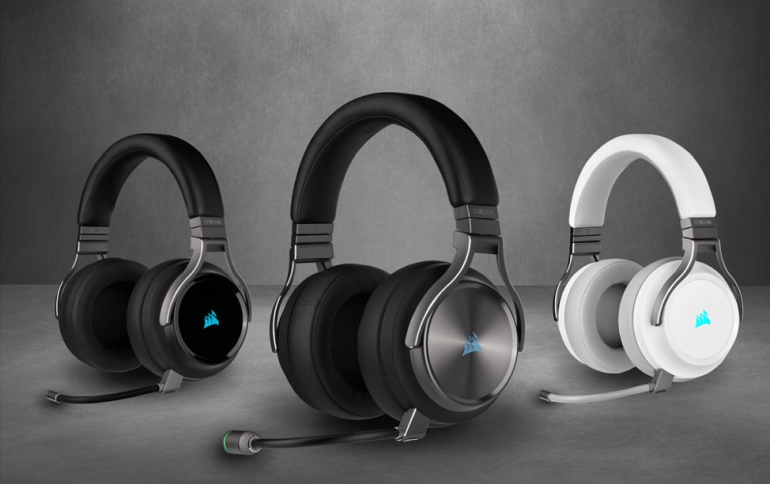 CORSAIR Releases New VIRTUOSO RGB Wireless Gaming Headsets
CORSAIR today launched its new flagship line of gaming headsets with the CORSAIR VIRTUOSO RGB Wireless and VIRTUOSO RGB Wireless SE.
Thanks to a pair of high-density 50mm neodymium audio drivers, carefully hand-matched to within +/-1dB of tolerance for high performance, the VIRTUOSO RGB Wireless boasts double the frequency range of typical gaming headsets at 20Hz – 40,000Hz.
The VIRTUOSO RGB Wireless features a detachable, omni-directional broadcast-grade microphone with up to 10,000Hz frequency response, nearly double the range of typical wireless gaming headsets.
While traditional headsets are limited to one connection type, the VIRTUOSO RGB Wireless offers three different ways to connect to a vast variety of sources, however you play or listen. Connect to your PC with SLIPSTREAM WIRELESS technology for a unwavering signal, letting you play completely untethered from anywhere in the room with up to 60ft of range. For the utmost sound quality, plug in via USB to enable both high-fidelity 24bit/96kHz audio and 7.1 surround sound. Finally, a universal 3.5mm four-pole connector ensures compatibility with the widest range of devices, from DACs and audio players to consoles and mobile devices.
Its machined aluminum construction means the VIRTUOSO RGB Wireless can sit comfortably on your head for hours at a time, while the soft cushioning of its plush memory foam earpads creates a comfordable listening experience for gaming, streaming, or media. An integrated battery provides up to 20 hours of wireless battery life, aided by an accelerometer-based smart-wake function that preserves power when you put the headset down, and automatically turns it on when you pick it back up.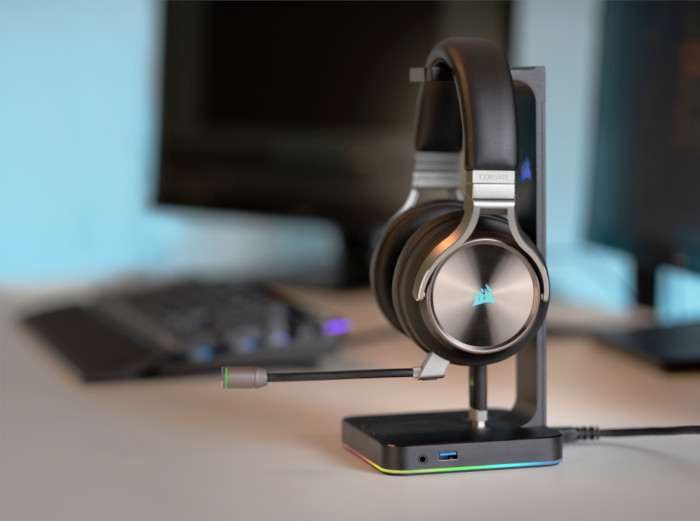 When connected via USB or SLIPSTREAM WIRELESS, the VIRTUOSO RGB Wireless harnesses the power of CORSAIR iCUE software, giving you control over your headset's audio and lighting. Choose from a range of pre-tuned audio profiles or adjust equalizer settings to your exact specifications. Customize the integrated RGB lighting with near-limitless colors and dynamic effects, synchronized with all your iCUE-compatible devices for system-wide light shows.
The VIRTUOSO RGB Wireless SE features a larger, 9.5mm microphone element. Additional aluminum trim throughout the headset accentuates its gunmetal color, while subtle micro-perforation on the aluminum ear cups allows its RGB lighting to shine through or fade out. Finally, the SE model includes its own padded, cross-stitched storage pouch, sealed with a magnetic clasp.
The CORSAIR VIRTUOSO RGB Wireless ($179.99) and VIRTUOSO RGB Wireless SE ($209) are available immediately from the CORSAIR webstore and the CORSAIR worldwide network of authorized retailers and distributors.
Technical Specifications
| | |
| --- | --- |
| Feature | Description |
| Headphone Frequency Response | 20Hz – 40,000Hz |
| Headphone Impedance | 32 Ohms @ 2.5kHz |
| Headphone Sensitivity | 109 dB (± 3 dB) |
| Headphone Drivers | Custom 50mm neodymium, matched pairs |
| Microphone Type | Omni-directional |
| Microphone Impedance | 2.0k Ohms |
| Microphone Frequency Response | 100Hz – 10,000Hz |
| Microphone Sensitivity | 42 dB (± 2 dB) |
| Wireless Connection | SLIPSTREAM CORSAIR WIRELESS TECHNOLOGY 2.4GHz |
| Wireless Adapter | USB Type A |
| Wireless Range | Up to 60 feet (12m) |
| Battery Life | Up to 20 hours |
| USB-C Charging Cable | 1.5m |
| 3.5mm Stereo Cable | 1.5m |
| Dimensions | 70mm x 100mm x 195mm / 6.69" x 3.94" x 7.68" |
| Product Weight (w/o cable and accessories) | 360 g / 0.79lb |
| Warranty | Two Years |