Crucial Ballistix PC2-8000
2. Testbed
In order to test Crucial's PC2-8000 modules, we used the following setup:
CPU: Intel XE6600 @ 2.4GHz
Motherboard: Asus P5B Deluxe Wi-Fi Edition BIOS 711
Memory: Crucial Ballistix 2x1GB PC2-8000
PSU: OCZ GameXStream GXS600 SLI-Ready
VGA: MSI 7600GT Silent (stock memory/core timings)
HDD: WD 800JB
OS: Windows XP SP2 with all the latest updates installed
While for benchmarking we used:
Memtest86+ v1.65
Sisoft Sandra 2007 SP1
RightMark Memory Analyzer v3.70
Pov-Ray v3.7 Beta16
SuperPI XS Mod v1.50

The Asus P5B Deluxe offers various CPU:RAM ratio settings and high overclocking tuning precision.
For all tests, we manually set the FSB to 266MHz. That made the CPU run at 2.40GHz and we then used the various preset memory:cpu ratios to underclock or overclock the memory: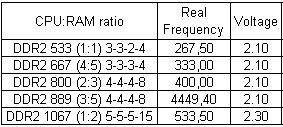 Each CPU:RAM ratio offers slightly different performance which was benchmarked with the various software. For each setting, we tried to find the most aggressive timings that offered the best possible performance. Each test, before benchmarking, had to pass a 30min test from Memtest86+ v1.65 without producing any errors. All benchmarks were doubly confirmed and all displayed results are the average number of both measurements.
The Asus P5B Deluxe by default will set the memory at DDR2-800 with CL5 timings:
The SPD as reported by CPU-Z are set at only 266MHz and 500MHz, with CL4 and CL5 respectively: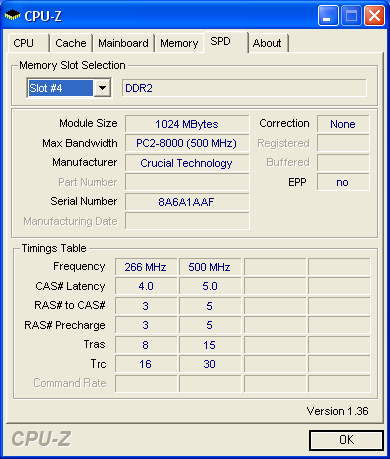 Before we proceed onto the test results, we should mention that with Bios revision 711, the Crucial PC2-8000 modules couldn't work with the 1067MHz setting, despite all our efforts. This of course was rather strange, since with a previous bios (revision 706) we had no problems with the memory at 1067MHz. This is probably a BIOS "bug" on the Asus P5B Deluxe: