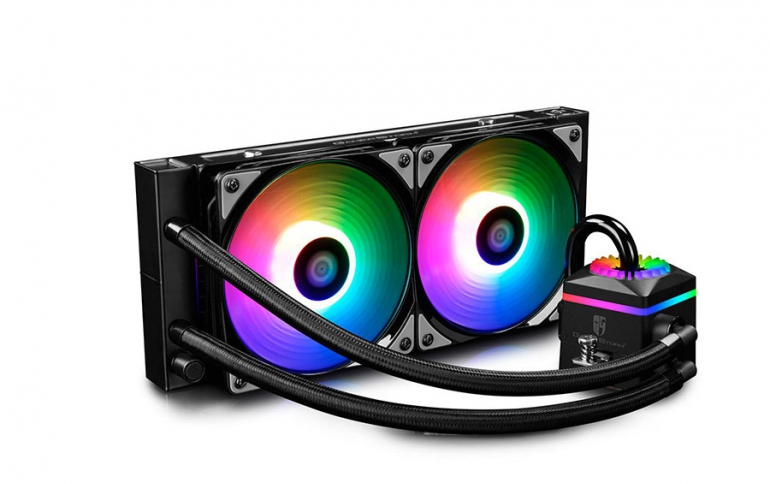 Deepcool and Gamerstorm Launch New Products at CES 2019
Deepcool & Gamerstorm unveiled a range of new products at CES 2019, including a 7-heatpipe air cooler, a 360mm liquid cooler, and 3 cases.
ASSASSIN III
Equipped with 7 high-tech heatpipes, a new heatpipe layout and 2*140mm customized fans, Assassin III is Deepcool's beefiest air cooler ever that can serve chipsets with TDP up to 280W. It features spoilers on the top fins for higher cooling efficiency, and also entices people with its sleek style, compatibility with RAM and GPU and quick & easy installation.
In addition, Assassin III's abundant accessory pack includes a screw driver, G-15 thermal compound and a Gamerstorm badge.
Available in May, 2019, the Assassin III is priced at $99.99.
MACUBE 550
Omitting all unnecessary decorations, the Macube 550 PC case comes with a minimalistic design. The "levitation design" on the front panel can hide intake holes while supplying sufficient air; the magnetic side glass panel with aluminum handle make the installation convenient. The ATX case also features scale armor shaped exhaust holes and a half transparent PSU shroud. Inside, the case offers spacious cable management room, full SGCC structure, vertical GPU slot and 360mm max radiator compatibility.
It will be available in June in black and white colors, priced at $109.99 and $119.99, respectively.
MATREXX 70 E-ATX Case
Born from the famous Clan, MATREXX 70 inherits its family tradition of being cost-efficient and compact. Structured with 0.6mm-thick steel plates, the case is firm and steady. It features tempered glass on the front, side panel and PSU. What's more, the case adopts an open interior design, including removable PSU covers and relocatable HDD cage, which provides full DIY flexibility. The MATREXX 70 supports vertical mounting of graphics cards and up to 280/360mm radiator on the top and at the front.
It will be available in April at an MSRP of $69.99.
MATREXX 55 ADD-RGB WH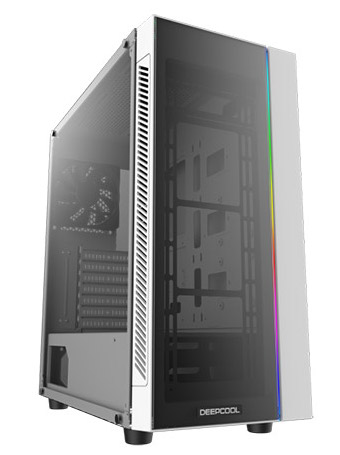 Deepcool launches the MATREXX 55 ADD-RGB WH. Like its black version, WH is a compact ATX case that supports motherboards up to E-ATX, and radiators up to 280/360mm in the front and 280mm on the top. The front, top and side panels are all made from tempered glass. What's more, an Addressable RGB strip is pre-installed at the front, and the case's expandable RGB lighting system can be controlled by the I/O button or via the motherboard.
This white ATX case is coming in February for $64.99.
CASTLE 360 RGB - CPU Liquid Coolers with RGB Lighting Effects
Based on the Castle 240/280RGB, Gamerstorm expands the product line to 360mm.
With the family core technology and bigger radiator, Castle 360RGB can serve chipsets with TDP up to 280W. Its built-in double window panes and 16.7M color lighting system will continue to provide illumination that comes with 5 built-in effects and with 36 interchangeable lighting modes. The synchronized RGB lighting system of water blocks and fans can be controlled by a wired controller (included) or the addressable RGB function via the motherboard.
Available in January, 2019 for $169.99.
CAPTAIN 240PRO – Equipped with Automatic Pressure Relieving Radiator
Deepcool has developed the leakage free solution - the Automatic Pressure Relieving Radiator. With this patented technology, any pressure within the circulation system will be released into the air, CAPTAIN PRO ($139.99) has no reason to leak. Besides safety, technologies in this cooler like two-chamber pump, three-phase winding motor continue to provide the top-notch cooling performance, TDP 250W. Lastly, the upgraded Addressable RGB lighting system can be controlled by either the included controller or specified motherboard.