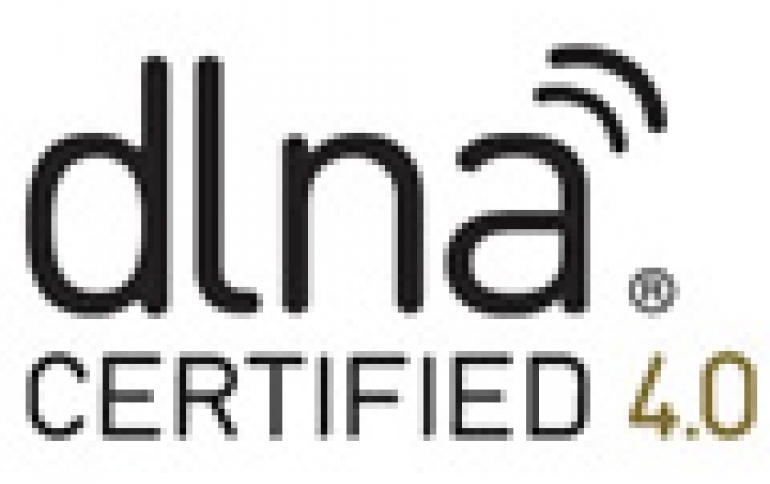 DLNA 4.0 Offers Device Compatibility, Energy Efficiency
The Digital Living Network Alliance (DLNA) has made available the DLNA 4.0 Guidelines for streaming personal content in the home. DLNA 4.0 will allow consumer product manufacturers to deliver a more energy-efficient connected home experience, including viewing high-definition TV content on the broadest possible choice of interoperable TVs, PCs and mobile devices.
Consumers have long complained that there are files on their servers that they cannot play with their mobile devices, PCs, TVs, set top boxes or other devices. DLNA 4.0 solves this problem by mandating transcoding on the media server.
Power efficiency is improved through low power modes that enable connected devices to work together to cut overall energy consumption in the home. In addition, Ultra HD content will be streamed throughout the home via a media gateway or set top box because DLNA 4.0 supports the High Efficiency Video Codec (HEVC) video compression standard. The Guidelines also support IPv6 to ensure DLNA 4.0 Certified devices will continue to function as more networks transition to this protocol.
The DLNA 4.0 Certification Program will join existing DLNA 2.0 and 3.0 Certification Programs. Introduced in August 2015, DLNA's 3.0 Certification Program added features and capabilities for playback and response time. DLNA 4.0 further extends available features and DLNA 4.0 Certification will provide interoperability assurance through increased mandatory requirements and more extensive conformance testing.
DLNA 4.0 Guidelines have been submitted for adoption as an international standard by the International Electrotechnical Commission (IEC), which has published all previous sets of DLNA Guidelines for content sharing applications and protected streaming across home networks.