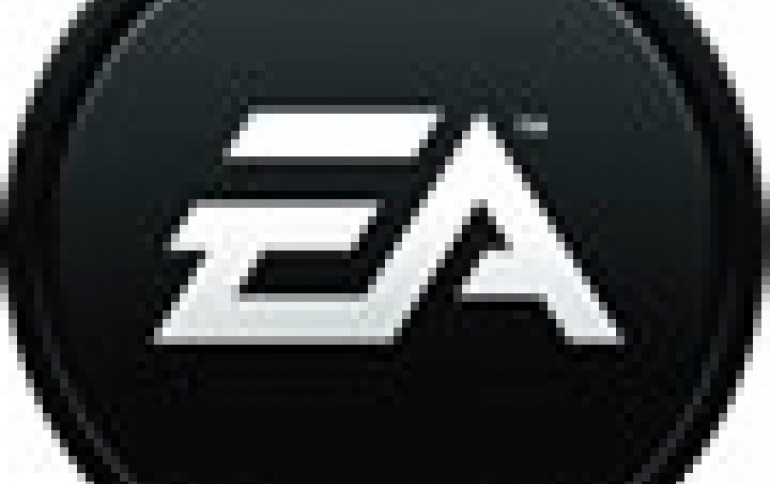 EA at E3 Game Show
Electronic Arts (EA) outlined its rich game lineup for 2013 at the Electronic Entertainment Expo (E3) in Los Angeles, California, which includes Titanfall, Mirror Edge, FIFA 14, Command & Conquer, Battlefield 4, Madden NFL 25 and more.
EA SPORTS UFC Gameplay
EA detailed the gameplay features for EA SPORTSTM UFC. Powered by EA SPORTS IGNITE technology, the next generation of mixed martial arts fighting begins spring of 2014 when EA SPORTS UFC is released for the Xbox One and the PlayStation 4.

MMAi – Every licensed fighter in the game will have changing goals and fight plans, based on their real-life tendencies and each fight situation. Stop their Plan A, and they will adapt to Plan B or C. Down on the scorecards, look for the AI to end the fight with a knockout or a submission. A smarter opponent equals a more challenging and unpredictable fight.
Real-Time Exertion – A UFC bout is one of the most physically demanding sports on the planet requiring mixed martial artists to give it their all with every movement. Real-Time Exertion promises to bring each moment of that action to life. Through real-time vein popping, skin discoloration, muscle flex, as well as signs of fatigue setting in through the course of each round, you will witness the effort it takes to be one of the best fighters in the world.
Fighter Likeness and Facial Animations – Every single licensed fighter in the game has been created from high resolution 3D head and body scans to deliver revolutionary character likeness and authenticity.
Full Body Deformation – Until now, simulation of physical contact between fighters was limited to bodies that barely made contact with each other; as a result, they looked and behaved like action figures made of plastic rather than elite athletes. The team that revolutionized sports by bringing authentic physics to Fight Night changes the game again with an all-new, full-body deformation system that moves and displaces the fighter's flesh in real time. For the first time, the strength of every submission and power of every strike will make an impression.
Precision Movement – MMA is a sport of inches, where every step counts and every movement matters. Powered by EA SPORTS IGNITE, the Precision Movement locomotion system grounds the fighters, eliminating unrealistic slipping and sliding across the canvas. More realistic physics-driven movement delivers more realistic action as the overall transfer of energy from the ground up delivers more impactful and believable strikes and takedowns.
Dynamic Striking – A mixed martial artist uses the environment to his advantage and for the first time in a UFC game, you can too. A dynamic environment allows you to pull off impressive moves using the Octagon, including roundhouse kicks, superman punches and much more.
Strategic Submission Battles – To own the belt, you have to be dominant on your feet and on the mat. EA SPORTS UFC reinvents the ground game to create a battle for position and control that captures the strategy of a submission battle. Like the real sport, in EA SPORTS UFC fighters will work through multiple stages as they work to advance or escape from a fight-ending submission.
Real Damage – Every fighter knows that one good shot can ruin your day. EA SPORTS UFC introduces a non-linear damage system which can result in big damage coming from a single strike. The system produces a greater variety of cuts and contusions that is true-to-life and has never been possible in a simulation fighting game.
Madden NFL 25 Makes Its Next-Gen Debut
Madden NFL 25 will be coming as a launch title for Xbox One system and the PlayStation 4.
Adrian Peterson will be the cover athlete for Madden NFL 25 on Xbox One and PlayStation 4. Peterson, the Minnesota Vikings running back, is a five-time Pro Bowler and the reigning NFL MVP. Last season Peterson came within 9 yards of breaking the NFL single-season rushing record set by Eric Dickerson.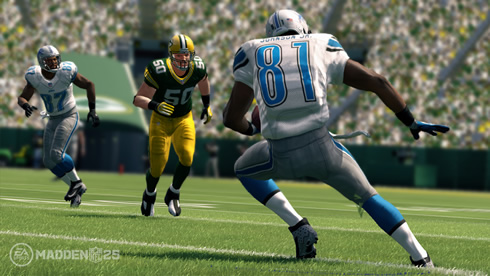 Madden NFL 25 on Xbox One and PlayStation 4 brings new features such as True Step Locomotion, Player Sense, the War in the Trenches and more. Here's an overview of what fans can expect:
Madden NFL has never looked so real. See every nuance of a player's face, equipment, and clothing as the line blurs between the players in the game and their real-life counterparts. Up to 4x the texture resolution breathes new life into stadiums, crowds, the field, and even the ball itself.
The all-new True Step player motion system calculates every step, delivering great control. Players now have the ability to foot-plant, cut, and shift momentum in an authentic way, unlocking the agility and explosiveness of the NFL athlete. EA SPORTS IGNITE run-time physics calculate at twice the rate allowing for the most organic, user-driven outcomes in franchise history.
All-new Player Sense unlocks the human element in Madden NFL. For the first time, players scan the field, anticipate situations before they happen, and maneuver with instincts and awareness. The ability to make up to 50x as many contextual decisions brings intelligent ball-carriers and defenders to life, as they sense obstacles and react on the fly. Ball-carriers leap over fallen players, blitzing linebackers slide past teammates on their way to the QB and so much more, combining the physical aspects of football with the mental.
Offensive and defensive line play is at the heart of football, and now it's the foundation of Madden NFL 25. Lineman are more than just physical, they are intelligent. Coupled with the ability to make 4x more decisions per second, 300 new blocking interactions create the most realistic running lanes for the ball-carrier and passing pockets for the QB. Offensive lineman will dynamically sort and shift assignments based on threats and angles, starting with intelligently identifying the center of the defense, the "Mike" linebacker. The defensive side of the ball features over 3x more new defensive line moves, as well as the latest blitz packages.

Battlefield 4 Multiplayer
DICE, a studio of Electronic Arts, also demonstrated the next generation of Battlefield 4 at the Electronic Entertainment Expo (E3) in Los Angeles, California. DICE showcased "Angry Sea," a single-player demo at the Microsoft media briefing. DICE also debuted "Siege of Shanghai," a 64-person multiplayer match at "The Download: EA 2013 Preview" press conference. Both software demos were running at a 60-frames per second, even while rendering massive maps, vehicles and infantry, environmental effects and dynamic destruction.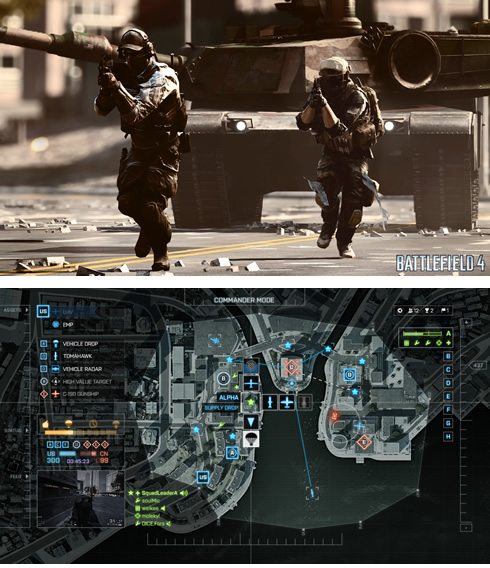 DICE also revealed two innovations in multiplayer: Levolution, and the return of the fan-favorite Commander Mode. Levolution creates a dynamic and emergent battlefield where gamers can use the environment to their advantage like cutting the power to a building to shroud their enemy in darkness or reducing an entire skyscraper to rubble to alter the battlefield. With Levolution, the environment reacts to the player's every move and ensures no two games will ever be the same. Commander Mode places two opposing players at the heart of the situation room with a birds-eye view of the battlefield. It's a tug-of-war match between two commanders as they deliver critical intelligence and powerful assets to their troops below to the turn the tide of the battle.
Battlefield 4 will be available October 29 for Xbox 360, PlayStation 3 and PC. Battlefield 4 will also be available for Xbox One and the PlayStation 4.

New Generation of Command & Conquer
Command & Conquer, the next installment of the real-time strategy franchise from Victory Games, will be entering closed beta this summer. The new Command & Conquer is said to is raise the bar for the Real-time Strategy (RTS) genre by delivering visuals and dynamic physics, all powered by the Frostbite game engine.
Command & Conquer will launch in 2013 as a free, live service. Players can sign up now for a chance to access to the Command & Conquer closed beta, starting later this summer, at www.CommandandConquer.com.
In addition to strategic, fast-paced, high action, Command & Conquer also introduces a large variety of Generals, which gives each commander the freedom to conquer on their own terms. Players will be in full command of the battlefield as they take control of dozens of unique Generals across three varied factions – Global Liberation Army, European Union and Asia Pacific Alliance. Each General has a unique arsenal, battle style, and personality, offering a wide variety of tactics to dominate. Whether a player favors strategies focused on base defense, stealth, rushing or firepower – there is a different General to accommodate every play style.
From new modes never before seen in the genre including Onslaught, an objective based co-op mode where players team up to defend their base from enemy hordes, to the return of popular modes like Multiplayer Deathmatch, and Solo Skirmish, gamers of all styles and skill levels will have more ways to play than ever before.
Command & Conquer will be available as a free, live service for the PC later in 2013.
EA SPORTS FIFA 14 on Xbox One and PlayStation 4
Electronic Arts will also bring the EA SPORTS FIFA 14 on Xbox One and PlayStation 4. Fuelled by EA SPORTS IGNITE, fans will feel the electricity of a living stadium. Players now have four times the decision making ability than the current generation of players in EA SPORTS FIFA, enabling each player to have Pro Instincts—human-like reactions, anticipation, and instincts.
Now in FIFA 14, every step matters with Precision Movement that enables players to explode out of each step and every turn like real athletes, preserving their natural momentum. Plus, the artistry and athleticism of soccer stars will come to life with Elite Technique that world class players express in every match.
FIFA 14 will have high accuracy and visuals and the world inside the stadium comes alive as the emotions of new 3D crowds rise and fall around the stories on the pitch. Players are also aware of the match and what needs to be done to get a result—their sense of urgency increases as the match draws on, and if a goal is needed, they rush to take a throw-in, corner or goal-kick if time is running down.
Players in FIFA 14 will make intelligent decisions with human-like anticipation and reaction times. All 22 players on the pitch possess Pro Instincts to anticipate and react to the play around them, just like world-class soccer players. Players will move more instinctively with the ball, anticipating and reacting to tackles by skipping over out-stretched legs to avoid collisions, using stiff arms to fend-off defenders or to brace for collisions, and turning their bodies to brush through contact. Defenders will anticipate moves to seal off opponents and intercept passes, and slow down attackers by hooking or holding an arm.
With 10 times more animation depth and detail, EA SPORTS IGNITE delivers the dynamic movements and biomechanics of the world's best players. Precision Movement enables players to plant, pivot and cut, and explode out of each step. The fidelity of movement has a game-changing effect on gameplay. Players feel more grounded, agile and athletic, and manage their momentum with distinct foot plants and push-offs, bringing the authentic motion of professional soccer players to FIFA 14. Harnessing the power and memory of the new consoles, FIFA 14 also delivers Elite Technique—hundreds of new skills, including new types of shots like side volleys, deflections and first time screamers, and new types of passes, such as touch, over-head, slice and lobs. Hundreds of new behaviors include trapping the ball in stride at pace, panic turns when defenders are beaten, off-balance shots, missed shot reactions, and more are a result of the massive increase in memory of the new consoles.

Mirror Edge Returns
DICE's Mirror's Edge is also currently in early stages of development. Mirror's Edge was first introduced in 2008 and fans quickly elevated the game's heroine "Faith" into a videogame icon. Powered by DICE's proprietary Frostbite technology, the game will be heading to Xbox One, PlayStation 4, and PC.
Respawn Entertainment Unveils Titanfall
Videogame developer Respawn Entertainment revealed the world debut of Titanfall. Crafted by one of the co-creators of Call of Duty and other key developers behind the Call of Duty franchise, Titanfall is among the most highly anticipated of E3 2013, having been shrouded in mystery for nearly three years. The visionaries at Respawn have drawn inspiration from their proven experience in first-person action gaming, and are building on that pedigree by taking a new approach to game design and creating an all-new universe with Titanfall. The game is entirely multiplayer, in a new experience that combines fast-paced multiplayer action with the heroic set piece moments traditionally found in campaign mode. Set in a distant frontier torn apart by war, players will have the freedom to switch between fighting as elite assault Pilots or agile, heavily armored, 24-foot tall Titans.
The universe of Titanfall juxtaposes small vs. giant, natural vs. industrial and man vs. machine. The game drops players into a conflict between the Interstellar Manufacturing Corporation (IMC) and the Militia as elite Pilots. With the ability to shift back and forth between pilot and Titan, players will have the freedom to change tactics on the fly, attacking or escaping depending on the situation. Titanfall Game Director Steve Fukuda said, "In addition to infusing the multiplayer experience with cinematic flavor, we've been rethinking fundamental combat and movement in the genre. Titanfall is unique in the way that it places equal emphasis on two drastically different and new ways to move and fight in a first-person shooter. The intersection of the two is a big part of what give Titanfall its iconic identity."
Available spring 2014, Titanfall will be available for Xbox One, PC and Xbox 360.