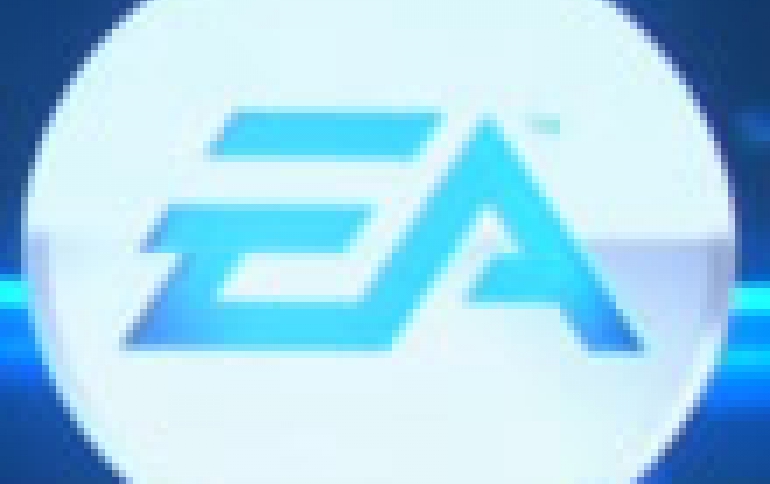 EA Showcases Upcoming Games At E3
Electronic Arts (EA) CEO Andrew Wilson came on stage during the press conference at E3 to preview some of the games and technologies that the company is bringing to next generation consoles soon. Visceral Games, an Electronic Arts studio and makers of the 'Dead Space series,' unveiled 'Battlefield Hardline,' taking the Battlefield franchise to a new world filled with new ways to play. Coming October 21 in North America, Battlefield Hardline puts players right in the middle of the war on crime in the glamorous streets of Los Angeles and Miami, allowing gamers to live out their fantasy of being a cop or a criminal. Visceral Games is making Battlefield Hardline playable now for the public in a closed multiplayer beta on the PlayStation 4 computer entertainment system and on Origin for PC. You can sign up for a chance to play at www.battlefield.com/beta.
Powered by DICE's Frostbite 3 game engine, Battlefield Hardline lets players trigger Levolution events as they shoot out subterranean grow-labs, blow open bank vaults, or tear apart the streets of Los Angeles. The game introduces new guns and gadgets, including stun guns, zip lines, and grappling hooks.
Coming October 21 of this year in North America, Battlefield Hardline will be available for the PlayStation 4, Xbox One, PC via Origin , the PlayStation 3 and the Xbox 360. The game will be available in Europe beginning October 23 and in the United Kingdom on October 24.
Another game showacsed was 'Dragon Age: Inquisition,' also rendered using the Frostbite 3 engine. Some information was given on the combat of the game and the characters that players will be able to control. On top of being able to jump into each one to control their actions, the game will also make use of a tactical approach to cut time out as a factor.
The 'Sims 4' is also expected to be released September 2. Tehe game will allow players to control a Sim's mind, body, and even the heart. Actions will now influences emotions and personalities, but will also aid in defining personality traits. Other user created Sims will also be able to be pulled into another world.
'FIFA 15' is bringing football to life in high visual detail on Xbox One, PlayStation 4, and new this year, PC, now fuelled by EA SPORTS IGNITE.
With Emotional Intelligence, FIFA 15 models the emotional state of all 22 players on the pitch, giving fans a chance to experience first-hand the attitudes and personalities of the world's best football players during a match. FIFA 15 players now have a range of emotions that evolve contextually throughout the game based on interactions with opponents and teammates. Each player has an attitude or feeling towards everyone else on the pitch and will react accordingly during the game's events – frustration after missed passes, anger with hard tackles, and excitement when chances are taken are just some of the over 600 reaction animations that could tell the story of the game.
For the first time, the FIFA development team utilized physically based rendering to bring atmospheres and players to life. The new rendering works in combination with a new player model and rigging system to make every athlete look and feel athletic, lean, and true to their natural form. FIFA 15 is played on a Living Pitch where boots and hard slide tackles will leave their mark as each match progresses; players will get mud and dirt on their kits. Other visual details including animated LED ad boards, corner flag and goal frame movement, and realistic atmosphere conditions.
Tuned player biomechanics cause players to react and move with balance and closer control when in possession of the ball. Precise steps and turns at low speed, and closer control at high speeds will give FIFA 15 fans more control and increased mobility when commanding players on the pitch. New stutters and strides let you cut, sprint, and explode out of turns, and run touch dribbling gives players' personality that reflects their real self. A new ball physics system models ball movement depending on the spin and the precise contact with the ball.
Players now use full-body defending to separate their man from the ball, while possession tackles will reward great defending, helping defenders keep the ball close to their feet when a challenge is made. New shoulder barges, shirt pulling, and big fall physics allow fans to feel the battle making dispossessing opponents more rewarding than ever.
New to FIFA 15, players now have short, medium, and long term objectives that they decide upon as a team and execute using Team Tactics. If a team is up by a goal, they might park the bus, or if they are down a goal, they might try to get it in the mixer to be more direct in attack and secure a last gasp winner.
A trailer showcasing FIFA 15 can be viewed here: http://youtu.be/TnTYVT6lwBc.
FIFA 15 will release worldwide in September on PC, Xbox One and the PlayStation 4, and is available for pre-order now at http://www.origin.com and other retailers. A version of FIFA 15 will also release on the Xbox 360 system, PlayStation3, Wii, Nintendo 3DS PlayStationVita this Fall. But not all game features are available on all gaming platforms.
A return to the virtual links is near as today Electronic Artsannounced EA SPORTS PGA TOUR. The new title will feature detailed real-world courses, as well as fantasy courses that offer not only new settings, but their own challenges. EA SPORTS PGA TOUR will launch on Xbox One and the PlayStation 4 in Spring 2015.
The game will be the first EA SPORTS title to utilize the power of the Frostbite 3 engine to render courses.
The new UFC game, which is coming out this month, will feature Bruce Lee as a character.
Madden's newest version, which will release August 26, is looking to change how defense is approached to add more fun for players. From the camera position being changed to the ability to break out of holds, more options have been given to make that defensive side feel more important. A new tackle cone has been added as well, giving players more precision control, as well as the ability to pull off skilled moves.
NHL 15 will kick off a new generation of hockey videogames, skating into retailers on September 9, 2014 in North America and September 12, 2014 in Europe.
"New technology gives us the freedom and horsepower to change almost every part of the game. From the way players look and move on the ice, to the unrivaled electricity of the in-arena experience, to the sights and sounds of an all new broadcast team, NHL 15 brings the game we love to life in ways that were never possible before," said Dean Richards, General Manager, EA SPORTS NHL.
In NHL 15, fans will see the realistic looking and skating hockey players, along with thedetailed representation of the game of hockey itself. 12 Player NHL Collision Physics and Real Puck Physics capture the hard hitting chaos and unpredictability of the sport. Gamers can look, move, play and think like a real hockey player with all new authentic player modelling and an evolved arsenal of tools, including the Superstar Skill Stick and Vision AI that allow for an great control and elevated player intelligence.
Dice had a teaser for the new Star Wars Battlefront title. More information on the title would be available spring 2015.
Bioware teased that they are working on a new Mass Effect game, showing off some of the assets that were being created.
Criterion is taking the love of cars and crashes from the Burnout series to a new IP. The game will draw influences from action sports and YouTube videos to create a first person experience across a number of vehicles. Players will be able to drive cars, fly in helicopters, go off jumps in ATVs and even drop from the sky in wing suits. To keep the action going, vehicles can be jumped to on the fly.