EachLink X3 Mini Smart Box
4. Conclusion
The Eachlink X3 Mini is an entry level media player based on the AmLogic S905X3 chipset. Since there is nothing fancy with the design of this compact device, looking at it for the very first time could lower your overall expectations. However, it proved to offer an adequate performance for the category and most importantly, its price.
The designers of the player have added a front screen, which does not add any credits to its overall look. In fact, we found it a bit annoying during late night movie sessions, and there is no way to turn it off.
The player also supposed to support some 8K files and HDR passthrough, although we couldn't confirm these functions. It could decode up to 5.1 audio.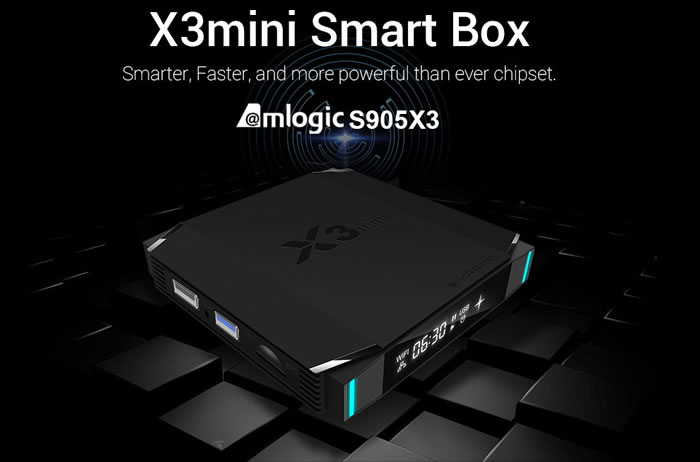 The player was overall stable during testing. We should mention that despite the fact that the player has Google PlayStore, most popular applications or games are not available there and you have to sideload them (with APK via USB). That could be confusing for amateur users. In addition, many 3D games such as the ASPHalt 9 didn't run at all. And even KODI was not available at the store. The Netflix app was present, although it will go up 480p.
Obviously, we have to do with an entry-level player and putting it side to side with more expensive devices is not a fair comparison. More powerful systems out there offer a better support,performance and perhaps more third party mods/add-ons. But if what you have read so far is covering your needs, paying the ~ 35Euros for the Eachlink X3 Mini Smart Box is a good deal.
Positives
Compact size
Quiet operation even under heavy usage
4GB DDR4 and 32GB internal ROM
Simple GUI
Supports both 2.4GHz and 5.0GHz Wifi
Can playback perfectly H.265/VP9 files and lower than 100Mbps H.264 files
Runs on Android 9.0, although security updates are outdated
Good Youtube 4K + 30FPS playback
Acceptable Wifi performance
Low price
Negatives
4K+HDR+60FPS Youtube playback is not good
HD (and 4K) Netflix playback not supported
Installed Google Playstore has limited apps
No 7.1 sound output
No AutoFrame rate output (24Hz) support
LAN limited to 100Mbit
The front LED cannot be turned off
No support for MicroSD Boot (no CoreELEC or EmuELEC)
Issues with demanding H.264 files
No support for 3D files
No Root function / navigation status
No official support website, no third party firmware