Elon Musk Wants to Take you Anywhere on Earth in One Hour, Sees First cargo Mission to Mars by 2022
Elon Musk, the founder of Space Exploration Technologies Corp. (SpaceX), is planning to create rocketship capable of traveling anywhere on Earth in under an hour, while he also remains confident about a human colony on Mars in the next decade.
Musk spoke at the 68th nternational Astronautical Congress on Sept. 29 in Adelaide. He unveiled plans to create "BFR", a large rocketship that will travel from New York to Shanghai in about 30 minutes.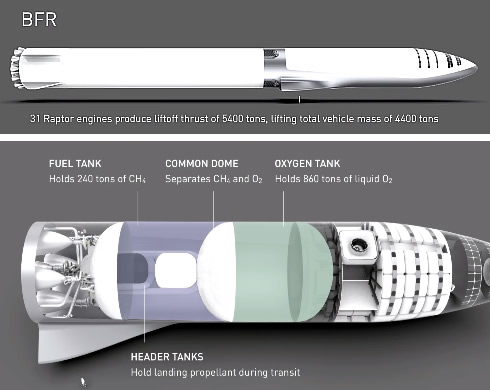 Musk said that SpaceX, which has launched 13 rockets so far this year, aims to complete 30 missions for customers next year. SpaceX has many commercial satellite operators as customers, and the revenue from those contracts will help fund the development of BFR, which will also help set up a base on the Moon.
Musk also unveiled a new plan for the first BFR to land on Mars in 2022, followed by crewed missions in 2024. Some years ago he was promising to send an unmanned "Red Dragon" spacecraft to the Red Planet by 2018.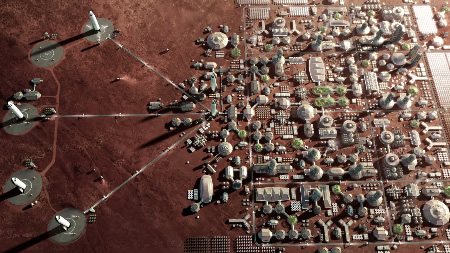 Obviuosly, human colonization of Mars won't be easy. Getting to the Red Planet is a 155 million-mile journey and would take several months, with unknown risks to the human body. Once anyone land there, he would face a hostile environment in which he would have to create a habitable atmosphere and produce the fuel needed to propel the rocket ship homeward. Science fiction? Possibly yes, at least with the current technology.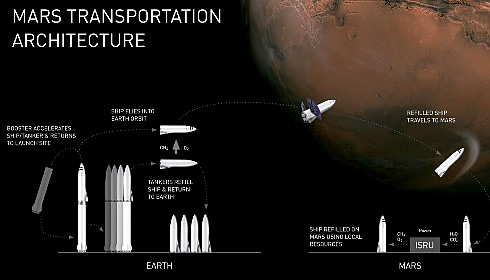 Musk, who's also CEO of electric-car maker Tesla Inc., founded SpaceX in 2002 with the ultimate goal of enabling people to live on other planets. SpaceX flies its Falcon 9 rocket for customers that include NASA, commercial satellite operators and the U.S. military. SpaceX's rockets are designed for reuse, with rocket reusability now seen as key to making space travel affordable.
Later this year, Musk promised to demonstrate the first test flight of Falcon Heavy, a more powerful rocket capable of heavy payloads and sending paying space tourists on a flight around the moon.
100-Day Race to Start the world's largest lithium-ion battery system in South Australia
In related news, Tesla's boss announced a contract to build the world's largest lithium-ion battery system in the Australian outback. The project had been signed with South Australia's power distributor, triggering a 100-day self-imposed deadline to install the electricity storage system.
"It will help solve power outages, reduce intermittencies and manage summertime peak load to support the reliability of South Australia's electrical infrastructure," Tesla said in a statement. The system will provide enough power for more than 30,000 homes, approximately the number that lost power during the state's blackouts in 2016, the company said.
Tesla's massive energy-storage facility,will be equipped with battery cells from Samsung SDI instead of main supplier Panasonic. The decision to use Samsung SDI is obviously the Tesla's intention to meet Elon Musk's self-imposed deadline of 100 days.
Musk's battery system is designed to overcome one of the main obstacles to greater reliance on renewable power sources -- they can store up power produced while the wind blows or sun shines, and then release it steadily to the grid later when generation stalls.