Facebook Takes on Zoom With New Group Video Chat Feature
Facebook Inc. is launching Messenger Rooms, a new group video chat product meant to capitalize on a world now stuck indoors and offer an alternative to rival services like Zoom.
Messenger Rooms will be available on Facebook's core social network and its Messenger app. The feature will allow video chats among as many as 50 people, and won't require participants to have a Facebook account, the company said Friday. Chats will be free with no time limit, and eventually users will be able to create a "room" from any of Facebook's products, Instagram Direct, WhatsApp, and Portal.
While in a room, you can swap out your real-life background for a virtual one. Some backgrounds offer 360-degree views of exotic locales, the company said.
Room calls are not end-to-end encrypted, but Facebook says it does not view or listen to calls.
The goal is a group video product that feels more social, and less corporate than what's currently available, said Facebook Chief Executive Officer Mark Zuckerberg. People in Messenger Rooms will be able to use Facebook's augmented reality filters, or jump between chats to visit different groups of friends, an effort to create "spontaneity and serendipity," Zuckerberg added.
If your friends or communities create rooms that are open to you, you'll see them on Facebook so you can find things to do and people to hang out with. When you're invited to a room, you can join from your phone or computer — no need to download anything to get started. If you have the Messenger app, you can play with AR effects like bunny ears, and new AI-powered features like immersive 360 backgrounds and mood lighting.
When you create a room, you choose who can see and join it. You can remove people from the call and lock a room if you don't want anyone else to enter.
The social network's algorithms will help determine which available rooms to show users, Zuckerberg said, recognizing that not all Facebook friends are created equal.
"All the products [out] there were primarily focused on enterprises and we thought that there was an ability to do something in the consumer space," the Facebook CEO said this week via video chat from his home. "It's meant to be more casual. Not everything has to be planned out in advance."
Rooms will be available in Messenger today in nearly all countries where Facebook is available, the company said. It will become available inside the Facebook app in other countries today and roll out globally within coming weeks.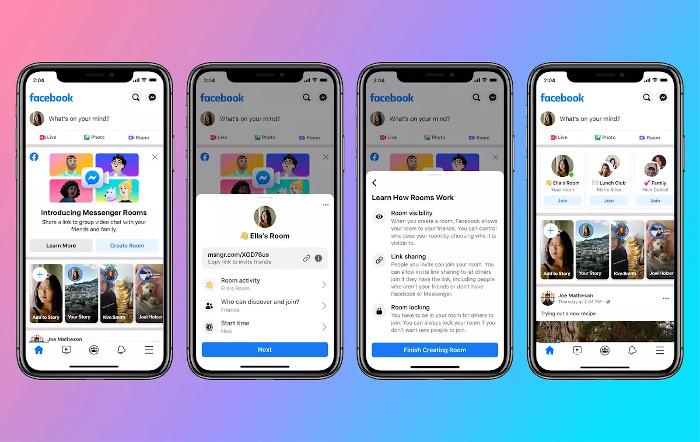 More than 700 million people make voice or video calls every day on Messenger or WhatsApp, Zuckerberg said, a number that has increased since the emergence of Covid-19.
Houseparty, an app for virtual hangouts with friends, is also very popular. It gained 50 million users over the past month.
Zoom Video Communications Inc.'s app, aimed at companies for business meetings before the outbreak, has jumped from about 10 million users to more than 300 million in a matter of months.
The Menlo Park, California-based company also announced other video features this week, including the ability to save Instagram Live videos after they're over, and start a video chat inside Facebook's dating feature. Video chats on WhatsApp can now host eight people, twice the previous amount. As before, these calls are secured with end-to-end encryption so no one else can view or listen to your private conversation, not even WhatsApp.
Instagram will begin allowing users to post live streams to IGTV as well as to Instagram stories after they finish a stream, and Instagram Live broadcasts will become available on the desktop for the first time.
Users with Facebook's Portal display will also get the ability to go live to pages and groups, the company said. Portal users can already go live from their own profiles.
Facebook updates
Facebook is bringing back Live With so you can add another person into your live video, no matter where they are in the world. Bring on a guest speaker, interview an expert or perform with a friend.
You'll be able to mark Facebook Events as online only and, in the coming weeks, integrate Facebook Live so you can broadcast to your guests. To support creators and small businesses, Faecebook plans to add the ability for Pages to charge for access to events with Live videos on Facebook – anything from online performances to classes to professional conferences.
To help you raise money for causes, you can now add the donate button to live videos wherever nonprofit fundraisers are
Faecebook is making it easier to access live video so you can watch or listen anywhere. If you have limited data or a spotty connection, you now have the option to listen to the audio only. If you don't have a Facebook account, most public live videos are now available on the web and some Pages can share a toll-free number that lets you listen to the audio through any telephone.
You can livestream games from your phone to Facebook using the new Facebook Gaming app available on Google Play. The app also lets you play games instantly, watch your favorite streamers and discover new gaming groups. Tournaments are another new feature for game streaming that lets you create, play and watch the competition in one spot. Tournaments are available on Facebook today, and coming to the Facebook Gaming app soon.
To help you support some of your favorite creators, Faecebook isexpanding Stars to more Pages and more countries. Once you buy Stars you can send them to creators while they're streaming, and they'll earn 1 cent for every Star.
Instagram updates
You can now watch and comment on live videos from your desktop. Follow along with that yoga class on a bigger screen or listen to a live performance as you work.
After you go live, you'll soon be able to save your videos to IGTV so they stick around longer than the 24-hour limit in Stories and are easier for others to find.
Portal updates
You'll soon be able to go live from Portal to Facebook Pages and Groups. The Facebook Live app on Portal already lets you broadcast to your profile, but later this month you'll be able to share with your communities, too.
Set Up a Virtual Date in Facebook Dating
To help people find meaningful relationships even when they can't meet in person, Facebook is adding an option in Facebook Dating to invite people to a virtual date. When they accept, you'll start a video chat in Messenger to get to know each other. This will roll out in the coming months.