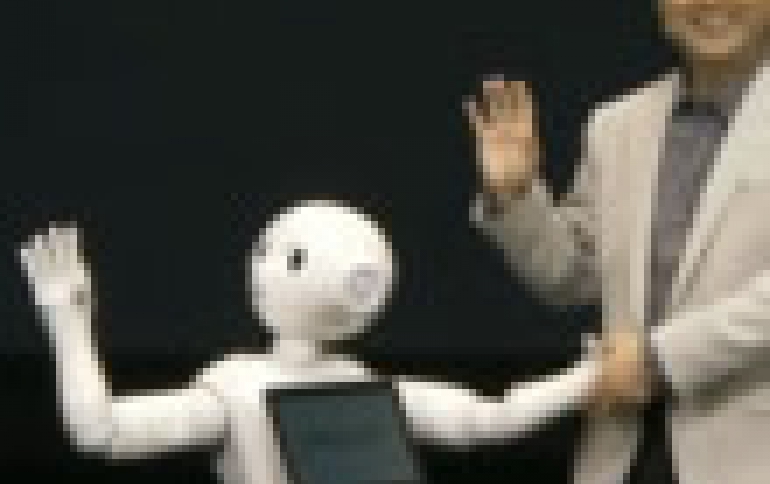 Foxconn, Alibaba to Invest In SoftBank's Robotic Business
Alibaba Group and Foxconn Technology plan to will each invest JPY 14.5 billion in SoftBank Robotics Holdings Corp., the SoftBank Group's intermediate holding company responsible for its robotics business. Under the agreement, upon the completion of the investment by Alibaba and Foxconn, SoftBank's SBRH share ownership ratio will become 60%, and Alibaba and Foxconn will each hold ownership stakes of 20%.
SoftBank, Alibaba and Foxconn will build a structure to bring Softbank's "Pepper" and other robotics businesses to global markets, and cooperate with the aim of spreading and developing the robotics industry on a worldwide scale.
SoftBank says that 'Pepper' is the world's first personal robot that reads emotions. Going on sale next week in Japan, Softbank's customers will be able to place orders for Pepper online starting from 10:00am on June 20. The robot sells for 198,000 yen ($1,600) in Japan and 1,000 of the robots will be available each month. Details of when and where it will go on sale outside Japan were still undecided.
Pepper's emotions use emotion functions developed by cocoro SB Corp. that enable robots to artificially generate their own emotions. These emotion functions in Pepper are modeled on the human release of hormones in response to stimuli absorbed by the five senses which in turn generate emotions. In addition to Pepper's emotion recognition functions, Pepper has capabilities to generate emotions autonomously by processing information from his cameras, touch sensors, accelerometer and other sensors within his "endocrine-type multi-layer neural network."
With this emotion function, Pepper's emotions are influenced by people's facial expressions and words, as well as his surroundings, which in turn affects Pepper's words and actions. For example, Pepper is at ease when he is around people he knows, happy when he is praised, and gets scared when the lights go down. Depending on the emotion at the time, Pepper raises his voice or sighs, for example. Pepper's emotions can be seen on the heart display, which shows different colors and movements. Furthermore, a number of robot apps have been developed to make life fun with an emotional robot. The 'Pepper's Diary', for example, links Pepper's emotions with daily family events that are recorded with pictures and photos.