Get Ready for the Best New PCs for the New Year with New 7th Generation Intel Core Processors
Intel today announced over 40 new performance-class 7th Generation Intel Core Processors, which bring improvements in productivity, speed and security.
In August 2016, Intel introduced the first products in the 7th Gen Intel Core processor family. Since August we've seen over 90 OEM systems ship to the market. Today, Intel released the rest of the family.
These 7th Gen Intel Core processors and Intel Xeon processors based on Intel's 14nm+ process technology power some of the best new laptops and desktops.
According to Intel, the new processors deliver double-digit productivity performance increases - up to 20 percent for performance and gaming notebooks and 25 percent for desktops. With 4K and 360-degree content - people can expect up to 65 percent faster performance on notebooks and 35 percent faster on desktops.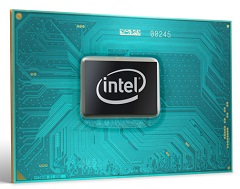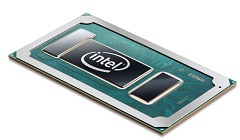 The new 7th Gen Intel Core processor and Intel Xeon processor family includes new processors for a range of systems and needs:
4.5W Intel Core vPro processors (Y-series) for 2 in 1 detachables
15W Intel Core vPro, 15W and 28W Intel Core processors (U-series) for 2 in 1 convertibles and thin and light clamshells including SKUs with Intel Iris Plus graphics
45W Intel Core vPro processors (H-series) for large-screen clamshells and premium notebooks
45W Intel Core mobile processor (H-series), unlocked SKUs for enthusiast and VR-capable notebooks
45W Intel Xeon processors for mobile workstations
65W Intel Core and Intel Core vPro processors (S-series) for mainstream towers
65W and 35W Intel Core and Intel Core vPro processors (S-series) for All-in-Ones and minis
95W and 65W Intel Core processors (S-series) for enthusiast towers, including unlocked SKUs
On Intel Core i5 and i7 processors with Intel Turbo Boost 2.0 Technology, performance and power are dynamically controlled boosting performance when it is needed, and saving energy when it counts. Intel Speed Shift Technology allows control of processor performance states (or P states) to be managed by the hardware instead of the OS. The result is the system can get to peak turbo frequencies much faster, allowing tasks to complete quicker, and then return to idle faster.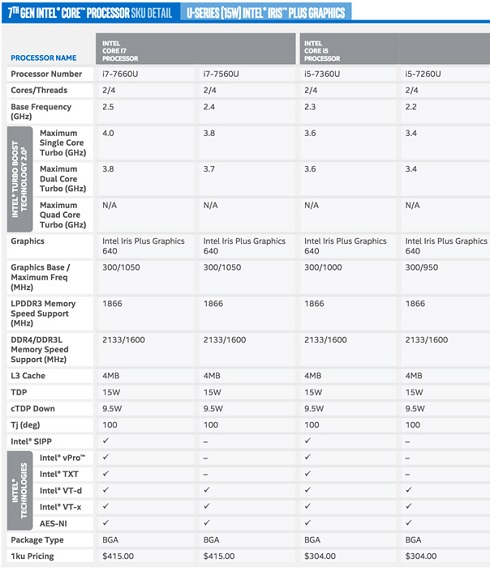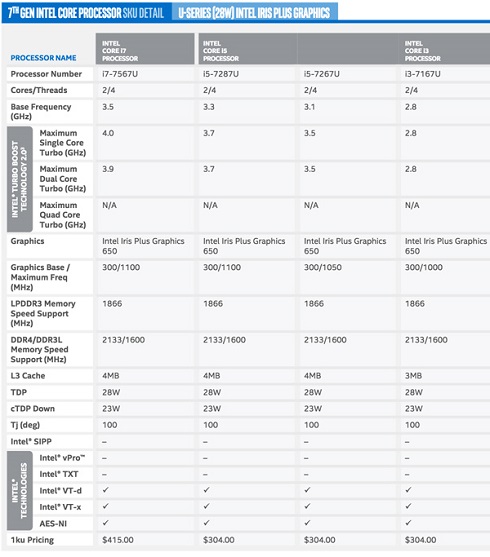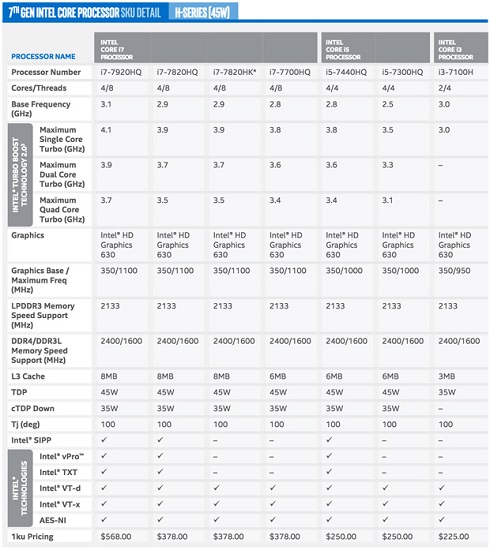 In addition, Intel Ready Mode Technology keeps PCs on and updated while retaining fast responsiveness.
Intel announced that its upcoming Optane non-volatile memory will ship in the second quarter of the year as 16GB and 32GB M.2 expansion cards. Optane memory will be available as an option for new Intel-based client platforms, including Intel 7th Gen Core (Kaby Lake), and as a standalone component. Platforms and motherboards supporting Intel Optane technology will be labeled "Optane Ready" to indicate their compatibility.
Developed internally with partner Micron as 3D XPoint, Optane will act as a high-speed cache in conjunction with either a larger capacity hard drive or a SATA SSD. The low capacity of Intel's Optane modules will enable it to be affordable as well, the company said.
Intel released virtually no other details about the memory, including performance specifications, pricing or exact availability dates.
In August, Micron revealed its own separate go-to-market plans for 3D Xpoint memory, which it will sell under the name QuantX. Both Micron and Intel claim the new non-volatile memory sports up to 1,000 times the performance of NAND flash.
The first generation of QuantX solid-state drives (SSDs) will be aimed squarely at data center applications when they ship in the second quarter, according to Jon Carter, Micron's vice president of storage solutions. Currently, Micron expects to see its first revenues from QuantX sales in the second half of 2017.
New Chipsets for 7th Gen Intel Core Processor Family and New Intel Xeon Processors for Mobile Workstations
In addition to processors, Intel also is introducing eight new chipsets. The Intel 200 series of chipsets offers 15 percent more I/O lanes with port flexibility for a range of designs and are Intel Optane Memory ready.
For Desktop:

Intel Q270 and Q250 chipsets enhance manageability and security
Intel Z270 chipset for tuning capabilities with unlocked Intel Core processors
Intel H270 chipset for improving visual display and performance for media creation
Intel B250 chipset to enable performance, manageability and security features useful for small-and medium-sized businesses

For Mobile: Intel CM238, Intel HM175 and Intel QM175 chipsets with fast I/O and other performance benefits as well as sensor support for mobile 7th Gen Intel Core and Intel Xeon processors
The Intel Core vPro processors have been the gold standard for commercial computing for over a decade. With the latest 7th Gen Intel Core vPro processors, business owners and IT managers can offer new PCs with up to 10 hours of battery life and a 65 percent increase in productivity when compared with a 5-year-old PC.
In addition, the 7th Gen Intel Core and Intel Xeon processors strengthen security with advancements in hardware-enhanced security and two-factor authentication built in to the silicon. For consumers, this frees up the hassles of remembering and typing in passwords. It also offers secure payments through fingerprint touch-to-pay. For the enterprise, the new Intel Core vPro processors, as well as Intel Core processors for business, bring Intel Authenticate as a hardware-enhanced multi-factor authentication solution.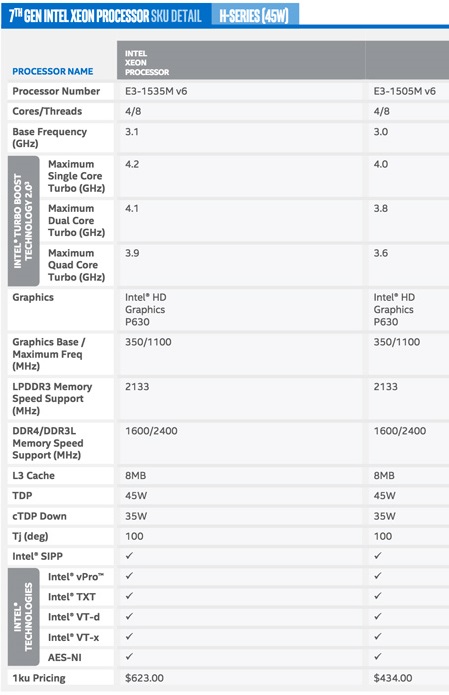 Intel Authenticate verifies user identity using a combination of hardened factors such as a PIN, a Bluetooth signal from your phone or a biometric identifier like a fingerprint, making your login a million times safer. Intel is expanding its security partnership with Microsoft and plans to integrate Windows Hello and Intel Authenticate together.
Thanks to the new media engine in all 7th Gen Intel Core processors, it is possible to stream 4K UHD movies and TV shows on services such as Netflix on a computer for the first time. With the availability of other premium content providers like Sony Pictures ULTRA, FandangoNOW and iQiyi coming in 2017, your 7th Gen-based PC is now a 4K theater.
With virtual reality and gaming growing at an incredible pace, the need for computing horsepower everywhere has never been more essential. In gaming and VR, the processor not only provides the power to drive these system-intensive games, but is also responsible for important capabilities like particle physics and object persistence. That's a technical way of saying it makes objects look and act more lifelike. Intel puts the reality in virtual reality. And for those gamers on the go, the new Intel Iris Plus graphics in laptops makes it possible to take a game like Overwatch with you and play in full HD.
Content creators will have the ability to do more from both a creativity and productivity standpoint. 7th Gen Intel Core processors with Intel HD7 and Intel Iris Plus Graphics provide laptops the power and graphics to create, stitch and share 4K UHD 360-degree videos and simultaneously transfer and display dual 4K video and fast storage through a single port and cable with Thunderbolt 3.