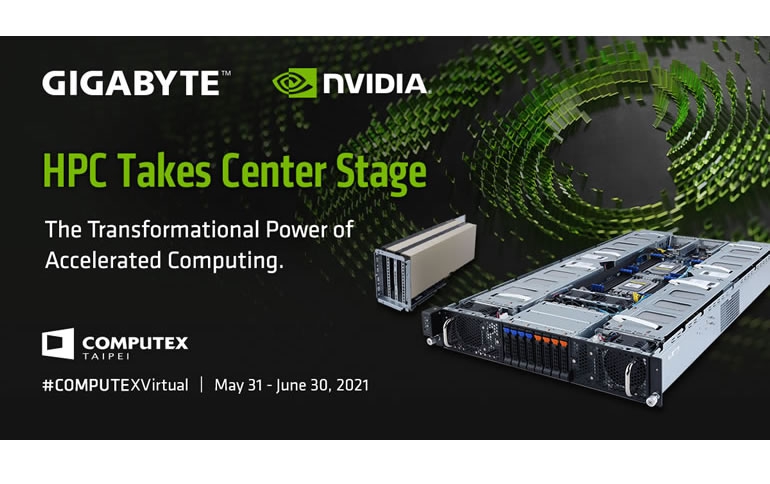 GIGABYTE Offers More NVIDIA-Certified GPU Servers
GIGABYTE Technology, (TWSE: 2376), an industry leader in high-performance servers and workstations, today announced additional GIGABYTE servers that have been added to the growing list of NVIDIA-Certified Systems™. This program validates the best configuration of servers that use hardware such as NVIDIA Ampere architecture-based GPUs and NVIDIA SmartNICs, including the newly added NVIDIA BlueFieldⓇ-2 DPUs. It helps customers confidently deploy servers or clusters to meet the demands of AI and data science applications in mainstream data centers. As more workloads in the data center are shifting to GPU acceleration and network functions are offloaded from the CPU to process data more efficiently, GIGABYTE solutions are ready to help customers upgrade their infrastructure.
GIGABYTE continues to serve customer needs with accelerated computing servers featuring the best in NVIDIA GPU and networking hardware.
NVIDIA BlueFIeld-2 DPUs offload critical networking, storage, and security tasks from CPUs, enabling organizations to transform their IT infrastructure into state-of-the-art data centers that are accelerated, fully programmable and armed with "zero-trust" security features to prevent data breaches and cyberattacks.
As hardware advancements shift workloads away from the CPU to other devices, GIGABYTE systems are designed to meet the requirements of today's most advanced applications. System integrators and other IT professionals can visit the NVIDIA-Certified Systems page to learn more about the program and see which GIGABYTE servers have been validated.
▲ NVIDIA-Certified Systems
Five GIGABYTE servers were previously validated with the NVIDIA A100 40GB GPU: R282-Z96, R281-G30, G492-Z51, G482-Z54, and G242-Z11.
The newly certified models provide GPU acceleration and low-latency, fast Ethernet communication. The complete list of NVIDIA-Certified servers from GIGABYTE are the GPU-centric G-series servers: G242-Z11, G292-Z20, G292-Z24, G292-Z40, G482-Z54, and G492-Z51; and the general-purpose R-series servers: R281-G30, R282-Z96, and R282-Z93.
Extending server reach beyond x86 architecture, the GIGABYTE G242 is the first and only server qualified for NVIDIA GPUs with Arm architecture CPUs and is available today. The NVIDIA Arm HPC Developer Kit is validated with Arm cores and NVIDIA technology inside a GIGABYTE server that is ready with hardware and software for developers.
▲ NVIDIA Arm HPC Developer Kit
GIGABYTE is also announcing support for NVIDIA Omniverse Enterprise. NVIDIA Omniverse Enterprise is a simple to deploy, end-to-end 3D collaboration and true-to-reality simulation platform, optimized by NVIDIA to run on NVIDIA RTX professional systems. Omniverse Enterprise fundamentally transforms complex 3D workflows, enabling teams to achieve new heights of 3D production quality, infinite iterations at no opportunity cost, and faster time-to-market.
"The validation of our servers by NVIDIA is another example of our commitment to technology partners that improves results for our customers," said Daniel Hou, VP of Network & Communication Business Unit at GIGABYTE. "We selected our top performing systems to be put through a number of tests, and our resulting NVIDIA certification cements GIGABYTE's reputation as a top tier manufacturer for enterprise products that give customers excellent value."
At Computex 2021 (May 31 to June 30), GIGABYTE will have booths discussing products and industries, and there will be one dedicated to HPC that focuses on accelerators in servers.
Visit Computex and register for free: https://virtual.computextaipei.com.tw/
GIGABYTE Tech Tune-in: https://www.gigabyte.com/Tech-Tune-In?COMPUTEX21
Learn more about GIGABYTE servers: https://www.gigabyte.com/Enterprise
For further enquiries or assistance: server.grp@gigabyte.com
Follow GIGABYTE on Facebook: facebook.com/gigabyteserver
Follow GIGABYTE on Twitter: twitter.com/GIGABYTEServer