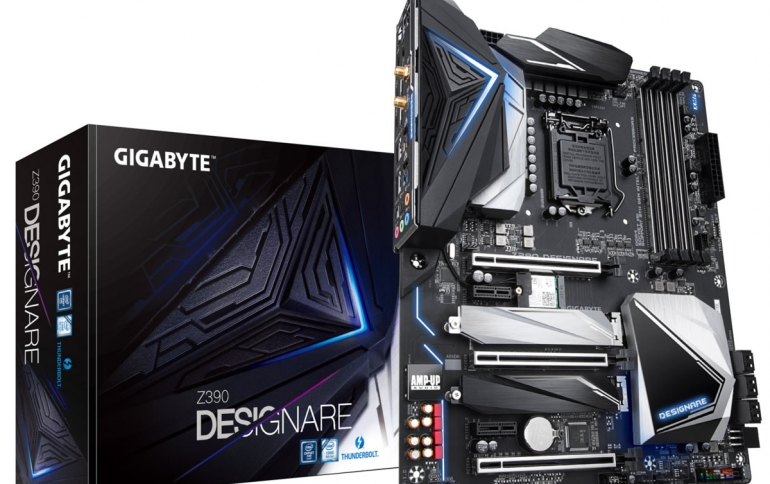 GIGABYTE Presents The Z390 DESIGNARE Motherboard For Designers, New EPYC Motherboards and 2U 4-Node Server
GIGABYTE TECHNOLOGY has released the Z390 DESIGNARE motherboard with full support for the newest 8-core Intel Core i9-9900K processors, along with a new dual-socket 2U 4 node EPYC server and two new single-socket motherboards.
Z390 DESIGNARE motherboard
The newest addition to the GIGABYTE DESIGNARE series is a feature-packed motherboard designed for content creators.
It is supporting Intel's newest consumer grade 8-core processors, and uses an 12+1 phases digital CPU power design which includes both digital PWM Controller and DrMOS. These features are designed to unleash the potent performance of Intel Core i9-9900K processors.
The motheboard has a larger power supply area with 2x Copper PCB design. It utilizes a VRM heatsink for heat dissipation. The screw-mounted heatsink gets the job done when it comes to heat dissipation by pairing its multiple heat dissipation fins for increased surface area with a Direct-Touch Heatpipe. The thicker thermal pad also helps reduce the heat generated by the DrMOS module, keeping PC systems at cooler temperatures.
Through the CPU PCIe lane configuration, professional designers can build a RAID 0/1 array by installing a graphics card on the PCIe slots and two Intel PCIe NVM SSDs using the direct PCIe lanes from the CPU to remove the bottleneck between CPU and PCH. Professional designers can also use two graphics cards to setup a SLI build for improved graphics performance while switching the other set of PCIe slots to the built-in M.2 slots to build a RAID 5 array for high-speed data transfer and solid data integrity.
The Z390 DESIGNARE also comes with Dual Intel Gigabit Ethernet with cFosSpeed accelerator for better bandwidth prioritization. Dual LAN design offers flexibility for network configurations. For SOHO networks, one network route can support external work while another network route can be utilized for intranet data synchronization as well as data backup. Dual LAN design also allows design professionals to share data on the same cloud storage devices while enabling them to simultaneously access the cloud servers to upload and store project data. Z390 DESIGNARE also features built-in Intel CNVi 802.11ac 160MHz 2x2 WIFI.
Aside from performance and connectivity, the Z390 DESIGNARE has two sets of built-in USB Type-C Thunderbolt and native USB 3.1 Gen 2. Users can daisy chain 6 devices + 1 display on a single connection, or connect a digital graphics tablet for 4K resolution. Through the motherboard's built DP-In design professionals can transfer image and audio signals from a high end graphics card and use the Thunderbolt interface to attain DP 1.4 8K resolution.
The understated LED lighting on the board also gives off more relaxed vibes. For added flair, design professionals can use the RGB headers to install RGB lighting strips and play with the GIGABYTE Ambient LED application to synchronize LED lighting strips with the board's built in LED lighting configuration.
EPYC Choices with New Motherboards & 2U 4-Node Server
GIGABYTE is also bringing more choices to its AMD EPYC server line-up with the release of a new dual-socket 2U 4 node server: H261-Z61, and two new single-socket motherboards: MZ01-CE0 and MZ01-CE1.
The H261-Z61 is the new variant of GIGABYTE's first AMD EPYC 2U 4 node H261-Z60 server released in June, adding support for 8 x U.2 drives (2 x U.2 drives per node) for additional flash storage capacity. Both the H261-Z60 and H261-Z61 combine 4 individual hot pluggable sliding node trays into a 2U server box. The node trays slide in and out from the rear of the unit.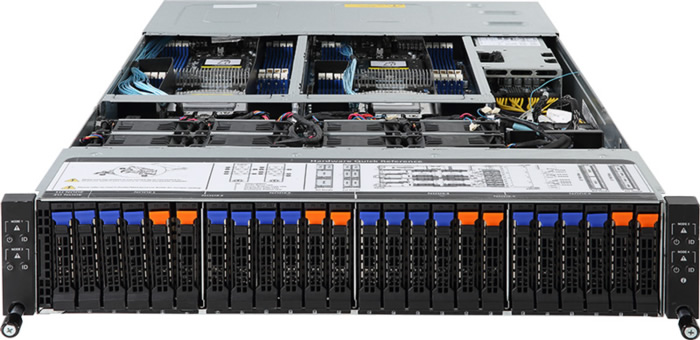 Each node of the H261-Z61 supports dual AMD EPYC 7000 series processors, with up to 32 cores, 64 threads and 8 channels of memory per CPU. Therefore, each node can feature up to 64 cores and 128 threads of compute power. Memory wise, each socket utilizes EPYC's 8 channels of memory with 1 x DIMM per channel / 8 x DIMMS per socket, for a total capacity of 16 x DIMMS per node (over 2TB of memory supported per each node).
In the front of the unit are 24 x 2.5" hot-swappable drive bays, featuring support for 2 x U.2 drives and 4 x SATA / SATA drives per each node (for a total capacity of 8 x U.2 drives and 16 x SATA / SAS drives per system). In addition, each node features dual onboard M.2 ports to support additional flash storage device such as an OS boot disk.
Dual 1GbE LAN ports are integrated into each node as a standard networking option. In addition, each node features 2 x half-length low profile PCIe Gen3 x 16 slots and 1 x OCP Gen3 x 16 mezzanine slots.
The H261-Z61 features a system-wide Aspeed AST1050 CMC (Central Management Controller) and LAN module switch, connecting internally to Aspeed AST2500 BMCs integrated on each node. This results only in one MLAN connection required for management of all four nodes, resulting in less ToR (Top of Rack) cabling and less ports required on your top of rack switch (only one port instead for four required for remote management of all nodes).
Going a step further, the H261-Z61 also features the ability to create a "ring" connection for management of all servers in a rack. Only two switch connections are needed, while each server is connected to each other in a chain. The ring will not be broken even if one server in the chain is shut down.
The system architecture features shared cooling and power for the nodes, with a dual fan wall of 8 (4 x 2) easy swap fans for cooling redundancy and 2 x 2200W redundant PSUs. In addition, the nodes connect directly to the system backplane with GIGABYTE's Direct Board Connection Technology.
GIGABYTE has also added two new server motherboards to our AMD EPYC product line-up: MZ01-CE0 and MZ01-CE1, featuring a workstation friendly ATX form-factor and layout, and the ability to install up to four dual slot GPU cards.
The MZ01-CE0 and MZ01-CE1 both feature single socket AMD EPYC 7000-series processors for up to 32 cores and 64 threads of compute power, and with 8 channels of memory and 8 x DIMM slots for a total capacity of 1,024TB of memory.
These motherboards utilize well the single socket EPYC's massive I/O capabilities by featuring four PCIe x16 expansion slots and one PCIe x8 expansion slot, which can be used to install up to four dual slot GPU cards (such as NVIDIA's Tesla V100 GPGPU ) or other options such as a Mellanox 100GbE / EDR Infiniband networking card. Both motherboards also feature an onboard M.2 port for a high speed flash storage device, as well as four SlimSAS ports for up to 16 x SATAIII storage devices.
The difference between these two motherboards is in networking: MZ01-CE0 and MZ01-CE1 both feature dual onboard 1GbE LAN ports as standard, while MZ01-CE0 adds additional dual onboard 10GbE Base-T LAN ports. Both motherboards also feature a dedicated management port and Aspeed AST2500 BMC for remote management with GIGABYTE's user friendly GSM (GIGABYTE Server Management) software platform.