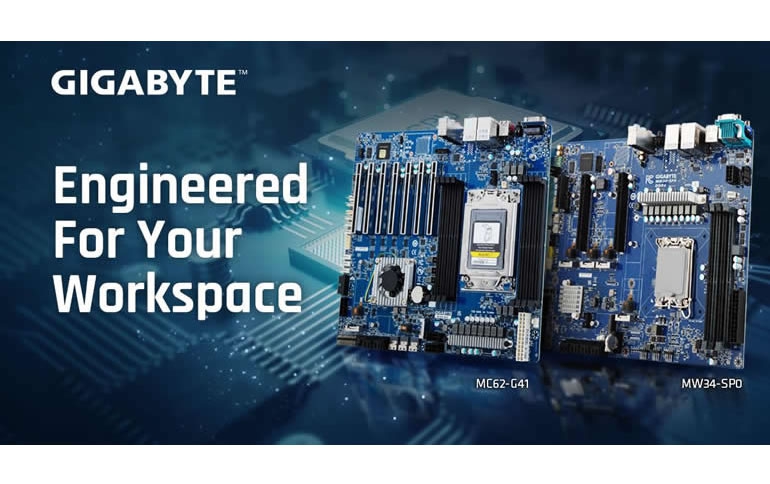 GIGABYTE Releases Workstation Motherboards for AMD WRX80 and Intel W680 Chipsets
GIGABYTE Technology, (TWSE: 2376), an industry leader in high-performance servers and workstations, today announced a new enterprise-grade motherboard, MC62-G41, for AMD Ryzen™ Threadripper™ PRO 3000WX and next generation processors, and another board for the Intel platform, MW34-SP0, featuring enterprise features such as ECC memory support for 12th Gen Intel® Core™ processors. Both platforms will ensure a high level of productivity, availability, and security for professional workstations.
MC62-G41 Overview:
AMD recently drew the curtain on AMD Ryzen Threadripper PRO next generation workstation processors. For this new series of processors, GIGABYTE launched the MC62-G41 using the WRX80 platform that is also backwards compatible with the AMD Ryzen Threadripper PRO 3000 WX Series processors. The WRX80 chipset supports CPUs up to 64 cores and 128 threads, along with 8-channel memory (ECC/non-ECC) DDR4-3200 and 128 PCIe 4.0 lanes.
The MC62-G41 is truly built for extreme performance with this high-quality board, while it is budget friendly and can scale for workloads. All Threadripper Pro 3000WX and next generation processors (280W TDP) are supported. The board also features multiple connectivity options for storage, in addition to the typical SATA ports there are three SlimSAS ports that support Gen4 NVMe and SATA drives, and two M.2 NVMe (Gen4) slots. And on the rear I/O are six USB 3.2 gen2 ports for device connectivity or fast data throughput, alongside LAN and management LAN ports. Another sought after enterprise feature is the ASPEED AST2600 (BMC) that will optimize performance and improve security.
MW34-SP0 Overview:
Intel made waves with the release of the 12th Gen Intel Core processors in late 2021. The new CPUs are highly competitive and the Intel W680 chipset allows consumer CPUs to be used at an enterprise level. As a more consumer focused processor, it has dual channel memory supporting up to 128GB DDR4 memory. The MW34-SP0 adds more features to enhance the Intel Core processor lineup that is typically reserved for enterprise applications, including workstations.
DDR4 memory with ECC support: minimize downtime with reduction in the chance of data corruption or system crashes
ASPEED AST2600: BMC for improved performance, security, and management
Wealth of I/O storage choices: M.2 NVMe support using PCIe 4.0 lanes and SATA drives support
PCIe 5.0 lanes: increased throughput for storage with NVMe add-in card adapters and higher throughput for accelerators using PCIe 5.0 x16 lanes
Remote and Multiple Server Management:
As part of GIGABYTE's value proposition, GIGABYTE provides GIGABYTE Management Console (GMC) for BMC server management via a web browser-based platform. Additionally, GIGABYTE Server Management (GSM) software is available for download on product pages. This software can monitor and manage multiple servers without requiring an additional license fee. GMC and GSM offer great value while reducing TCO and customer maintenance costs.
To submit a query: Contact Sales
Follow GIGABYTE on Facebook: facebook.com/gigabyteserver
Follow GIGABYTE on Twitter: twitter.com/GIGABYTEServer