Google And Samsung Release ARM-based Budget Chromebook
Google and Samsung are introducing a new Chromebook laptop computer running on Google's Chrome OS and priced similarly to smaller tablet computers at $249. The new Chromebook is possibly the lightest laptop on the market - it's 2.5 pounds, a mere 0.8 inches thick - and offers more than 6 hours of battery life. Google is also offering 100 GB of free storage on Google Drive with each Chromebook purchased.
The Chromebook features an 11.6-in. display (1366 x 768,) a full-sized Chrome keyboard, it is powered by a Samsung Exynos 5 dual-core processor and has 16GB of internal storage along with 2GB of RAM. Connectivity includes HDMI, 802.11 b/g/n, and Bluetooth. The device will ship as Wi-Fi-only and 3G versions. The 3G model can be ordered now from both Amazon and Samsung. It comes with 2 years of up to 100MB of free data per month from Verizon and costs $329.99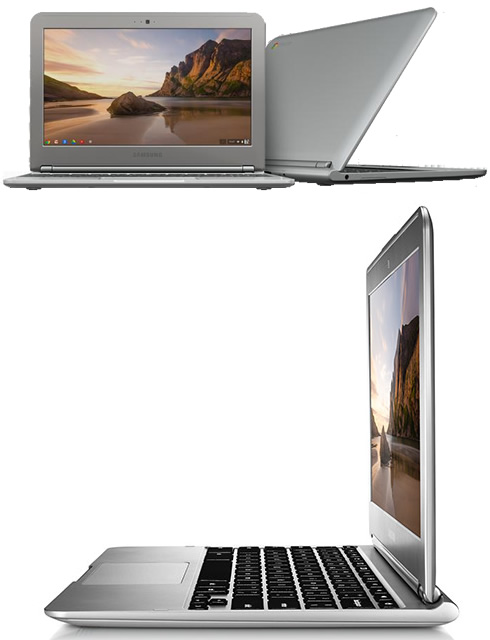 Based on Google's Chrome OS, which is revolving around Google's Chrome Web browser, the laptop doesn't have a hard drive. It functions like a terminal dependent on an Internet connection to get to information, Google apps and other applications stored in data centers run by Google or other technology providers.
Google clains that the Chromebook boots up in less than 10 seconds and resumes instantly. Chromebook's users may also have separate accounts where all of their stuff is kept safe.
Starting today, the new Samsung Chromebook is available for pre-order online from Amazon, Best Buy, PC World and other retailers. Next week it will be available for sale from these same online retailers as well as the Google Play store.
The new Chromebook goes on sale just days before Microsoft releases Windows 8.
Specifications
- 1.6" (1366x768) display
- 0.8 inches thin - 2.5 lbs / 1.1 kg
- Over 6.5 hours of battery
- Samsung Exynos 5 Dual Processor
- 100 GB Google Drive Cloud Storage2 with Solid State Drive
- Built-in dual band Wi-Fi 802.11 a/b/g/n
- VGA Camera
- 1x USB 3.0, 1x USB 2.0
- HDMI Port
- Bluetooth 3.0 Compatible