Google Android Wear Coming On Wearables
As it was expected, Google today officially announced Android Wear, a project that extends Android to wearable devices. Google is strating the project with wearable?watches, which are going well beyond the mere act of just telling you the time.
The Android Wear watches will show you info and suggestions, the latest posts and updates from your social apps, chats from your preferred messaging apps, notifications from shopping, news and photography apps, and more.
They will also give straight answers to spoken questions. Saying "Ok Google" sets the device ready to respond to your questions, such as how many calories are in an avocado, what time your flight leaves, and the score of the game. Or by saying "Ok Google" you'll get stuff done, like calling a taxi, sending a text, making a restaurant reservation or setting an alarm.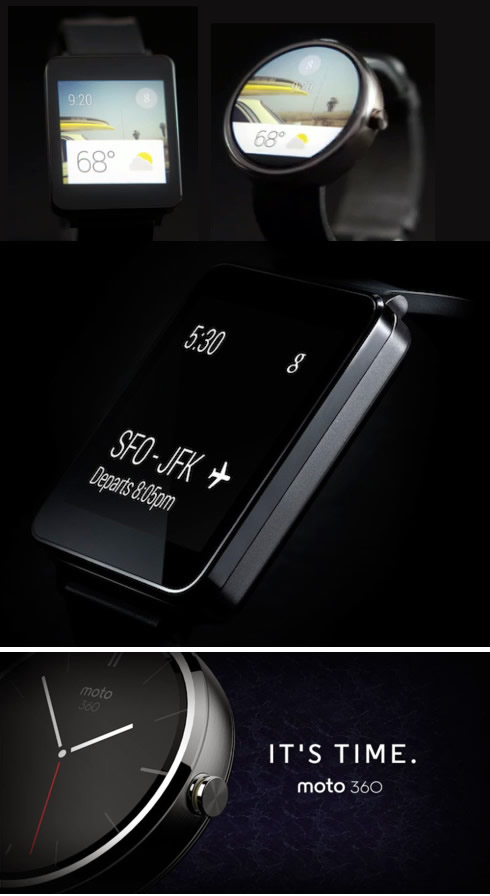 Google is also bringing health and fitness monitoring features to the Android Wear devices. The Android Wear will offer reminders and fitness summaries, real-time speed, distance and time information on your wrist while you are walking or cycling.
Android Wear also lets you access and control other devices from your wrist. "Ok Google" will fire up a music playlist on your phone, or cast your favorite movie to your TV. And of course there is a lot of more possibilities here.
If you're a developer, there's a new section on developer.android.com/wear focused on wearables. Starting today, you can download a Developer Preview so you can tailor your existing app notifications for watches powered by Android Wear. Because Android for wearables works with Android's notification system, many apps will already work well.
Google promises to offer more developer resources and APIs soon.
LG already announced its G Watch due to arrive next quarter. Details are limited - it looks like a a simple square device with an LCD touchscreen. In a statement, LG's CEO of mobile communications said simply that LG would "pull out all the stops in both design and engineering." LG also said it was "developed in close collaboration with Google," but stopped short of dubbing it a "Nexus" device.
Motorola also has announced plans for a smartwatch. Called Moto 360, the device has a round face. Motorola said that "all the core components are technically brand new." The company said it's would be available in a "variety of styles globally in Summer 2014."
Google says it is working with several consumer electronics manufacturers, including Asus, HTC, and Samsung; chip makers Broadcom, Imagination, Intel, Mediatek and Qualcomm; and fashion brands like the Fossil Group to bring watches powered by Android Wear later this year.