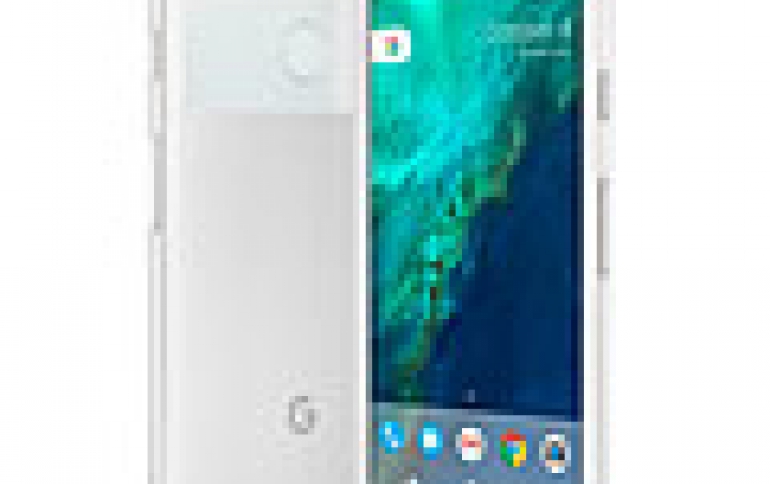 Google Introduces Pixel Smartphones, Affordable Daydream VR Headset, Google WiFi, Chromecast Ultra And Google Home
Google today announced a family of products that brings people the best of Google hardware and software. Products include the Pixel phone, a $79 Daydream VR headset, the Google Wifi router, the 4K-enabled Chromecast Ultra and the smart, voice-controlled Google Home wireless speaker. Google Pixel phone
If you have followed Google closely, the Pixel name may sound familiar to you because Google has used the Pixel name in the past for consumer hardware products.
Pixel features rounded the edges to make it easy to grip. It uses 2.5D Corning Gorilla Glass 4 on the front display and back glass to accent the aerospace grade aluminum body. The glass on the back also features Pixel Imprint, a fingerprint sensor, which is placed on the back of the phone. You can swipe it to access your notifications. And with the phone's Quick Charging feature, you'll get up to seven hours of power in 15 minutes.
In addition, Pixel offers to owners 24/7 live customer service over phone or chat, and the support agent will be able to see exactly what you are seeing on your screen in order to help you more efficiently.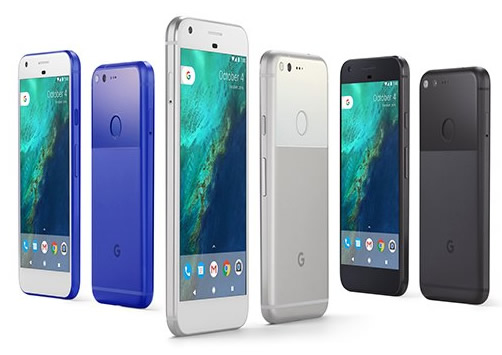 Pixel is the first phone with the Google Assistant built in. With your Assistant, you can have a conversation with Google to find answers or get things done on the go. Say "Ok Google" or touch and hold the Home button and your Assistant is ready to help. Ask it for a brief update on your day or to play a video on YouTube. Look up traffic on the way home from work or when the nearest pharmacy closes. You can even say "show me my camping photos with Andrew""and it'll display the photos you're looking for. Your Assistant can also offer help with what's on-screen in any app.
Google claims that the Pixel camera is "the best smartphone camera" ever made, as it got a DxOMark Mobile score of 89.
Pixel has a 12.3MP camera, featuring an f/2.0 aperture and big 1.55 micron pixels. Pixel's camera lets you take photos in low light, bright light or any light. You can catch action shots as they happen with Smartburst, which takes a rapid-fire sequence of shots and automatically selects the best one. You can use Lens Blur to achieve shallow depth of field and bokeh effects, making your subject pop. You can capture dramatic landscapes or make faces glow with new exposure controls. Pixel also supports HDR+ by default, courtesy of the zero shutter lag of the camera's shutter, it has a very short capture time and supports video stabilization.
And as a special bonus for Pixel owners, Google is including free unlimited storage for original quality photos and videos at full resolution in Google Photos.
Under the hood, the Pixel phones pack a Snapdragon 821 SoC, which includes four of Qualcomm's custom 64-bit Kryo CPU cores. The two cores in the performance cluster have a peak frequency of 2.15GHz, while the other two cores in the power cluster have a peak frequency of 1.6GHz.
The Pixel phones also include 4GB of LPDDR4 RAM. The amount of internal storage has also been increased. The base models come with 32GB of NAND, while the high capacity models come with 128GB. Like the previous generation Nexus phones, there's no micro SD card support for the Pixel phones, so high NAND capacity is important.
In terms of battery capacity, the smaller Pixel packs a 2770mAh battery – virtually identical to the Nexus 5X – while the Pixel XL bumps that up to 3450mAh, which is even more identical to the Nexus 6P.
Wrapping up the specs, you'll find 2x2 802.11ac WiFi, a USB Type-C port that supports 3.0 speeds, and a 3.5mm headset jack.
 

Pixel

Pixel XL

Display
5.0 inches
FHD AMOLED at 441ppi
2.5D Corning® Gorilla® Glass 4
>75% Active Area
5.5 inches
QHD AMOLED at 534ppi
2.5D Corning® Gorilla® Glass 4
>75% Active Area
Size
5.6 x 2.7 x 0.2 ~ 0.3 inches
143.8 x 69.5 x 7.3 ~ 8.5 mm
6.0 x 2.9 x 0.2 ~ 0.34 inches
154.7 x 75.7 x 7.3 ~ 8.5 mm
Battery
2,770 mAh battery
Standby time (LTE): up to 19 days
Talk time (3g/WCDMA): up to 26 hours
Internet use time (Wi-Fi): up to 13 hours
Internet use time (LTE): up to 13 hours
Video playback: up to 13 hours
Audio playback (via headset): up to 110 hours
Fast charging: up to 7 hours of use from only 15 minutes of charging
3,450 mAh battery
Standby time (LTE): up to 23 days
Talk time (3g/WCDMA): up to 32 hours
Internet use time (Wi-Fi): up to 14 hours
Internet use time (LTE): up to 14 hours
Video playback: up to 14 hours
Audio playback (via headset): up to 130 hours
Fast charging: up to 7 hours of use from only 15 minutes of charging
Design

Metal unibody

Glass supervisor with Gorilla Glass 4 coating

Memory
4GB LPDDR4 RAM
Display Characteristics
100% NTSC
100000:1, super contrast ratio
True black level
Full 24-bits depth or 16.77 million colors
Less than 40% brightness decrease at 30 degree viewing angle
Storage
32 or 128GB
Processor
Snapdragon 821; MSM8996 pro AB Quad Core 2+2 Kryo 2.15GHz / 1.6GHz
Main Camera
12.3MP IMX378
1.55μm
PDAF + LDAF
f/2.0 Aperture
Front Camera
8MP IMX179
1.4µm
f/2.4 Aperture
Fixed focus
Video
1080p @ 30fps, 60fps, 120fps
720p @ 30fps, 60fps, 240fps
4K @ 30fps
Charging
USB-C 18W adaptor with USB-PD
18W charging
Ports and Slots
USB Type-C
USB 3.0
3.5mm headset jack
Single SIM
Media
Single bottom-firing speaker
3 Mics
Noise Suppression
Connectivity

2 RF SKUs - NA and RoW
3x carrier aggregation support
Supports up to CAT 11 (600Mbps DL / 75Mbps UL) depending upon carrier coverage and carrier rollouts
Telstra - CAT11 (600Mbps DL / 75Mbps UL)
All others - CAT 9 (450Mbps DL / 50 Mbps)GPS
WiFi 802.11 a/b/g/n/ac 2x2 MIMO
BT 4.2
NFC
Telephony

GSM: Quad-band GSM
UMTS/WCDMA: B 1/2/4/5/8
CDMA: BC0/BC1/BC10
TDS-CDMA: N/A
FDD LTE: B 1/2/3/4/5/7/8/12/13/17/20/25/26/28/29/30
TDD LTE: B 41
LTE 2xCA: B2+B2, B2+B4, B2+B5, B2+B12, B2+B13, B2+B17, B2+B29, B2+B30, B4+B4, B4+B5, B4+B7, B4+B12, B4+B13, B4+B17, B4+B29, B4+B30, B5+B30, B7+B7, B12+B30, B25+B25, B29+B30, B41+B41
LTE 3xCA: B2+B2+B12, B2+B2+B13, B2+B4+B4, B2+B4+B5, B2+B4+B12
B2+B4+B13, B2+B4+B29, B2+B5+B30, B2+B12+B30, B2+B29+B30, B4+B4+B12, B4+B4+B13, B4+B5+B30, B4+ B7+ B12, B4+B12+B30, B4+B29+B30, B41+B41+B41
RoW
GSM: Quad-band GSM
UMTS/WCDMA: B 1/2/4/5/6/8/9/19
CDMA: BC0
TDS-CDMA: B 34/39
FDD LTE: B1/2/3/4/5/7/8/12/13/17/18/19/20/21/26/28/32/
TDD LTE: B 38/39/40/41
LTE 2xCA: B1+B3, B1+B5, B1+B7, B1+B8, B1+B18, B1+B19, B1+B20, B1+B21, B1+B26, B1+B41, B3+B3, B3+B5, B3+B7, B3+B8, B3+B19, B3+B20, B3+B28, B5+B7, B7+B7, B7+B8, B7+B20, B7+B28, B19+B21, B20+B32, B38+B38, B39+B39, B39+B41, B40+B40, B41+B41
LTE 3xCA: B1+B3+B3, B1+B3+B5, B1+B3+B8, B1+B3+B20, B1+B5+B7, B1+B19+B21, B1+B41+B41, B3+B3+B5, B3+B3+B7, B3+B3+B8, B3+B7+B7, B3+B7+B8, B3+B7+B20, B3+B7+B28, B7+B7+B28

Sensors
Proximity/ALS
Accelerometer / Gyrometer
Magnetometer
Pixel Imprint – Back-mounted fingerprint sensor for fast unlocking
Barometer
Hall sensor
Sensor Hub: CHRE V2 with GPS/Wi-Fi/BT
Advanced x-axis haptics for sharper / defined response
Pixel ships with the newest Android operating system, Android 7.1 Nougat. Phones will get software and security updates as soon as they're available, directly from Google. Google also made the update process easier. When a new update is available, it can download and install in the background. The Pixel also comes with Google Duo and Allo pre-installed so you can video call and text with all your friends, whether they're on Android or iOS.
Pixel comes in two sizes, 5" or 5.5" (XL), and three colors: Very Silver, Quite Black and the limited edition for the U.S. only, Really Blue.
In addition to customizing Live Cases with your favorite photos and places, Google is introducing a new Artworks collection that features exclusive designs from artists like Justin Maller, and photographers like Canadian astronaut Chris Hadfield.
Last but not least, the Pixel phones are Daydream-ready, and are compatible with the brand new Daydream Vire headset, also announced by Google today (see below).
Pixel is available for pre-order today starting at $649 in the U.S., U.K., Canada, Germany and Australia. Pre-orders in India will begin October 13. In the U.S., Google is teaming up exclusively with Verizon to make Pixel available in the U.S. at all Verizon retail outlets, including Best Buy stores. Google is also offering Pixel unlocked on the Google Store and, Project Fi fans out there, will be happy to know that Pixel is the latest device to work on the Fi network.
The Pixel phones are the first conceptualized, designed, engineered and tested in-house by Google. Similar to Apple's partnership with Foxconn in China, Google is getting HTC Corp. to assemble the Pixel devices.
Besides similar functionality and pricing, Google is going right after Apple customers with a new option to automatically transfer data such as contacts and photos from an iPhone to the Pixel when it's first switched on. Google included a physical adapter in the box that plugs the new devices into iPhones to conduct the process. Apple added a similar feature to the iPhone last year, allowing users to port their information over from Android gadgets.
Daydream: Bringing VR to everyone
At I/O this May, Google announced Daydream, a platform for mobile VR. The goal for Daydream is to simplify the complexity behind virtual reality.
With Daydream, you pop a Daydream-ready phone in the headset to start exploring. Powered by Android 7.0 Nougat, Daydream-ready phones are built with high-resolution displays, powerful mobile processors and high-fidelity sensors. Google's newest Pixel and Pixel XL are the first Daydream-ready phones, and there are a lot more on the way from Android smartphone makers.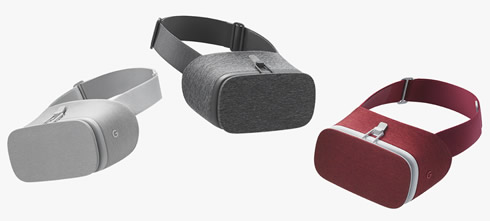 Google announced Daydream View. Designed and developed by Google, it's the first Daydream-ready headset and controller.
Daydream View is:
The headset is made with soft, breathable fabric. It is 30% lighter than similar devices and is designed to fit over eyeglasses.
Easy to use. Just drop in your Daydream-ready phone and you'll be ready to go. The phone and headset have an auto-alignment system so you don't have to worry about cables or connectors.
Daydream controller. This small controller lets you interact with the virtual world the same way you do in the real world. It points where you point, and is packed with sensors to understand your movements and gestures. You can swing it like a bat or wave it like a wand. And it's so precise that you can draw with it. The controller slides right inside the headset when not in use, so you don't have to worry about losing it in your bag or between couch cushions.
The headset fits phones big or small, so it'll work with any Daydream-ready phone you choose. In addition, the headset comes in different colors-Slate, Snow and Crimson.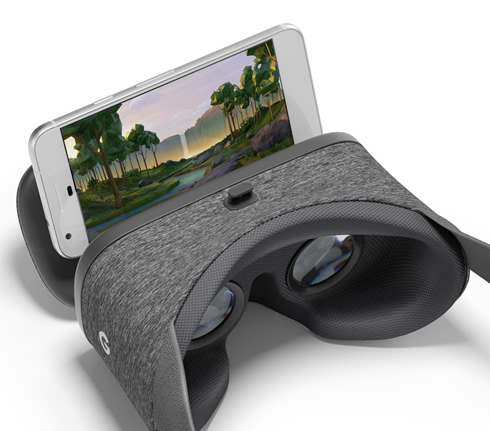 Google brought popular Google apps into VR. With YouTube, you can watch the entire library of videos on a virtual big screen and experience videos from creators like Buzzfeed, PrankvsPrank, Meredith Foster, CollegeHumor, Tastemade, UnboxTherapy and VSauce2. Use Google Street View to see curated tours of some of the world's most amazing places like the Pyramids and the Taj Mahal, or just search to explore everywhere else. Google Play Movies makes tens of thousands of movies and TV episodes available in your own virtual theater. And Google Photos displays your 360° captures in a whole new way.
Teleport from anywhere to almost everywhere with stories and content from Google's partners, including The New York Times, The Wall Street Journal and J.K. Rowling's Wizarding World of "Fantastic Beasts and Where to Find Them," as brought to life by Warner Bros.
Experience sports, live events and more with MLB and NBA. Plus, you can watch top shows and movies on your own virtual big screen with Hulu, HBO and Netflix.
Go from the sidelines to the center of action with dozens of titles, including Wonderglade, Gunjack 2, LEGO BrickHeadz, Mekorama, Need for Speed, EarthShape, Danger Goat, Home Run Derby and Hungry Shark World.
Daydream View arrives this November at the Google Store and our retailer partners across five countries:
United States: Verizon, Best Buy; $79 (USD)
Canada: Bell, Rogers, Telus, Best Buy; $99 (CAD)
United Kingdom: EE, Carphone Warehouse; £69 (GBP)
Germany: Deutsche Telekom; €69 (EUR)
Australia: Telstra, JB Hi-Fi; $119 (AUD)
In the U.S., Daydream View will be available for pre-order starting October 20 at Verizon and the Google Store. Slate will be available in all countries at launch, and Snow and Crimson will be coming to the U.S., U.K. and Australia after.
A new kind of Wi-Fi system
Google is introducing Google Wifi, a new connected Wi-Fi system designed to give you a fast signal in every room, on every device.
Google Wifi was designed to support the new ways we use Wi-Fi. It is an expandable system, so for larger homes, you can add Google Wifi points. They connect to one another and spread a strong network signal to every room.
The system uses a technology called mesh Wi-Fi. Within the mesh network, each Google Wifi point creates a high-powered connection, and the different points work together to determine the best path for your data. The result is fast Wi-Fi everywhere in your house, not just right next to the router.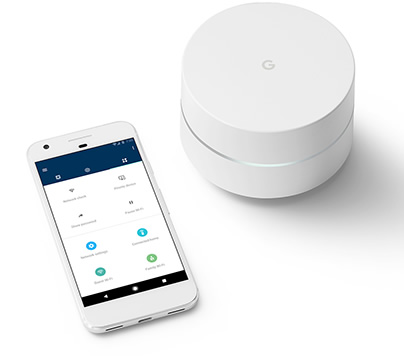 Google Wifi comes with Network Assist technology, which works behind the scenes to keep your Wi-Fi fast so you don't have to figure out how to adjust your router. Network Assist automatically places you on the clearest channel and optimal Wi-Fi band for your device. And as you roam around your house, Network Assist will transition your device between the Google Wifi system points in real time, so you avoid dead spots or delays.
Whan you need more control over your network, Google Wifi makes it simple through a companion app, available on Android or iOS. The app lets you do things like pause Wi-Fi on kids' devices (like when it's time to come to the dinner table). It also shows you which devices are connected and how much bandwidth they're using and lets you prioritize devices within your network so you can stream that latest episode uninterrupted. Google Wifi was also designed with user privacy as a priority. For example, it has settings for controlling cloud management and security features such as wireless encryption, verified boot, and auto updates to keep your network safe and secure.
Google Wifi will be available for pre-order in the U.S. in November. It will retail for $129 for a single pack, and $299 for a three-pack at the Google Store, Amazon, Best Buy and Walmart.
Google Home
Google response to Amazon.com's Alexa-enabled Echo speaker is Google Home.
With Google Home, it's as simple as using your voice to turn up the music, get answers to a myriad of questions, manage tasks around the house, and even adjust the thermostat or lights. It allows you to bring the Google Assistant into your kitchen, living room or anywhere else around the house.
With an "Ok Google" you can play songs, artists, radio stations, your favorite playlists and more from Google Play Music, Pandora, Spotify, TuneIn and YouTube Music with additional services like iHeartRadio coming soon. You can also play a podcast while making pasta or listen to today's news while tying your shoes. And if you just want to stream audio directly from your phone, you can cast music to Google Home from 100+ Chromecast-enabled apps on your Android or iOS device.
Google Home's smart audio design integrates a high-excursion driver with a dual passive radiator to deliver clear highs and deep lows for Hi-Fi sound that streams over WiFi. Even while you jam out to music, it can hear you from across the room, thanks to two omnidirectional microphones and neural beamforming.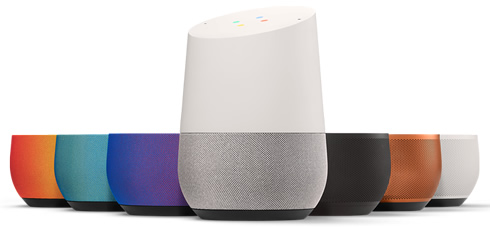 Google Home taps into the power of Google Search to give you real-time answers. Ask Google Home to translate phrases and do simple math calculations. Kneading pizza dough and need to change ounces to grams? Ask and get unit conversions and nutritional info, too. Google Home can also help you find answers to more obscure questions directly on the web.
With your permission, Google Home makes information easily accessible. Check your calendar or even pull up your flight information. You can also say, "Tell me about my day" to hear curated personal information that helps you navigate your day.
Of course, the device features a microphone mute button on it, in cases where you want to deactivate voice recognition.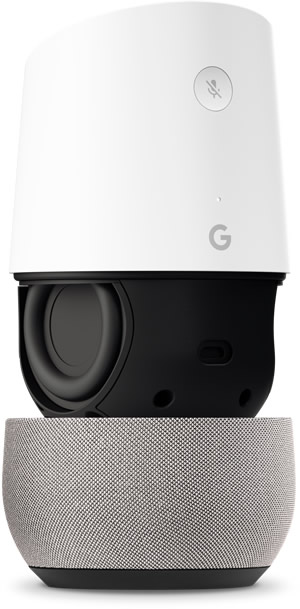 With Google Home, you can control devices around the house. Play and control music on your speakers that have Chromecast Audio plugged in or Chromecast built-in. Or stream videos to a TV equipped with Chromecast. At launch, you can fire up videos from YouTube, and Google will support popular apps like Netflix and Google Photos in the near future. You can also control your lights, thermostats and switches with home automation systems like Philips Hue, Nest, Samsung SmartThings and IFTTT.
In terms of looks, Google Home has a clean, minimal design that has no buttons and hidden LED lights. It features a capacitive touch surface for those moments when voice won't do. Because every home is different, you can customize the base with different colors and finishes (metal and fabric, sold separately).
Google Home will be available in stores starting in November or you can pre-order yours today for $129 from the Google Store, Best Buy, Target and Walmart. Once you set up your device, you'll be able to redeem 6 months free of YouTube Red so you can enjoy YouTube music and video ads-free.
Chromecast Ultra
Gogole also updated the Chromecast device. The new one, called Chromecast Ultra, supports stream of 4K content with HDR, Dolby Vision sudio, it offers improved Wifi performance and gets ethernet support.
At first, you'll be able to stream 4K content from Netflix, YouTube and Vudu. Later this year, Google Play Movies & TV will be rolling out 4K content. Even if your TV isn't 4K-ready, Chromecast Ultra automatically optimizes your TV's picture. It will also be comaptible with 4K movies from Google Play, available in October.
Chromecast Ultra will be available in November for $69 from the Best Buy, Google Store, Target, and Walmart in the U.S., as well as from international retailers in 15 more countries.
"Artificial Intelligence first"
Google CEO Sundar Pichai kicked off today's keynote event by emphasizing the company's shift in focus from "mobile first" to "AI first", and saying it wants to create a personal Google for each user.
Pichai said for Assistant to be truly helpful, it needs to be available universally, and so the company today showed how it will be bringing the helper to phones and homes.
Hardware chief Rick Osterloh detailed how the company is working on hardware built around Google Assistant, starting with the Pixel phone.
Pichai said Google improved the quality of its artificial intelligence from 89.6 percent in 2014 to 93.9 percent today. This helps the system better recognize pictures so Google Photos, which comes installed in the Pixel phones, can more accurately find the images you're looking for.
Of course, Google is bring the Assistant into the Google Home smart speaker.
Lead engineer for Assistant Scott Huffman said the company plans to launch an open developer platform to let anyone create actions for Assistant. It will let partners come up with so-called Direct Actions for easy, straightforward tasks such as turning on the lights. Another method is Conversation Actions, which creates a back-and-forth between you and Assistant to get you what you need, such as an Uber ride.