HGST Launches First 12Gb/s SAS Solid State Drives
HGST today announced the fastest enterprise-class, multi level cell (MLC) SAS SSD family ? the Ultrastar SSD800MH, Ultrastar SSD800MM and Ultrastar SSD1000MR. These HGST drives are the first to double today?s SAS interface speed. Designed for the most demanding applications where "hot" data is accessed frequently,HGST's new 12Gb/s SAS SSDs help increase input/output per second (IOPS) and improve response times to mission-critical data in cloud and traditional IT datacenters environments.
The new Ultrastar 12Gb/s SAS SSD family combines enterprise-grade, 25nm, MLC NAND flash memory, performance, advanced endurance management firmware and power loss data management techniques to extend reliability, endurance and sustained performance over the life of the SSD.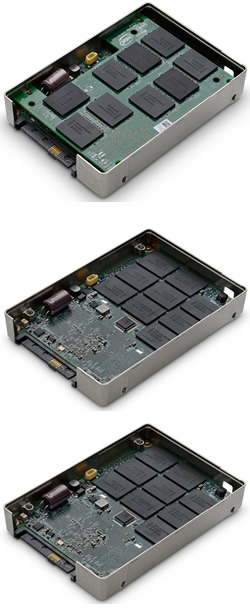 The SSDs are rated with a 2.0 million hours mean time between failure (MTBF) specification.
The new Ultrastar SSD800MH 12Gb/s SAS SSD delivers a sequential throughput with up to 1,200MB/s large block reads, and up to 750MB/s writes. It also delivers up to 145,000 read and 100,000 write IOPS, reaching speeds >100 times faster than HDDs.
With this new generation, HGST has also improved its SSD "quality of service." Quality of service refers to how quickly and efficiently the SSD can manage and process reads and writes to the drive. Like lanes on a highway, too much data traffic can cause congestion and slow performance. In tier 0/1 enterprise applications such as high-frequency trading, every millisecond counts. HGST uses firmware and controller technology to significantly improve command completion time requirements. The overall result is a 50 percent improvement in latency, a 300 percent improvement in I/O per second (IOPS) writes, and a 2x ? 3x faster throughput compared to the earlier generation Ultrastar SSD400S SSD.
HGST?s new SSD family also comes with three endurance levels - high endurance, mainstream endurance and read-intensive endurance. The new Ultrastar SSD800MH high-endurance SSD rates at 25 full drive writes per day (DW/D) for five years. The Ultrastar SSD800MM mainstream endurance SSD rates at 10 DW/D for five years. The read-intensive 1TB Ultrastar SSD1000MR SSD rates at two DW/D for five years.
HGST is currently qualifying its SSDs with select OEMs. Broader qualification samples are now available with channel distribution scheduled in June 2013.
Ultrastar 12Gb/s SAS self-encrypting SSD models are also available, which conform to the Trusted Computing Group?s Enterprise A Security Subsystem Class encryption specification.
The Ultrastar 12Gb/s SAS SSD family is targeted to achieve a 0.44 percent annual failure rate (AFR) or two million hour mean-time-between-failure (MTBF). They are backed by a five-year limited warranty, or the maximum petabytes written (based on capacity).
 

ULTRASTAR SSD800MH

ULTRASTAR SSD800MM

ULTRASTAR SSD1000MR

Model(s)
HUSMH8080ASS200
HUSMH8040ASS200
HUSMH8020ASS200
HUSMH8080ASS201
HUSMH8040ASS201
HUSMH8020ASS201
HUSMH8080ASS204
HUSMH8040ASS204
HUSMH8020ASS204
HUSMH8080ASS205
HUSMH8040ASS205
HUSMH8020ASS205

HUSMM8080ASS200
HUSMM8040ASS200
HUSMM8020ASS200
HUSMM8080ASS201
HUSMM8040ASS201
HUSMM8020ASS201
HUSMM8080ASS204
HUSMM8040ASS204
HUSMM8020ASS204
HUSMM8080ASS205
HUSMM8040ASS205
HUSMM8020ASS205
HUSMR1010ASS200
HUSMR1050ASS200
HUSMR1025ASS200
HUSMR1010ASS201
HUSMR1050ASS201
HUSMR1025ASS201
HUSMR1010ASS204
HUSMR1050ASS204
HUSMR1025ASS204
HUSMR1010ASS205
HUSMR1050ASS205
HUSMR1025ASS205
Interface

SAS 12Gb/s

Capacity (GB)

800 / 400 / 200

1000 / 500 / 250

Form Factor

N/A

Flash Memory Technology

Multi Level Cell (MLC)

Performance
Read Throughput
(max MB/s, sequential 64K)

1200

1150

1200

Write Throughput
(max MB/s, sequential 64K)

750

700

700

Read IOPS (max IOPS, random 4K)

145,000

145,000

145,000

Write IOPS (max IOPS, random 4K)

100,000

70,000

20,000

Reliability
Error Rate (non-recoverable, bits read)

1 in 1017

MTBF (M hours)

2.0

Availability (hrs/day x days/wk)

24x7

Endurance (max PB, random write)

36.5 / 18.3 / 9.1

14.6 / 7.3 / 3.7

N/A

Power
Requirement

+5 VDC (+/-5%)
+12 VDC (+/-5%)

Performance Idle

2.2 / 2.1 / 2.1

Operating (W, typical)

9.0 // 11.0

Physical size
Z-height (mm)

15

Dimensions (width x depth, mm)

70.1x199,6

70.1 x 100.6

Weight (g, max)

164

Environmental (operating)
Ambient temperature

0 to 60ºC

Shock (half-sine wave)

1000G (0.5ms)
500G (2ms)

Vibration

2.16, all axes (5 to 700 Hz)