HP Launches Intel-powered Project Moonshot Server
Hewlett-Packard today officially launched its Moonshot server line with an Intel-based Atom system and more chipsets planned in the future. HP claims that the first HP Moonshot system is using up to 89 percent less energy, 80 percent less space and costing 77 percent less, compared to traditional servers
"With nearly 10 billion devices connected to the internet and predictions for exponential growth, we've reached a point where the space, power and cost demands of traditional technology are no longer sustainable," said Meg Whitman, president and chief executive officer, HP. "HP Moonshot marks the beginning of a new style of IT that will change the infrastructure economics and lay the foundation for the next 20 billion devices."
The new HP Moonshot system is the second-generation server from HP's Project Moonshot. This new class of server is engineered to address the IT challenges created by social, cloud, mobile and big data. HP Moonshot servers are built from chips more commonly found in smartphones and tablets, which allow the servers to deliver reduced energy use and a high-density footprint, all at a lower cost.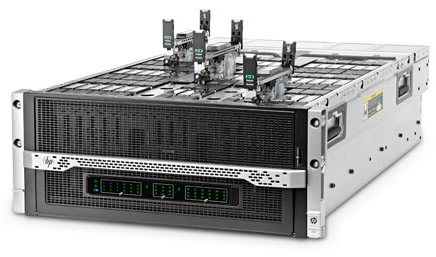 The HP Moonshot system consists of the HP Moonshot 1500 enclosure and application-optimized HP ProLiant Moonshot servers. HP says that these servers will offer processors from multiple partners, each targeting a specific workload.
With support for up to 1,800 servers per rack, HP Moonshot servers occupy one-eighth of the space required by traditional servers, offering a compelling solution to the problem of physical data center space. Each chassis shares traditional components including the fabric, HP Integrated Lights-Out (iLo) management, power supply and cooling fans.
The first HP ProLiant Moonshot server is available with the Intel Atom S1200 processor and supports web-hosting workloads. HP Moonshot 1500, a 4.3u server enclosure, is fully equipped with 45 Intel-based servers, one network switch and supporting components.
The Intel Atom S1200 processor is the only available 64-bit SoC with critical data center class features such as full 64-bit software ecosystem support, ECC and Intel Virtualization Technology - all within an ultra-low power 6W TDP.
HP also announced a roadmap of workload-optimized HP ProLiant Moonshot servers incorporating processors from AMD, AppliedMicro, Calxeda, Intel and Texas Instruments Incorporated.
Moonshot systems will also take advantage of higher density HP ProLiant Moonshot servers using Intel?s next generation Atom SoC coming later this year. The next gen servers will be built on Intel?s 2nd generation 64-bit Intel Atom SoC, code named "Avoton". Avoton is built on Intel's 3D tri-gate 22-nanometer (nm) process technology and is based on a new microarchitecture codenamed "Silvermont". It will feature an integrated Ethernet fabric controller and deliver improvements over today's Intel Atom S1200 in performance per watt and energy efficiency through a combination of new capabilities, new microarchitecture and manufacturing technology. Avoton is now being sampled to Intel's customers and the first systems are expected to be available in second half of 2013. Moonshot servers using Avoton will quadruple the density (4 Avoton SoCs per server) vs. the current generation just announced using Intel Atom S1200.
HP also introduced a partner program and new services. These include:
- HP Pathfinder Innovation Ecosystem - includes nearly 25 silicon vendors, operating system developers and independent software vendors (ISVs) dedicated to the development of new servers to support varied workloads.
- HP Moonshot Concierge Services - includes the HP Discovery Labs and HP Technology Services support and consulting solutions for platform migration and energy efficiency.
The HP Moonshot system is immediately available in the United States and Canada and will be available in Europe, Asia and Latin America beginning next month.
Pricing begins at $61,875 for the enclosure, 45 HP ProLiant Moonshot servers and an integrated switch.
Standard Features - Server
Processor
Intel? Atom? Processor S1260, 2.0 GHz
| | |
| --- | --- |
| Chipset | Intel? Atom? Processor S1200 Series for Servers |
| | |
| --- | --- |
| On System Management Processor | via HP Moonshot 1500 Chassis Management module |
| | |
| --- | --- |
| Memory Protection | Advanced ECC (multi-bit error protection) |
Memory
Type
Unbuffered (UDIMM), ECC @ 1333 MHz
DIMM Slots Available

1 SO-DIMM Slot
Configuration
8GB (1x8GB)
| | |
| --- | --- |
| Network Controller | Network Controller Broadcom 5720 Dual-port 1Gb Ethernet Controller |
| | |
| --- | --- |
| Storage Controller | Marvell 9125 |
| | | |
| --- | --- | --- |
| Storage Device | Hard Drive | Each cartridge will ship with a SATA HDD or SATA SSD |
Maximum Internal Storage (per Moonshot Server)
Quick Release SATA 2.5"
1TB
1 x 1TB SATA
500 GB

1 x 500 GB SATA
Interfaces
Network RJ-45 for Management

Two RJ-45 are located on the HP Moonshot 1500 Chassis Management Module. One is for the HP Moonshot iLO Chassis Management and one is for future use
SFP+ connector

Six 10GbE SFP+ connectors per HP Moonshot-6SFP Uplink.
Health LED

47 front for server/switch health, one per server and switch when access panel is removed
Power

1 front and one per server and switch when access panel is removed
UID for node
1 front and 1 rear (on management module) and one per server and switch when access panel is removed
Drive health LED
One per server and switch when access panel is removed
Industry Standard Compliance
ACPI 2.0b Compliant
SMBIOS 2.6.1
PXE Support
Operating Systems and Virtualization Software Support for ProLiant Servers

Red Hat Enterprise Linux (RHEL)
SUSE Linux Enterprise Server (SLES)

NOTE: Only 64-bit versions of these operating systems are supported.
Form Factor
HP Moonshot 1500 chassis- 4.3U form factor
HP ProLiant Moonshot servers are constructed to allow for 45 servers to fit vertically and exclusively into the HP Moonshot 1500 chassis
HP Moonshot-45G Switch Modules are designed for up to two switches to install vertically and exclusively into the HP Moonshot 1500 chassis. An HP Moonshot-6SFP Uplink Module is required per switch.
Common Slot Power Supply

Each Moonshot Chassis comes with a minimum of two (2) HP Common slot power supplies.

HP's Common Slot (CS) power supplies allow for commonality of power supplies across a wide range of ProLiant and Integrity servers, as well as HP Storage solutions, and are designed to provide the highest power supply efficiency without degrading system performance. HP CS power supplies are tested by the Electric Power Research Institute (EPRI) and certified through the ECOS 80 Plus power supply program. HP CS power supply options provide efficiency ratings of up to 94% and are available in only a 1200W configuration for this platform which is "right-sized" for this specific solution. All HP Common Slot power sources are UL, CE Mark Compliant, hot-plug and support redundant configurations. HP Power Advisor can be accessed at:
www.hp.com/go/hppoweradvisor.

NOTE: Mixing of power supplies in the same server is not supported. All power supplies must be of the same output and efficiency rating. If non-matched power supplies are inserted you will get errors and operation will fail.

NOTE: Redundant Power: Optional redundant power supplies can be purchased through power supply option kits (see Power Supplies for part numbers).
| | |
| --- | --- |
| System Fans | 5 Dual-Rotor, Hot-Plug Fans, N+1 |
On System Management

HP Moonshot 1500 Chassis Management module, complete with support for SL-APM

The HP Moonshot 1500 Chassis Management module manages the health of the chassis and servers and includes a command-line interface accessible via SSH to configure the chassis and server settings and control server power and UID lights, use Virtual Serial Port to servers, and to flash firmware in the chassis. It also supports IPMI management.

HP Moonshot iLO Chassis Management Firmware is the gateway for aggregated chassis management on HP Moonshot. Moonshot iLO CM firmware reduces cost and power by sharing four iLO modules across the nodes and other system components. As a single point of access to the chassis, Moonshot iLO CM firmware allows you to configure, update, and operate HP Moonshot via CLI, IPMI, and remote serial console access.
Switch Characteristics
Switch

Ports

Forty Five (45) 10/100/1000 downlink ports
Six (6) 1000/10000 SFP+uplink ports (on HP Moonshot-6SFP Uplink Module)
Support HP 1000BASE-T SFP, 10GBASE-SR SFP+, and 10GBASE-DAC SFP+ pluggable Ethernet transceiver modules.
1 RJ-45 serial console port

Physical characteristics

Dimensions:

 
Moonshot-45G Switch
14.80(l) x 6.60(w) x 1.40(h) in
37.60(l) x 16.76(w) x 3.57 (h) cm
Moonshot-6SFP Uplink
5.40 (l) x 8.83(w) x 2.22(h) in
13.71(l) x 24.96(w) x 5.64 (h) cm
Weight (packaged):

 
Switch

2.47 kg

Uplink Module
1.39 kg

Memory and processor

2 GB SDRAM
128 MB flash
Packet buffer size: 9 MB

 
Performance
Latency

.92 ?s (64-byte packets)
Throughput
210 million pps
Routing/Switching capacity

480 Gbps
Routing table size
12288 entries
MAC address table size

128000 entries