HP Launches the Powerful ZBook X2 Detachable PC
HP has just announced at Adobe's Max conference Microsoft's new MacBook Pro competitor. The 14-inch HP ZBook X2 mobile workstation will start shipping in December.
HP is labeling the ZBook as a detachable workstation and claiming it's the "world's most powerful detachable PC."
Starting at $1,749, the ZBook X2 comes with either seventh- or eighth-generation Intel Core i5 or i7 CPUs, the Intel HD 620 or UHD 620 graphibcs built into the devices CPUs or an optional Nvidia Quadro M620 graphics. The detachable has a 14-inch 3,840x2,160 (4K) touchscreen display and up 32GB of RAM. The flagship CPU, i7-8560U, comes in with a base clock of 1.9 GHz and boosts up to 4.2 GHz. Internal storage options range from a 128GB M.2 SATA SSD, up to 2TB PCIe NVMe M.2 SSD. There are also two Thunderbolt 3 ports for additional external connectivity as well as a USB 3.0 Type-A port.
Th device has four modes, Table Mode (Capture), Detach mode (create), dock mode (produce), and Laptop mode (review) allowing for a lot of versatility using its integrated stand, detachable keyboard, pen, and touch-enabled display.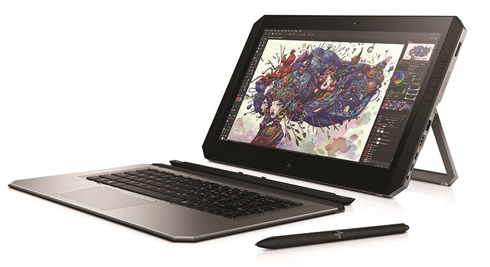 The aluminum decked backlit LED keyboard, HP says, is a full-size commercial keyboard made mobile. The keys sport 1.5mm travel and 18.7mm pitch and is detachable for additional freedom of use. Connectivity between the system and keyboard is via Bluetooth when not connected. The monitor also has three webcams: two front-facing 720p, one with IR capabilities, and an 8MP world facing camera. With the front IR camera, the device is capable of supporting Microsoft Hello.
>
HP is trying to appeal to digital media mavens with its Adobe-friendly features. These include configurations built around different Adobe apps (Photoshop, Premiere, etc.) that also include a year's subscription to Creative Cloud, an optional "DreamColor" display with 100% Adobe RGB color space, and HP Quick Keys for easy access to shortcuts for Adobe programs.
HP says it will start shipping the ZBook x2 in December.