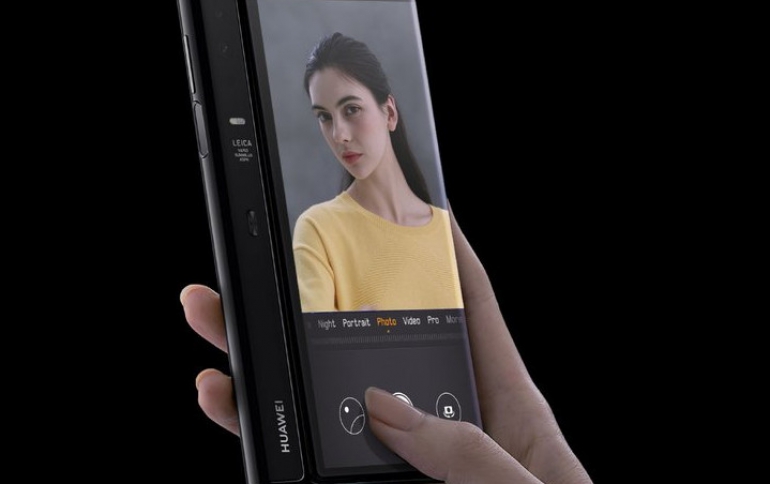 Huawei Delays Launch of 5G Mate X Foldable Phone
The Huawei Mate X, a competitor to Samsung Electronics' Galaxy Fold, is expected to be rolled out globally in September, and not this month as it was originally slated.
Speaking at the the WSJ Tech D.Live conference in Hong Kong, Vincent Pang, Huawei's head of corporate communications, said that the delay was not a result of the the ban. He said that the company is currently running certification tests with various carriers, and that they are expected to be completed in August. Speaking to CNBC, Huawei seperately said that the company is pushing back the release of its folding phone to spend more time testing the hardware and make sure the phone's mechanism is more reliable.
The Mate X has a different form of folding hinge comapred to the also delayed Samsung Galaxy Fold. The screen of Huawei's device folds out, rather than in.
But is seems that the truth lies somewherein the middle, as Huawei phones face being cut off from updates of Google's Android operating system (OS) in the wake of the U.S. blacklist that bans American companies from doing business with the Chinese firm.
Pang also confirmed that the company could roll out its Hongmeng operating system (OS) - which is being tested - within nine months, although Huawei's preference would be Google and Android.
Hongmeng is based on the version of Android that is publicly available via open-source licensing and is mainly meant for phones, Pang said. Hongmeng will also support other devices later.
Huawei has applied to trademark its Hongmeng OS in various countries, including China.
Pang denied recent media reports that Huawei was cancelling the roll out of its next new laptop and said it will still launch at a later date.
Huawei is the world's largest network-equipment maker and the recent problems are spilling over to the broader chip industry.
Broadcom has warned of a broad slowdown in chip demand, blaming the U.S.-China trade conflict and export restrictions on Huawei, and cut its revenue forecast for the year by 8%. Huawei accounted for about or 4% of the company's overall sales last year.
Micron Technology Inc's CEO Sanjay Mehrotra said at the WSJ conference on Friday that the ban on Huawei brings "uncertainty and disturbance" to the semiconductor industry.
Speaking to Bloomberg, Huawei's global vice president of marketing insights Andrew Williamson said that Huawei would invest heavily in countries where the company is "welcome, adding that rolling out 5G technology around the world "would be that much more challenging if the U.S. goes ahead with its sanctions," due to huge costs.
Huawei's company's second-quarter report should shed some light on whether the situation has affected Huawei's smartphone business.
n Europe, consumers fear that Huawei phones will quickly become out of date, and the demand for the devices has "dropped off a cliff," Ben Stanton, a U.K.-based analyst at Canalys said.