Huawei Releases New 5G Products and Solutions
At the Huawei product and solution launch in London, Huawei announced the release of its new 5G products and solutions and launched the 5G Partner Innovation Program.
Ryan Ding, Executive Director of the Board and President of Huawei's Carrier BG, delivered a keynote titled "5G, Bring New Value".
So far, Huawei has been awarded 91 commercial 5G contracts and shipped over 600,000 5G Massive MIMO Active Antenna Units (AAUs), according to Ding.
New Huawei end-to-end 5G solutions include the industry's highest-performance 5G base station that supports all scenarios and the Blade AAU with the highest level of integration. The Blade AAU can work under all sub-6 GHz frequency bands and support 2G, 3G, 4G, and 5G networks. This addresses the issue of limited space for antenna installation, and reduces the total cost of ownership (TCO) by over 30% when compared to existing solutions. Huawei is also the first vendor in the industry to provide industrial 5G modules for vertical applications.
As 5G enhanced mobile broadband (eMBB) matures, high-definition video services will drive the massive growth of 5G B2C services. 5G B2B services have also shown huge potential. Huawei and some operators have jointly released 5G white papers and explored B2B applications in order to drive 5G application in numerous industries. At the launch event, Ryan Ding showed the audience Huawei's recently-released live broadcast backpack. This backpack, embedded with a 5G module, makes live broadcasting far easier.
Ding emphasized that in the 4G era, virtually all operators provided the same network experience. However, in the 5G era, operators can provide differentiated experiences and charge users based on more metrics, including data volume, latency, bandwidth, and number of devices connected.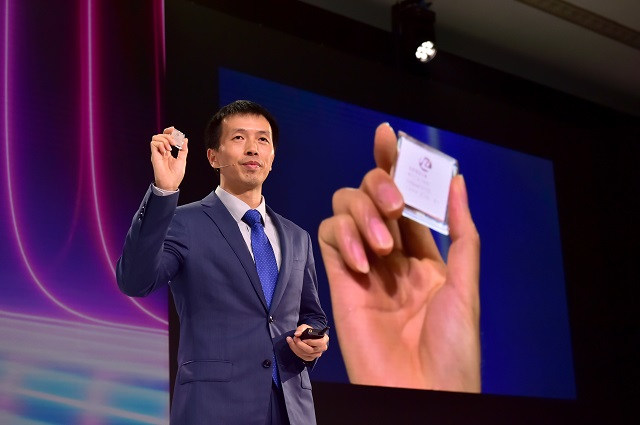 Ryan Ding also launched the 5G Partner Innovation Program. Through this program, Huawei plans to invest US$20 million into innovative 5G applications over the next 5 years, accelerating the commercial success of 5G.
Peng Song, President of Huawei's Carrier BG Marketing and Solution Sales Dept, announced the release of a 5G network.
The 5G network includes a series of product solutions, such as the simplified radio access network (RAN), smart IP network, ultra-high-bandwidth transport network, green connections, and AI-enabled end-to-end 5G services.
Simplified RAN accelerates 5G deployment: The simplified RAN features three product solutions: the 3rd-generation Massive MIMO antenna; the Blade AAU; and a 400 MHz ultra-wideband AAU. These solutions address pain points during installation, site acquisition, and scattered frequency bands to help operators deploy 5G. The 3rd-generation Massive MIMO antenna, supporting 64T64R, is both light and easy to install. The Blade AAU supports active and passive integration under all sub-6 GHz frequency bands, shortening the time required for site acquisition. The 400 MHz ultra-wideband AAU is an entire generation ahead of the rest of the industry.
Smart IP network leads the industry in supporting committable SLA: Through this solution, best-effort IP networks can be transformed into SLA-committable IP networks. With FlexE-based flexible network slicing, the smart IP network boasts the industry's highest slicing precision, at 1 Gbit/s. This is 5 times the industry average. Working with the Network Cloud Engine (NCE) and using SRv6, the smart IP network is the first in the industry to support committable latency. The solution also utilizes In-situ Flow Information Telemetry (iFIT), meaning faults can be located in minutes and the network is highly available.
Ultra-high-bandwidth transport network with the first 800G module: This solution provides a transmission capacity of 48 Tbit/s on a single optical fiber, 40% higher than the industry average.

Green connections lower the power consumption of 5G sites: The 5G AAU uses Huawei's proprietary highly integrated chips, reducing power consumption by more than 15%. The AI-enabled PowerStar solution also supports multi-standard, multi-frequency-band coordination, lowing the power consumption of the entire network by an additional 15% to 20%.
AI-enabled, end-to-end 5G delivery opens the way to a digital, intelligent era: AI is applied to the full lifecycle management of 5G. This ensures network planning becomes more precise for better user experience, network construction becomes more agile, services marketed to users are more targeted, and user experience issues are addressed more rapidly.

HiCampus solution launches globally
Huawei also released its HiCampus solution globally. Powered by Huawei's 5G, optical transmission, and AI technologies, the solution provides enterprises with wireless access, optical connections, and intelligent services across their entire campuses.
Huawei is launching a total of 10 new Wi-Fi 6 Access Points (AP) in 3 series (AirEngine 8700, AirEngine 6700, and AirEngine 5700), covering various indoor and outdoor scenarios. The flagship product AirEngine 8760 leverages the 16T16R 5G technology and 160 MHz bandwidth to increase the air interface rate up to 10.75 Gbit/s, which is twice the industry's standard performance. The Smart Antenna powered by 5G technology allows Huawei AirEngine Wi-Fi 6 to achieve 20% larger coverage radius and 100% greater (same location) signal strength compared with the industry standard.
Huawei AirEngine Wi-Fi 6 series products use Huawei's SmartRadio uplink application acceleration technology to achieve ultra-low latency within 10ms, which is 50% lower than the industry standard. By leveraging SmartRadio's exclusive lossless roaming technologies, the solution ensures zero packet loss during key service roaming and a 100% roaming success rate to prevent campus service interruption.
Leveraging 5G technology, Huawei AirEngine Wi-Fi 6 guarantees Wi-Fi 6 continuous networking at scale, enabling users to benefit from a 100Mbps Wi-Fi network at any time and from anywhere within a campus.
The Campus OptiX network solution enables fully optical networks that feature easy deployment, continuous evolution, and intelligent management in enterprise offices, educational institutions, hotels, airports and other campus scenarios.
Huawei Campus OptiX network solution integrates fully optical architecture and IP network advantages such as ultra-large-capacity IP switches and AirEngine Wi-Fi 6 series products (with optical ports) to provide ultra-broadband bearer capabilities. Without the aggregation layer, the fully optical network architecture reduces the space that the solution needs in weak-current equipment rooms, and lowers overall network power consumption by 30% compared to traditional campuses. The switching capacity of Huawei's flagship core switch is six times that of similar devices in the industry. The capacity can be further expanded on demand.
In addition, the solution uses optical fibers as the network medium. Made from silicon dioxide, fiber is more sustainable and eco-friendly than copper cables.
The HiCampus solution uses eSight, an AI-powered unified management platform, to centrally operate and maintain various devices in the campus and automatically optimize wireless radio frequencies (RFs) based on the analysis of historical network behavior and model learning.
To reduce network disruption, Huawei AirEngine Wi-Fi 6 uses independent radio probes that can accurately detect environment data and the iMaster NCE system to achieve AI-powered intelligent O&M across the entire network. This enables monitoring of network quality in real time and automatic optimization of the network to lower the rate of network faults.
To support future campus scenarios, technologies such as voice recognition, facial recognition, image recognition, autonomous driving, big data mining, and knowledge graphs will be integrated into campus management and operations. The Horizon Digital Platform for campuses integrates 10 new technologies, including AI, big data, and IoT, and provides hundreds of services covering business assets, integration, and data assets.
5G modules based on HiSilicon's pre-module Solution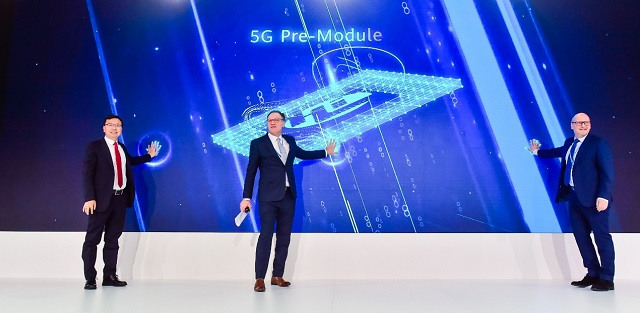 Huawei and its industry partners jointly launched a series of industrial and consumer modules developed based on HiSilicon's 5G pre-module, speeding up the large-scale adoption of 5G across a range of industries.
Huawei partnered with Quectel, Changhong Holding Group, AI-Link, China Mobile Group Device, and Smart Chip to launch 5G industrial modules, 5G+8K media modules, 5G electric power modules and more modules, accelerating the adoption of 5G in various scenarios, including smart manufacturing, multimedia, commercial display, large wall-mounted screen, energy, and transportation. In addition, consumer-level 5G modules for AR/VR and wearable devices will go on the market in March this year.