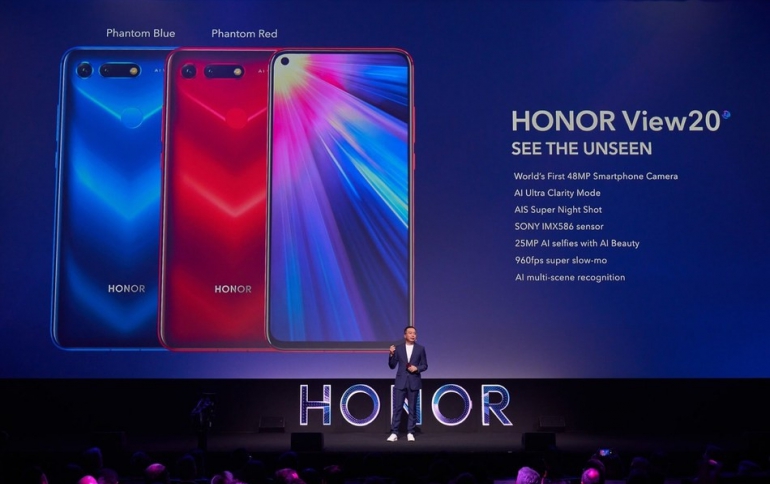 Huawei Targets European Expansion with Honor View20 Smartphone
Huawei is seeking to strengthen its position in Europe with a smartphone that offers new camera features and a lower price-tag than models from rivals Samsung and Apple.
The new Honor View20, launched in China in December, was presented in Paris on Tuesday.
The phone has a 48 mega pixel camera that can take several pictures at once and combine the best qualities from each in a single photo. It also come with a 25MP in-screen front camera, 7nm Kirin 980 AI chipset, AI Triple-Antenna Wi-Fi technology and the aurora nanotexture design.
HONOR View20's rear camera is the first to be powered by the SONY IMX586 48MP sensor, with a 1/2-inch large CMOS, and equivalent 1.6μm pixels in Quad Bayer array. The sensor, boosted by the Kirin 980 chipset, supports new 48MP AI Ultra Clarity mode to produce photos with detail and clarity.
The camera takes several 48MP pictures at once, and collates the best details from each photo to create one 48MP picture. The Kirin 980's dual-NPU processes the photo using an advanced AI algorithm.
Another rear camera, the 3D camera is capable of creating a new dimension in photography and videography, and brings greater usability and fun. The 3D camera collects information on the shapes of objects based upon the time-of-flight of light signals to enable depth sensing, skeletal tracking and real-time motion capture. This camera can turn HONOR View20 into a motion-controlled gaming console, allowing you to play 3D motion games like never before. Now, it supports Fancy Skiing and Fancy Darts.
The All-View display with a front-facing 25MP camera provides a notch-less viewing experience and a 91.8% screen-to-touch panel ratio.
HONOR View20 is also the first smartphone to use nanolithography to create a nanotexture - a dynamic V-shape color gradient with gleaming effect on the body. The smartphone's integrated 3D curved body with an arc design is only 8.1mm thick and consists of a blend of metal and glass texture.
HONOR also collaborated with Italian luxury fashion brand Moschino to create an exclusive range of products, including a co-designed Moschino HONOR View20, an embossed phone-cases featuring the iconic Moschino Teddy Bear and specially designed accessories.
In celebration of the launch of the HONOR View20, HONOR is collaborating with Epic Games. Owners of the HONOR View20 will have exclusive access to the HONOR GUARD outfit in Fortnite.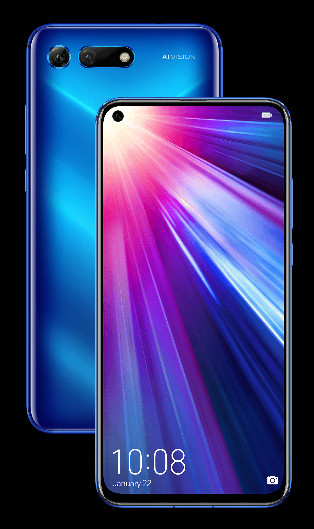 The HONOR View20 also possesses next-gen features: 7nm Kirin 980 AI chipset with intelligent dual-NPU; The Liquid Cooling System; The AI triple-antenna Wi-Fi technology prevents the signal from weakening when a user's hands cover the receiver; a 4,000 mAh battery; and large internal memory.
The smartphone also comes with AI capabilities. Its 3D camera and AI capability are capable of identifying over 100 kinds of food, and provide calorie information to help you maintain a healthy lifestyle. The AI object identify can also identify over 300 famous landmarks and 100,000 paintings from around the world.
The 6GB RAM+128GB ROM version will be available in midnight black and sapphire blue for 569 Euros, and the MOSCHINO co-designed (phantom blue and phantom red) version with 8GB RAM+256GB ROM will be available for 649 Euros.
Also at the Paris launch, HONOR released the new HONOR Watch Magic/Dream.
HONOR Watch Magic series is available in three colors: lava black, dark blue, and moonlight silver. The series is available in two colors: coral pink and white apricot. The retail price is 179 Euros.
Europe has become the second-biggest market for Huawei, making it a major region for further international expansion as the company also tries to bolster its presence in the United States.
Huawei overtook Apple to become the world's second-biggest smartphone seller after Samsung last year.