IFA 2013: Sony Unveils The Xperia Z1 Smartphone, New concept lens-style Cameras, New 4K handycam and VAIO Fit multi-flip PC
Kazuo Hirai, President and Chief Executive Officer, Sony Corporation, today unveiled the latest product offerings at the IFA consumer electronics show in Berlin.
Xperia Z1
The product offensive is led by a new flagship smartphone - the Xperia Z1. The snmartphone combines Sony's latest mobile and imaging technologies, a suite of smart social camera and entertainment applications.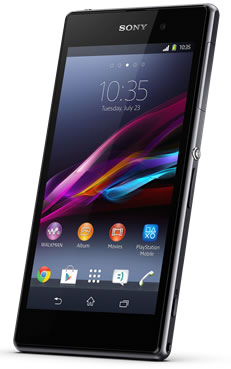 The 5" Xperia Z1 smartphone offers the same level of quality and performance as a compact digital camera. The waterproof device features Sony's "G Lens" with a 27mm wide angle and F2.0 aperture, custom made 1/2.3-type CMOS image sensor Exmor RS for mobile with 20.7MP and a BIONZ for mobile image processing engine. It also boasts a suite of Xperia Camera Applications, including live social broadcasting and a visual search function with many more available to download in the future through Sony's network of developer partnerships.
Applications at launch include:
- Social live: Broadcast moments live from Xperia Z1 to Facebook and get your friends' comments right on your screen.
- Info-eye: Visual search function that provides related information on landmarks and on items such as books or wine simply by capturing them with the camera.
- Timeshift burst: Xperia Z1 takes 61 images in 2 seconds - a second before and after pressing the shutter - so you can scroll back and forth to find the perfect image.
- AR effect: Overlay a selection of fun, customizable animations to create pictures using Sony's SmartAR augmented reality technology.
Xperia Z1 features the fully integrated Qualcomm Snapdragon 800 processor with 2.2 GHz quad-core CPU and 4G LTE. The Qualcomm Snapdragon 800 processor features the latest GPU and dual ISP for high-quality graphics, 3D games and videos. The Xperia Z1 also includes a 3000 mAh battery for a high battery performance. Sony's Battery STAMINA Mode automatically turns off functions to save power when you don't need them and restarts them when you do.
Xperia Z1 integrates PlayMemories Online, a cloud-based image and video service that is integrated into the Album application. A new 'All Syn' feature enables users to instantly auto-upload all of their photos without storage limitation.
Sony's "WALKMAN" and Movies applications are also included and provide access to more than 22 million songs on the "WALKMAN" app through Music Unlimited and more than 150K movies and TV series on the Movies app through Video Unlimited from Sony Entertainment Network.
Thanks to the inclusion of Sony's BRAVIA TV technology, Xperia Z1 features Sony's TRILUMINOS Display for mobile, creating a wider palette of natural colours. It also includes X-Reality for mobile - Sony's intelligent super resolution technology which analyzes each image and optimizes the quality to deliver sharp videos. Xperia Z1 also brings Sony's audio expertise to play with Sony's ClearAudio+ which automatically optimizes the audio experience without the need to adjust individual settings.
Xperia Z1 comes with an entertainment offer that includes five great movies plus an exclusive movie access pass to the digital release of Sony Pictures? summer blockbuster Elysium as well as a two month free trial of Sony's Music Unlimited streaming service plus much more.
Xperia Z1 also features a new application called TrackID TV, which lets users search, share and explore information from broadcasted TV shows such as cast & crew, biographies, filmography or show related Tweets.
Xperia Z1 key features
- Sony's G Lens: A lens with F2.0 and wide angle 27mm as well as 3x clear image zoom.
- BIONZ for mobile: Image processing engine with the algorithm from Sony?s digital compact cameras.
- 1/2.3-type Exmor RS for mobile CMOS image sensor with 20.7MP
- Dust and water resistant (IP55 & IP58), with acclaimed OmniBalance design featuring durable tempered glass and one-piece aluminium frame
- Qualcomm Snapdragon 800 quad-core 2.2 Ghz processor, 3000 mAh battery, 4GLTE
- Xperia Camera Applications such as Social live which broadcast to Facebook.
- Memory - RAM 2 GB, Flash memory up to 16 GB, Expansion slot microSD card, up to 64 GB.
- Available in black, white and purple colour variants
- Available globally from September 2013
Cyber-shot DSC-QX10 and DSC-QX100
Now you can shoot and share photos and HD video using your phone, with image quality and creative options to rival a premium standalone camera. The Cyber-shot DSC-QX100 and DSC-QX10 lens-style cameras can be used with the new Xperia Z1 and other smartphones - transforming your mobile into a power-packed camera.
The DSC-QX100 and DSC-QX10 attach in a moment with the supplied smartphone attachment that fits several popular smartphone models (width 54-75mm/max. thickness 13mm). Connection to your phone is made via Wi-Fi and the latest version of Sony's PlayMemories Mobile application. Linkage is even simpler for NFC smartphone owners, with easy one-touch connection made without any complicated settings.
Then you're all ready to use your smartphone's screen as a real-time viewfinder; fire the shutter, start/stop movie recordings, and adjust settings like shooting mode, zoom and Auto Focus area. Also use the phone?s screen to share the memories instantly via any of your usual phone apps.
Weighing just 105g (with battery and Memory Stick Micro), the Cyber-shot DSC-QX10 partners an 18.2 effective megapixel Exmor R CMOS sensor with a high-quality Sony G Lens. It is boasting a 10x optical zoom and built-in Optical SteadyShot combats camera shake.
The Cyber-shot DSC-QX100 features a 1.0-type Exmor CMOS sensor with 20.2 effective megapixels. Everything?s easily accessible, with extra dedicated keys for fingertip control of zoom and shutter release on the camera body. It's teamed with a wide-aperture Carl Zeiss Vario-Sonnar T lens with 3.6x optical zoom with Optical SteadyShot.
Both the DSC-QX100 and DSC-QX10 feature the BIONZ processor.
The new Cyber-shot DSC-QX100 and DSC-QX10 from Sony are on general sale in Europe from the end of September 2013.
FDR-AX1 4K Handycam
Sony has launched the FDR-AX1, enabling users to shoot their memories with a 4K resolution quality.
The FDR-AX1E camcorder records 4K and HD movies in the XAVC S format, using MPEG-4 AVC/H.264 Long GOP for video and Linear PCM for audio compression, while saving files in an MP4 wrapper. The XAVC-S format allows longer recording times, storing almost two hours of 4K video on a 64GB XQD memory card. Switching to Full HD recording can store almost 3 hours of 1920x1080 50p footage on a single card.
The FDR-AX1E camcorder features a 4K image sensor. The 1/2.3-type Exmor R CMOS sensor captures true 4K resolution (3840x2160) images and has the output speed required by the massive 4K 50 fps data stream. The image processor, identical to those found in professional 4K camcorders, processes signals transmitted from the CMOS sensor and finalizes images in real time at 50p.
Pristine imagery is also assured by the Sony G Lens. In addition, the lens offers a broad zoom range from wide-angle to 20x optical (31.5-630mm 35mm equivalent); while Optical SteadyShot keeps footage stable.
The FDR-AX1E camcorder includes three ND filters to adjust the amount of light entering the image sensor from the lens. Four settings: Off (Clear), 1/4 filter, 1/16 filter and 1/64 filter. Five paint functions (white balance, gamma, detail, skin detail and matrix) can be combined and altered.
The camcorder features two external pro-style XLR connectors to complement its high-performance internal microphone. These XLR jacks allow the addition of stereo microphones to capture balanced audio synchronized to the video for clearer ambient sounds and dialogue.
Equipped with two media card slots, the FDR-AX1E uses XQD memory cards for high-speed reading and writing of 4K video.
Playing back 4K content captured on the FDR-AX1E is simple - just connect the camcorder to a compatible 4K TV with the single HDMI cable. For those without a 4K TV, the FDR-AX1E can output 1920x1080 images to a Full HD TV, by simply changing the output settings on the camcorder.
The FDR-AX1E will offer support for the brand-new HDMI Version 2.0 specification, with an easy firmware update via the Internet. Newly released by the HDMI Forum, the HDMI 2.0 industry standard offers an option to transmit 4K/50p signal using a single HDMI cable. With this HDMI 2.0 update, the FDR-AX1E will be able to output 4K/50p images not only to 4K BRAVIA, but to other HDMI 2.0 compatible TVs and devices.
Sony also introduced a new range of XQD N Series memory cards that are ideal for 4K shooting with the Handycam FDR-AX1E.
Available from October this year, the new cards offer a read speed of 120 MB/sec and 80 MB/sec write speed on the QD-N64 (64GB version) and 60 MB/sec on the QD-N32 (32GB version).
VAIO Fit multi-flip PC 15A/14A/13A/11A
Sony also introduced a bold new line for fall including a new form factor PC, VAIO Flip PC, featuring the flexibility of a convertible with the computing power of a traditional clamshell PC, the lultra-thin Windows 8 tablet with Intel Core Processor family, the VAIO Tap 11 Tablet PC, and the VAIO Tap 21 all-in-one PC.
The new VAIO Flip PC and VAIO Tap models feature TV technology as well as Full HD 1920 x 1080 displays (select models with have a high resolution 2880 x 1620 display with 4K HDMI output ). The TRILUMINOS Display for mobile technology recreates rich natural colors. With a wider color range, the technology renders hard to reproduce reds, blues, and greens more accurately.
In addition to TRILUMINOS Display for mobile, the new VAIO PCs employ Sony's picture engine, X-Reality for mobile, which analyzes each image and reproduces lacking pixels to optimize quality for the sharpest videos.
The front-facing camera powered by Exmor R for PC CMOS Sensor developed by Sony, captures clear images even in low light conditions. Fused with Sony's ClearAudio+ technology, the new PCs deliver a clearer sound.
The unique design of VAIO Flip PC maintains the full functionality of a conventional notebook PC with the ability to switch between laptop, tablet and viewer modes. Utilizing a unique 2nd hinge, the display can flip, allowing the PC to change from laptop to tablet or viewer modes. Tablet mode is best for browsing the web, taking pictures and writing with the optional Active Pen. By flipping the display over, users can access viewer mode, a form that is the best for watching videos and movies or showing the screen to someone sitting opposite.
Available in 13-inch, 14-inch and 15-inch models, VAIO Flip PC is crafted in both black and silver aluminum and features a full pitch backlit keyboard, gesture enabled touch pad and palm rest. VAIO Flip PC includes a USB 3.0 port capable of charging personal devices on the go even when the computer is powered down or in sleep mode. In addition, there is a USB charging port housed within the AC adapter (VAIO Fit 13A Flip PC and VAIO Tap 11 models only). The VAIO Fit 13A Flip PC weighs a mere 2.6 lbs. The 14" and 15" VAIO Flip PC weigh 4.2 lbs., and 4.6 lbs., respectively.
VAIO Flip PC models are equipped with fourth generation Intel Core processors with up to Core i7, Solid State Drive (standard on 13") and Hybrid Hard Drive (standard on 15", optional on 14") as well as optional NVIDIA graphics -- up to 2GB -- (VAIO Fit 14A Flip PC and VAIO Fit 15A Flip PC).
Available in both black and white options, the new VAIO Tap 11 Tablet PC is possibly the world's thinnest (0.39") Windows 8 Tablet PC with Intel Core Processor family. Iy is featuring an aluminum magnetic full pitch keyboard/cover with a touch pad. In addition, the keyboard uses magnets to easily attach to the display when it is not being used, providing a cover and charging the keyboard in this position. VAIO Tap 11 models are also equipped with fourth generation Intel Core processors with up to Core i7 and Solid State Drives.
The new VAIO Tap 11 model comes with up to 6 hours of battery life , an SD card reader, USB 3.0 and micro HDMI as well as Intel Wireless Display (WiDi), which streams the computer screen directly to your compatible HDTV.
The 8-megapixel rear-facing camera on VAIO Fit 13A Flip PC and VAIO Tap 11 features the Exmor RS for PC image sensor and makes it possible to take images of documents that are clear enough for the computer to recognize and process text. The Exmor RS for PC image sensor technology combined with the CamScanner application enables users to take images of documents using the computer's camera as if it were a scanner and edit and organize multiple documents. CamScanner has the ability to straighten images of documents and photos taken at odd angles, allowing individuals to focus on taking photos of important material instead of lining up the perfect shot. CamScanner also uses Optical Character Recognition (OCR) to convert the words in an image to text.
Sony was first to market with the portable all-in-one segment with VAIO Tap 20. Its successor, VAIO Tap 21, is about 30 percent lighter. Now encased in aluminum with clean edges and a diamond cut VAIO logo, it features a freestyle stand which allows users to change the angle of the screen with one hand. Thanks to the internal battery, VAIO Tap 21 can be carried around the home or laid flat on a coffee table for the whole family to play games on the large screen.
Users can also stand VAIO Tap 21 upright and use it as a desktop PC with the supplied wireless keyboard and mouse.
VAIO Tap 21 comes with applications that are optimized for 10-point multi-touch operation, including Fingertapps Organizer, and a calendar app for family members to communicate digitally via posted to-do lists and recorded messages and videos. VAIO Tap 21 will be available with a Intel Core i5 or i7 processor and can be configured with a Solid State Drive or Hybrid Hard Drive.
With NFC (Near Field Communication) one-touch technology, users can stream music, download photos, and enable Bluetooth connections by simply tapping a compatible Android or Windows Phone smart phone or a wireless speaker to the new VAIO Flip PC and VAIO Tap models.
With the TV SideView app (available for free via the Windows Store) users can also search for detailed information about the movies or programs they are currently watching n thgeir TVs as well as related content. By using an optional USB IR adapter (IR built into VAIO Tap 11), users can change the channel or control the volume via the app in the same way that one would use a universal remote control. Using VAIO Remote control application, users can operate other devices that communicate via infra-red technology, such as BluRay Disc players and home theaters, from their PC.
4K home cinema projector
Sony also announced at IFA two home cinema projectors, the 4K VPL-VW500ES and a Full HD 3D home projector, the VPL-HW55ES.
The VPL-VW500ES offers DCI based 4096 x 2160 resolution. The 4K experience is created using native 4K SXRD panels that utilise Sony?s 4K expertise from the professional digital cinema market. In addition, the projector has the latest HDMI standard, HDMI 2.0, to accommodate 4K/60P content. Supporting 4K native resolution, the VPL-VW500ES also features an exclusive Super Resolution 4K upscaler called Reality Creation. This enhances high definition 1080p content, allowing viewers to enjoy 4K images with their existing Blu-ray Discs, even in 3D. Furthermore, the VPL-VW500ES has an original 4K up-scaling algorithm designed for "Mastered in 4K" Blu-ray Discs from Sony Picture Entertainment, which enable the viewer to enjoy more accurate 4K native picture quality.
The VPL-VW500ES has 1,700 ANSI-lumen brightness and a 200,000:1 contrast ratio. Its manual colour correction tool allows users to adjust the hue, saturation and brightness to obtain a picture quality customised to their tastes. Motionflow picture technology also works to deliver less blurry images when watching fast-paced, cinematic action.
The VPL-VW500ES is compact and has a front air exhaust cooling system. Its flexibility means it is cable of projecting large distances without having to alter the projector?s position in the room. The projector uses a 2.06 zoom powered lens with a wide shift range which removes the requirement for additional platform extensions in ceiling mounts. A built-in RF transmitter provides further installation flexibility with a strong wireless signal for wider coverage.
The Full HD 3D VPL-HW55ES projector is the next generation of Sony?s VPL-HW50ES, announced at IFA in 2012.
Enhanced light efficiency and an optimised optical block, enables the VPL-HW55ES projector to reach 1,700 ANSI lumen brightness. It also has an approximately 5,000 hour long lasting lamp due to its improved lamp cooling system.
An optical engine upgrade, contrast enhancer technology and Advanced Iris3 technology enable a dynamic contrast ratio of more than 120,000:1. Additional features such as Sony?s Bright Cinema and Bright TV mode, with SXRD panels, enhances the 3D image even further. The projector also has Sony?s Reality Creation technology.
The VPL-HW55ES has a built-in 3D IR transmitter. It is also compatible with an external 3D RF transmitter which provides further 3D synchronisation stability and coverage.
Both projectors have wireless HDMI compatibility as optional accessories and will be available from the end of October.
Key specs - DSC-QX100 and DSC-QX10
Model

DSC-QX100

DSC-QX10

Image Sensor

1.0 type (13.2 x 8.8mm) Exmor R CMOS sensor

1/2.3 type (7.76mm) Exmor R CMOS sensor

Effective resolution

Approx.20.2 megapixels

Approx.18.2 megapixels

Image processor

BIONZ

BIONZ

Lens

Carl Zeiss Vario-Sonnar T*, with 7 elements in 6 groups (4 aspheric elements including AA lens)

Sony G Lens, with 7 groups (including 4 aspheric elements)

Maximum aperture

F1.8(Wide angle)- F4.9 (Tele)

F3.3(Wide angle)- F5.9 (Tele)

Focal length (35mm equivalent)

(still image 4:3)

f=28-100mm

f=25-250mm

Optical zoom

3.6x

10x

ISO Sensitivity (Still Image)

ISO160-6400 (iAuto), ISO160-25600 (Superior Auto), ISO160-3200 (Program Auto), ISO160-3200 (Aperture Priority)

ISO100-3200 (iAuto), ISO100-12800 (Superior Auto), ISO100-1600 (Program Auto)

Movie record

MP4: 12MP (1440x1080/30fps)

MP4: 12MP (1440x1080/30fps)

Image stabilisation

Optical SteadyShot™ (with Active Mode for movies)

Optical SteadyShot™ (with Active Mode for movies)

Focus type

Contrast detection AF

Contrast detection AF

Focus Modes

Single-shot AF; Manual Focus; Touch AF

Single-shot AF; Touch AF

Shooting modes

Superior Auto, Intelligent Auto, Program Auto, Aperture Priority, Movie Mode

Superior Auto, Intelligent Auto, Program Auto, Movie Mode

Wireless networking

Wi-Fi: Send to smartphone / control with smartphone

NFC: One-touch remote

Wi-Fi: Send to smartphone / control with smartphone

NFC: One-touch remote

Dimensions (WxHxD)

Approx. 62.5 x 62.5 x 55.5 mm

Approx. 62.4 x 61.8 x 33.3 mm

Media card compatibility

Memory Stick Micro™ / Memory Stick Micro™ Mark 2 and Micro SD/SDHC/SDXC Memory Card (Class 4 or Higher)

Memory Stick Micro™ / Memory Stick Micro™ Mark 2 and Micro SD/SDHC/SDXC Memory Card (Class 4 or Higher)

Weight (main unit only)

Approx. 165 g

Approx. 90 g

Weight (with supplied battery and Memory Stick Micro)

Approx. 179 g

Approx. 105 g

Supplied accessories

Rechargeable Battery Pack NP-BN; micro USB cable; Smartphone Attachment; Wrist Strap; Operating Guide

Rechargeable Battery Pack NP-BN; micro USB cable; Smartphone Attachment; Wrist Strap; Operating Guide
Key specifications VAIO Fit Series
Model

VAIO® Fit 13A

Processor

Up to Intel® Core™ i7-4500U Processor

with Intel® Turbo Boost Technology

Operating System

Windows 8 or Windows 8 Pro

Memory

Up to 8GB DDR3L SDRAM 1600MT/s

Storage

Up to 512GB SSD

Screen

33.7mm (13.3") TRILUMINOS Display for mobile;

Full HD (1920x1080) with wide (16:9) aspect ratio; X-Reality for mobile; OptiContrast Panel; 10 points Capacitive touchscreen

Graphics

Intel® HD Graphics 4400

Others

Digitizer stylus, 8 Megapixel Rear Camera powered by 'ExmorRS for PC' sensor with Auto-Focus; Front facing HD web camera powered by 'Exmor R for PC'; WLAN IEEE 802.11a/b/g/n; USB 3.0 with USB charge (x1); USB 3.0 (x1); Bluetooth® standard Ver. 4.0 + HS; HDMI out; SD memory card slot; stereo speakers with ClearAudio+ mode ; Sensors (NFC, Accelerometer, Gyro, Digital Compass);Backlit Keyboard; HDMI to VGA adapter (optional); AC powered Ethernet to Wi-Fi Router(optional)

Dimensions DxHxW

Approx. 223.4 mm x 14.3-17.9 mm x 325.4 mm

Weight

Approx. 1.2kg (with standard supplied battery)

Battery life

Not available yet
Model

VAIO® Fit 14A

Processor

Up to Intel® Core™ i7-4500U Processor

with Intel® Turbo Boost Technology

Operating System

Windows 8 or Windows 8 Pro

Memory

Up to 8GB DDR3L SDRAM 1600MT/s

Storage

Up to 1TB Hybrid HDD or Up to 512GB SSD

Screen

35.5mm (14") TRILUMINOS Display for mobile;

Full HD (1920x1080) with wide (16:9) aspect ratio; X-Reality for mobile; OptiContrast Panel; 10 points capacitive touchscreen

Graphics

Up to Intel® HD Graphics 4400

Others

WLAN IEEE 802.11b/g/n; USB 3.0 with USB charge (x1); USB 3.0 (x1), Ethernet (RJ-45 Direct Port); Bluetooth® standard Ver. 4.0 + HS; HDMI out; SD memory card slot; stereo speakers with ClearAudio+ mode; Front facing HD web camera powered by 'Exmor R for PC'; Backlit Keyboard; Sensors (NFC, Accelerometer, Gyro, Digital Compass); digitizer stylus(optional)

Dimensions DxHxW

Approx. 233.5 mm x 17.9-19.7 mm x 336.1 mm

Weight

Approx. 1.8kg (with standard supplied battery)

Battery life

Not available yet



Model

VAIO® Fit 15A

Processor

Up to Intel® Core™ i7-4500U Processor

with Intel® Turbo Boost Technology

Operating System

Windows 8 or Windows 8 Pro

Memory

Up to 16GB DDR3L SDRAM 1600MT/s

Storage

Up to 1TB Hybrid HDD or Up to 512GB SSD

Screen

39.5mm (15.5") TRILUMINOS Display for mobile;

Resolution up to (2880x1620) with wide (16:9) aspect ratio; X-Reality for mobile; OptiContrast Panel; 10 points Capacitive touchscreen

Graphics

Intel® HD Graphics 4400 or NVIDIA® GeForce® GT 735M with NVIDIA® Optimus™ technology & Intel® HD Graphics 4400

Up to 2GB Video RAM Memory size

Others

WLAN IEEE 802.11b/g/n; USB 3.0 (x2), USB 3.0 with USB charge (x1); Ethernet (RJ-45 Direct Port); Bluetooth® standard Ver. 4.0 + HS; HDMI out; SD memory card slot; stereo speakers with ClearAudio+ mode; Front facing HD web camera powered by 'Exmor R for PC'; Backlit Keyboard; Sensors (NFC, Accelerometer, Gyro, Digital Compass); digitizer stylus(optional)

Dimensions DxHxW

Approx. 253.8 mm x 17.9-19.9 mm x 377.1 mm

Weight

Approx. 2kg (with standard supplied battery)

Battery life

Not available yet