Intel Brings New Experiences to Life at CES
Intel showcased the power of technology to deliver new experiences throughout daily life. From the digitization of sports, to advances in health and wellness, to unleashing human creativity through music, art, robotics and invention, the company announced a number of collaborations, products and new technologies.
Intel CEO Brian Krzanich announced a series of collaborations with industry brands that will use technology and data analytics to benefit people's overall health, fitness and athletic performance. Intel announced plans to work with ESPN and Red Bull Media House to design Intel-powered solutions that empower athletes and joint efforts with New Balance and Oakley to personalize and advance the tools people use to be more active.
Krzanich announced a multiyear partnership with The Recording Academy as part of its official "Next Generation of GRAMMY Moments" to bring technological innovation to the program so people can see, engage and be amazed by the evolution of technology in music. The first artist to collaborate with Intel will global music icon Lady Gaga.
These collaborations underscore the three trends that Krzanich said are shaping the future: the smart and connected world, technologies gaining human-like senses, and computing becoming ultra-personal.
"There is a rapidly growing role for technology that is at once transformative, unprecedented and accessible," said Krzanich. "With people choosing experiences over products more than ever before, Intel technology is a catalyst to making amazing new experiences possible, and ultimately improving the world in which we live."
He also stressed that Intel remains focused on addressing big societal challenges facing the technology industry and foreshadowed plans for a bold, new anti-online harassment effort with Vox Media, Re/code and Lady Gaga's Born This Way Foundation to promote diversity and inclusion. And he confirmed that Intel is moving beyond just microprocessors to achieve its goal of validating its broader product base as "onflict-free" in 2016.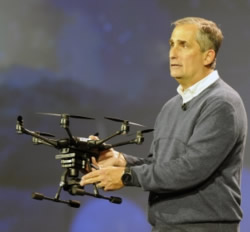 Below you see a summary of Intel's keynote at CES 2016:
Intel announced a collaboration with ESPN to showcase the latest technology set to add new levels of data-powered insights to the feats of athleticism at X Games Aspen 2016. The tiny, low power Intel Curie module will be integrated into the Men?s Snowboard Slopestyle and Men's Snowboard Big Air competitions to provide real-time data on athlete performance such as in-air rotations, jump height, jump distance, speed, and force on landing. The competitions will be televised on ESPN and ABC.

Intel and Red Bull Media House announced a global partnership that will extend into multiple genres and platforms. Red Bull Media House CTO Andreas Gall joined Krzanich on stage to demonstrate how athletes and spectators can get information about the performance instantly with the help of Intel Curie technology, with the promise of more announcements to come in 2016 and beyond.
Intel is working with Replay Technologies to deliver new viewing experiences for sports fans on broadcast, in the stadium, and in the home. Using Replay's freeD technology optimized for Intel platforms, sports fans will be able to re-watch key moments of sporting events from nearly every conceivable angle and share a custom created clip with the world. FreeD takes advantage of 6th Generation Intel Core processors and Intel server technology.

Intel and New Balance announced a strategic collaboration to develop wearable technologies that connect athletes with technology to improve their athletic performance as part of New Balance's newly formed Digital Sport division. Krzanich and New Balance CEO, Rob DeMartini, wore running shoes featuring customized 3-D printed midsoles enabled by Intel RealSense technology and disclosed plans to develop a smart sport watch available for the 2016 holiday season.
Oakley and Intel previewed the first look at "Radar Pace" - smart eyewear featuring a voice-activated, real-time coaching system. Oakley is the first Luxottica Group brand that Intel is working with to fuse premium, luxury and sports eyewear with smart technology. Engineered with Intel Innovation and crafted with Oakley's design and materials, the smart eyewear is designed to provide runners, cyclists and workout enthusiasts with in-the-moment feedback and analytics, helping to track progress and improve real-time performance.

Lady Gaga announced today her first collaboration with Intel, in association with Intel's announcement of a multiyear partnership between Intel and The Recording Academy as part of the official "Next Generation of GRAMMY Moments" program that will launch during Grammy week February 2016.
MGM Television Group and Digital President Mark Burnett joined Krzanich onstage to provide a sneak peek at the innovators vying to turn their ideas into reality - from improving health monitoring to communicating in new ways to testing the limits of our imagination - in the new competition series, America's Greatest Makers. Premiering this spring on TBS, America's Greatest Makers is part of a larger initiative that includes coverage on CNN.com, Bleacher Report and other Turner digital brands. They also launched the Digital Hub at www.americasgreatestmakers.com, which spotlights inventors, new innovations and tech tutorials, as well as weekly digital content.
In unmanned aerial vehicles (UAVs), Krzanich demonstrated the Yuneec Typhoon H with Intel RealSense technology, which enables collision-avoidance capabilities and will be available 1H 2016.
In robotics, Krzanich showcased a Segway personal transporter from Ninebot that can transform into a robot. The open platform uses the new Intel RealSense ZR300 Camera to navigate complex environments and intelligently interact with users and sensors in the home and is powered by an Intel Atom processor.
Segway plans to make the robot commercially available and will initially introduce a developer kit in second half of this year.
Krzanich highlighted plans for a new anti-online harassment effort with Vox Media, Re/code and Born This Way Foundation. The initiative will be unveiled on Jan. 7 and will help make our smart, connected world a safer, more inclusive place.