SanDisk at CES 2016
SanDisk today announced availability of the new SanDisk X400 SSD, the world's thinnest one terabyte (1TB) M.2 solid state drive (SSD). The company also expanded its SSD product line with the new portable SSD1. One Terabyte M.2 Solid State Drive
The new SanDisk X400 SSD is the world's thinnest one terabyte (1TB) M.2 solid state drive (SSD). It is the first single-sided 1TB SATA M.2 form factor with a mere 1.5mm height. The X400 SSD is designed for fast start-up and application launch, as well as for extended battery life.
In Sandisk internal testing, a 256GB X400 SSD was rated to operate for more than 5 years with a workload of approximately 40GB/day. This performance makes the X400 SSD a great solution for enterprise or other OEMs who need a reliable solution for systems that are broadly deployed in the field, such as digital signage, networking gear, point of sale (POS), and commercial PCs.
The X400 SSD also achieves increased reliability and endurance by implementing SanDisk's nCache 2.0 technology and DataGuard technology as well as additional error correction mechanisms. Based on SanDisk's 6th generation X3 Technology, the SanDisk X400 SSD uses 90% less power than a traditional hard disk drive.
In addition, the X400 SSD offers data protection through AES 256-bit compliant encryption and TCG Opal 2.0 compatibility, targeting users in the healthcare, financial services and education sectors who need to be compliant with industry regulations.
The SanDisk X400 SSD is currently available in 2.5" cased and M.2 2280 form factors at 128GB, 256GB, 512GB and 1TB capacities.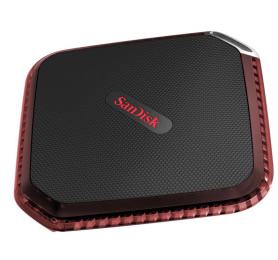 Extreme 510 Portable SSD
SanDisk's new durable, water-resistant and portable SSD has been designed for photographers and videographers.
The SanDisk Extreme 510 Portable SSD builds on the compact design of the SanDisk Extreme 500 Portable SSD. With its rubber bumper and IP55-rating for water and dust resistance, the SanDisk Extreme 510 Portable SSD stands up to hazards such as rain, spills and rough, dusty trails, while also cushioning against falls1.
In a pocket-sized design, the SanDisk Extreme 510 drive delivers transfer speeds up to 430MB/s (Seq. Read up to 430 MB/s, Seq. Write up to 400 MB/s) - outperforming a traditional external hard drive with speeds of up to four times faster. It is available in 480GB capacity.
The new SanDisk Extreme 510 Portable SSD also features SanDisk SecureAccess software with 128-bit encryption to secure files.
The SSD features a two-year warranty and is available worldwide at an MSRP of $249.99.
Upgrades for SanDisk Connect Wireless Stick and SanDisk Ultra Dual USB Drive 3.0
SanDisk also expanded its mobile storage portfolio by upgrading two of its most popular mobile flash drives. The SanDisk Connect Wireless Stick is now available in 200GB capacity, while the SanDisk Ultra Dual USB Drive 3.0 is now available in 128GB capacity with faster transfer speeds.

The SanDisk Connect Wireless Stick features the SanDisk Connect app, which enables nearly effortless management of content between devices including iPhone, iPad, iPod, Android devices, Fire tablets, Mac and PCs - offered via password-protected Wi-Fi connectivity. The app has been updated recently to support sharing of content on large displays via AirPlay with Apple TV, and Google Chromecast and Amazon Fire TV, as well as 3D Touch on iPhone 6s and iPhone 6s Plus. With the updated SanDisk Connect app, Live Photos taken on iPhone 6s and iPhone 6s Plus can also be saved to the SanDisk Connect Wireless Stick. The SanDisk Connect app is available for download through the App Store, Google Play Store and Amazon Appstore for Android.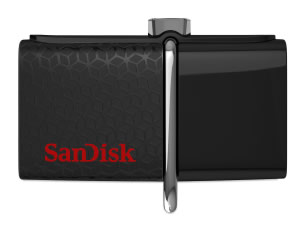 The SanDisk Ultra Dual USB Drive 3.0 is a solution for On-the-Go (OTG) enabled smartphone and tablet users looking to free up space and easily transfer photos and videos to a computer. In addition to the higher capacity, SanDisk has improved the performance of the device?s USB 3.0 connector, which can now achieve speeds up to 150MB/s from drive to computer.
When plugged in to an OTG-enabled smartphone or tablet, the OS native file explorer allows access to the SanDisk Ultra Dual USB Drive?s content. For further access, management and storage, Android device users can download and install the popular SanDisk Memory Zone app, which is available for free through the Google Play Store app.
The 128GB SanDisk Ultra Dual USB Drive 3.0 and 200GB SanDisk Connect Wireless Stick mobile flash drives are now available at Amazon, BestBuy.com and SanDisk.com at U.S. MSRPs of $59.99 and $119.99, respectively.