Intel Develops New In-Vehicle Solutions Platform
With some automakers committed to introducing self-driving vehicles as early as 2020, and Google's announcement this week about plans to deliver a self-driving car, Intel seeks for a role in the evolution with a family of hardware and software products called Intel In-Vehicle Solutions. Intel says that this new family of pre-integrated and validated hardware and software products will help automakers speed up the development of informational, entertainment, and safety applications for their cars.
Intel also unveiled automotive research projects driven by Intel Labs - Personal Vehicle Experience and Secure My Connected Car - as well as ecosystem collaborations to accelerate development of future vehicle technologies.
"To further strengthen Intel's technology partnership with the automotive industry and prepare for the future, we are combining our breadth of experience in consumer electronics and enterprise IT with a holistic automotive investment across product development, industry partnerships and groundbreaking research efforts," said Doug Davis, corporate vice president, Internet of Things Group at Intel. "Our goal is to fuel the evolution from convenience features available in the car today to enhanced safety features of tomorrow and eventually self-driving capabilities."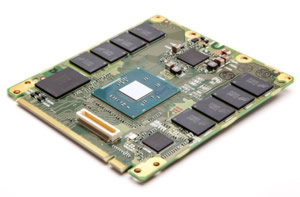 Intel In-Vehicle Solutions are a family of hardware and software products including a range of compute modules, an integrated software stack of operating system plus middleware, and development kits.
The first available products are designed for in-vehicle infotainment systems with advanced driver assistance capabilities, with future products geared for autonomous or self-driving cars.
Intel's new Personal Vehicle Experience Research Project is intended to understand the joys and pain points that people experience when using their cars. It aims to uncover what people want from their cars and how cars can be more adaptive, predictive and interact with drivers and its surroundings.
The Secure My Connected Car Research Project from Intel is working to understand the challenges and threat landscape of a connected car. The project showcases the potential vulnerability of the car's telematics system and shows how memory protection can defend critical in-vehicle hardware and software. This technology can then be paired with McAfee whitelisting technology from Intel Security to fully secure the connected car.
Ethnographers, anthropologists and engineers at Intel are working on a variety of research projects aimed at making roads safer and gaining knowledge about the safest way for drivers to interact with their vehicles.
In 2012, Intel established the $100 million Intel Capital Connected Car Fund to accelerate the automotive industry transition to connectivity between the vehicle and consumer electronic devices. The latest investment from the Intel fund goes to ZMP, developers of an autonomous driving platform and vehicles connected with sensors, radars and cameras, which will be critical to the future of driving.
Additional automotive investments that have been made by Intel Capital include CloudMade, provider of data aggregation and cloud connectivity necessary for future IVI solutions; Mocana, which delivers security to the IVI platform with a mobile app-shielding solution; and Tobii Technology, which applies perceptual computing technology to advanced driver assistance applications.
Intel will work also with its subsidiary Wind River, as well as with Green Hills Software, Mobica, Symphony Teleca, QNX, and XSe, to offer solutions and services to automakers adopting Intel In-Vehicle Solutions to ensure they can quickly deliver customized solutions to the market place.
Intel technology is already used in BMW's Navigation System Professional for all its vehicle models, the Infiniti InTouch infotainment system in the Infiniti Q50 and the Driver Information System in the all-new 2015 Hyundai Genesis.