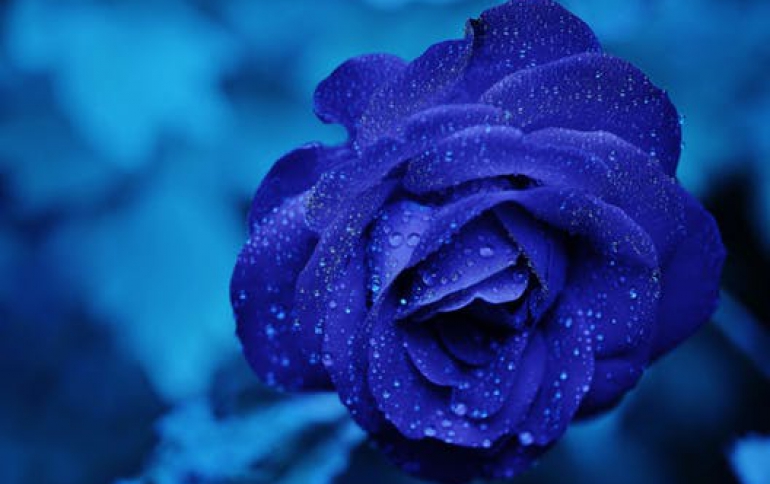 Intel Loses Some Ground Over Samsung In Semiconductor Sales
Intel has lost ground as the world's top semiconductor company to chip suppliers benefitting from the success of mobile devices, according to a study by IC Insights released on Monday. Intel remained firmly in control of the number one spot in the 1Q13 ranking. However, Intel lost some of its lead over second-ranked Samsung by registering 45% greater semiconductor sales than Samsung in 1Q13 as compared to a 68% margin in 1Q12. The only movement with regard to the top five spots in the 1Q13 ranking was that fabless supplier Qualcomm, riding the continued success of the smartphone market, reported a 28% surge in sales (highest among the top 20 companies) and moved up one position to replace Toshiba as the fourth-largest semiconductor supplier.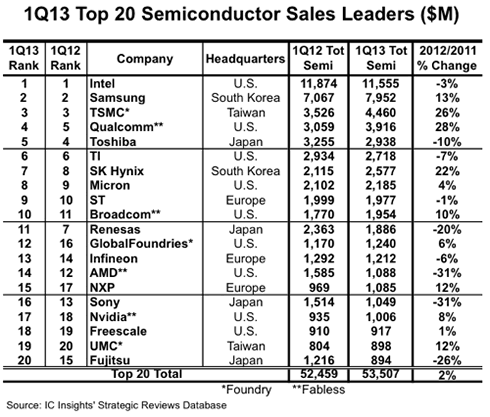 Micron?s acquisition of Elpida is expected to be completed sometime in 2Q13. It is interesting to note that if Micron and Elpida?s 1Q13 sales were combined, the new company would have had $3,060 million in total sales and would have been ranked as the fifth-largest semiconductor supplier.
According to IC Insights, there was a wide range of growth rates among the worldwide top 20 semiconductor suppliers in 1Q13. The continued success of the fabless/foundry business model is evident when examining the top 20 semiconductor suppliers ranked by growth rate. As shown, the top nine performers included three fabless companies (Qualcomm, Broadcom, and Nvidia) and three pure-play foundries (TSMC, UMC, and GlobalFoundries).
The figure below illustrates that four of the five top-20 ranked companies that registered a double-digit sales decline in 1Q13 were headquartered in Japan (Toshiba, Renesas, Fujitsu, and Sony).
However, it should be noted that the conversion of Japanese company semiconductor sales from yen to U.S. dollars, at 79.26 yen per dollar in 1Q12 versus 92.19 yen per dollar in 1Q13, had a big impact on the sales figures for the Japanese semiconductor suppliers. Thus, while Sony and Fujitsu would have logged a double-digit semiconductor sales decline even if their sales results were not converted to U.S. dollars, Toshiba would have posted a 5% increase in semiconductor sales if the figures were expressed in yen. Unfortunately for AMD, it cannot attribute its extremely poor performance to currency conversion issues.