Intel Previews New Desktop Processors
Intel at GDCC 2014 unveiled a set of roadmap enhancements, platform features and software partnerships related to desktop computing. The company outlined its desktop roadmap, which iincludes a new, unlocked 4th gen Intel Core processor, an 8-core, 16-thread Intel Core processor Extreme Edition and an Intel Pentium processor Anniversary Edition coming later this year.
Intel also confirmed plans to bring Intel Iris Pro graphics to the desktop with unlocked versions of the upcoming 5th Gen Intel Core processor family code-named "Broadwell."
The company announced partnerships with software developers such as Sony Pictures Television and Sesame Street to deliver new multi-user, multi-touch consumer applications targeted for desktop all-in-one (AIO) computers.
Last but not least, the Intel Ready Mode Technology is set to deliver a new power-friendly, readily available experience for desktop PCs.

"The desktop business is a large and important segment for Intel, and we are investing in it – reinventing form factors, experiences and products for our customers," said Lisa Graff, vice president and general manager, Intel's Desktop Client Platform Group. "Enthusiasts are the heart and soul of the desktop and they asked us to give them more. We are delivering – more cores, better overclocking, faster speeds."
At a media event today at the Game Developers Conference, Intel previewed a special unlocked 4th gen Intel Core processor code-named "Devil's Canyon." Due in mid-2014, it includes improved thermal interface and CPU packaging materials that are expected to enable significant enhancements to performance and overclocking capabilities. There is no word if this new processor is going to be placed at the same frequency as the i7-4770K or the i7-4771/4790 or the rated TDP.
For those who demand the highest processor core count and memory bandwidth on the desktop, Intel will deliver an 8-core, 16-thread Haswell-E Intel Core processor Extreme Edition in the second half of this year. This product will be supported by the new X99 chipset, will support DDR4 memory standard.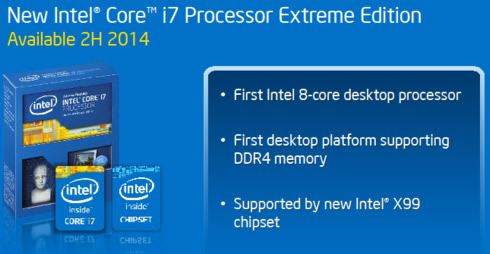 Intel also announced plans for an Intel Pentium processor Anniversary Edition commemorating more than 20 years of the Pentium brand, featuring unlocked multipliers that allow the ability to increase the core and memory frequencies independently from the rest of the system.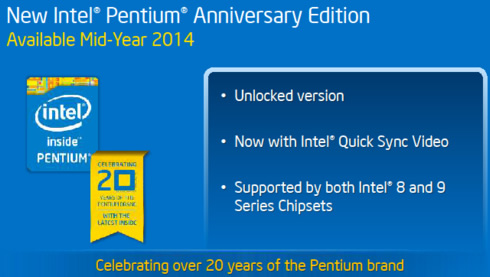 Current Pentium processors in this range are dual core models without hyperthreading, with 3MB of L3 Cache and limited HD (Haswell) integrated graphics.
Additionally, plans for unlocked desktop versions of the upcoming 5th gen Intel Core processor (socketed) with Iris Pro graphics, code-named "Broadwell," were confirmed. Intel did not clarify whether this will be a new Iris Pro for Broadwell, or just another Iris Pro HD 5200 part with a Broadwell CPU. The Broadwell chip will be made using the 14-nanometer process, which will provide a speed boost and more power efficiency.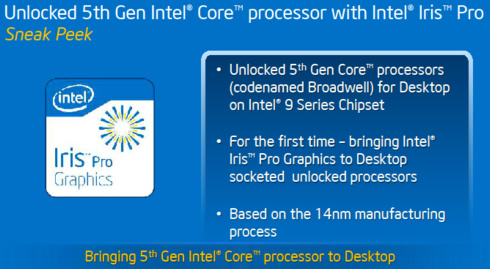 Intel has partnered with many software developers to deliver consumer multi-user, multi-touch (MU/MT) applications such as board games and educational titles perfect for the size and touch capabilities of AIO PCs.
Twelve new software titles are being announced today, for a total of more than 170 multi-user MU/MT applications now available. Sony Pictures Television's Wheel of Fortune, Legacy's Crayola's Color, Draw and Sing and Tarzan Unleashed, Sesame Street's Prankster Planet: Banana Blast Off!, Ubisoft's Chubby Kings Penguins Black Mana's Home Interior Design, Nuiteq's Snowflake ABC and Entertainment Suites, Omnivision's Halli Clack and Halli Galli, Konnect's Parking Friendzy, and Playtales's Interactive Storybook are now available in the ecosystem.
Intel also demonstrated a portable AIO PC reference design called "Black Brook," a thin and light system incorporating new capabilities. Black Brook includes an integrated Intel RealSense 3-D camera, a quad microphone array, premium audio and a full HD display.
"We're already working on the next-generation of all-in-ones," Graff said. She envisioned all-in-ones possibly having suitcase-like handles and 3D-depth cameras that can identify objects, recognize activities and improve gesture recognition."
Intel Ready Mode Technology, available on OEM systems now with many more coming throughout 2014, is a capability that takes advantage of power-saving states in Intel's 4th gen Core processor. Combined with software and board level optimizations, this technology enables OEM desktop computers that are instantly ready and always connected while sipping power. With an Intel Ready Mode Technology-enabled system combined with new and existing third party software titles, your desktop PC can be instantly ready with apps updated or enable you to automatically sync and store your photos when you walk in your home. The examples given by Intel include instant photograph synchronization when a mobile device enters the home network, or streaming across a network to a portable device such as a smartphone, tablet or portable AIO.
Intel says that Ready Mode differs from Connected Standby due to its broader OS support, enabling both traditional desktop and metro applications. All 8-series and 9-series chipsets will support Ready Mode.
According to Lisa Graff, while Notebooks outsell Desktops by 57:43, key segments within the Desktop platform are actually growing rapidly – as much as 50% year-on-year for the 'Tiny PC' space such as NUCs but also in the all-in-one market.
Intel did not talk about Broadwell chips for laptops, which it has said are due also in the second half of this year. The thinner laptop chips may come with DDR3 DRAM support because the systems don't need the high-end performance of gaming systems. The company is expecting Broadwell to be 30 percent more power efficient and faster than Haswell counterparts.