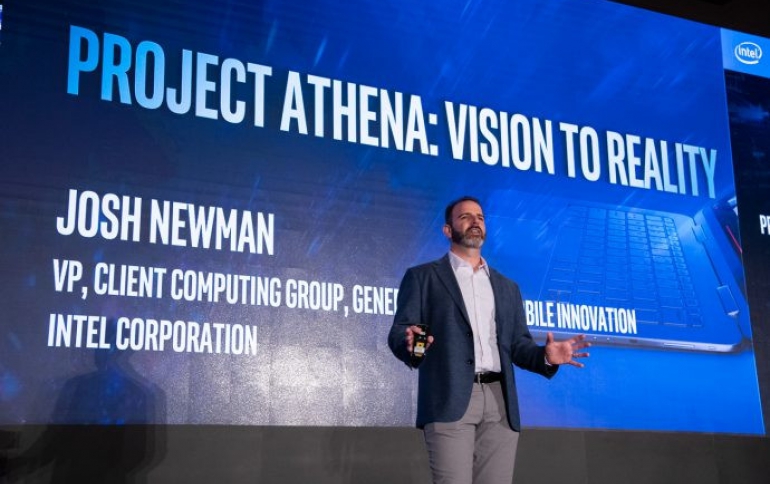 Intel Unveils Project Athena Open Labs to Expands Ecosystem of Always-connected Laptops
Intel today revealed plans for Project Athena Open Labs in Taipei, Shanghai and Folsom, California, to support performance and low-power optimization of vendor components for laptops built to Project Athena design specifications and target experiences in 2020.
Located in key ecosystem hubs and operated by teams of Intel engineers with system-on-chip (SOC) and platform power optimization expertise, the three Open Labs sites will begin operating in June 2019 to enable and optimize components.
The project was announced by Josh Newman, Intel vice president and general manager of PC Innovation Segments in the Client Computing Group, at the Project Athena Symposium and Workshop on May 8, 2019, in Taiwan.
"Across the industry, we each play an important role in delivering the advanced laptops of today and the future. Project Athena Open Labs are a critical step in enabling more extensive, day-to-day collaboration with the components ecosystem to continuously raise the bar for innovation across the platform," Newman said.
Announced at CES 2019, Intel's innovation program, code-named "Project Athena," was developed to help bring to market a new class of advanced laptops. Co-engineered with Intel's partners, the first Project Athena devices will be available in the second half of this year.
Intel engineers and social scientists have developed a set of predefined key requirements designed to enable new experiences and capitalize on next-generation technologies, such as 5G and artificial intelligence, across the full PC platform.

Every component within a laptop affects the user experience, from power consumption to responsiveness and beyond. Enabling component vendor assessment, tuning and compliance at the Open Labs will help drive consistency. Early alignment and enablement at the component level sets a foundation for OEM design readiness and implementation to help ensure systems meet Project Athena experience targets.
Project Athena Open Labs will be the first step in readying the next wave of Project Athena designs for 2020 and beyond. Independent hardware vendors (IHVs) will have the opportunity to submit parts for compliance assessment via Project Athena Open Labs, and Intel's OEM partners can also nominate preferred component vendors for participation.
Each lab is supported by experienced engineers to test, tune and provide recommendations to improve power and performance capabilities across a broad range of laptop components and categories, such as audio, display, embedded controllers, haptics, SSDs and wireless. The state-of-the-art facilities are located in regional hubs, so ODMs and IHVs can come into the labs year-round for component assessment and solution pathfinding aligned to the Project Athena vision. Following assessment, a list of optimized components will be made available to OEMs for consideration throughout product development cycles.
Asked about the future of foldable displays and whether they could eventually find their way to laptops, Newman said that Intel is
trying to understand the capability and the limitation of the foldable technology.
Intel sees "potential" for foldable screen technologies to transform laptop user experiences, Newman said, but research that includes discovering which elements are relevant to end users remains at an early stage.
Intel is also is researching the technology with leading global display makers such as LG Display, BOE Technology Group, Sharp and Samsung Display, a panel-making unit of Samsung Electronics, the executive said.
Newman said the difficulty surrounding the technology means it will take "at least some two years" for the foldable laptops to reach consumers. But if the research signals a positive user experience, Intel and its ecosystem partners will accelerate the development of such products, he said.
The world's two largest smartphone makers, Samsung and Huawei, unveiled their foldable phones earlier this year. But Samsung's delayd launch of the Galaxy Fold smartphone was a hit for the display industry. Despite Samsung's efforts to promote the durability of its flexible screens,
the technology might require more time to be ready for the market.
Intel's endeavor to explore transforming how laptops look also comes as the PC and server chip king suffers an industry downturn, cutting its forecast for the full year and current quarter on April 25.
The U.S. company has battled manufacturing strains since the second half of 2018 that led to a shortage of central processing units in the market, while many personal computer makers needed to turn to Intel's smaller rival, Advanced Micro Devices, for chip supplies.
The PC industry dominated consumer electronics in the 1990s and 2000s, but worldwide shipments have declined for seven straight years since 2012 amid the rise of smartphones and tablets.
Though this contraction has slowed during the past three years, dropping a mild 0.4% to 258.49 million units in 2018, PC makers and suppliers are seeking new catalysts such as foldable screens to revive the industry.
PC-related business still produced more than 50% of Intel's revenue in the first quarter of 2019.