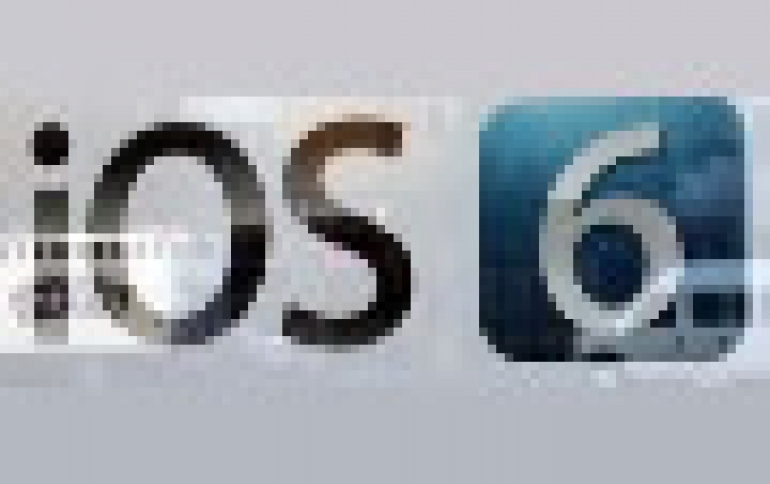 iOS 6.0.1 Software Update Relased
Apple has released the first update for its iOS 6 operating system. The iOS 6.0.1 contains improvements and bug fixes. Specifically, the new software fixes a bug that prevents iPhone 5 from installing software updates wirelessly over the air. It also corrects an issue affected the keyboard and occasionally horizontal lines were displayed across it. In addition the update promises improved WPA2 WiFi connectivity for the 5th generation iPhone 5 and iPod touch and also fixes an issue that could cause camera flash to not go off.
The changelog also includes the following:
- Resolves an issue that prevents iPhone from using the cellular network in some instances
- Consolidated the Use Cellular Data switch for iTunes Match
- Passbook pass details from lock screen
- Fixes a bug affecting Exchange meetings
The update is available via iTunes and wirelessly.
Along with the release of iOS 6.0.1, Apple released updates for Safari, iPhoto, and Aperture.
Safari hit version 6.0.2 and mainly patches security issues.
New features for
iPhoto v9.4.2
, include:
- Photos now can be added to shared streams or My Photo Stream by dragging them to "Photo Stream" in the source list
- Multiple email addresses can now be copied and pasted in the "Shared with" field for shared streams
- When more than five subscribers "Like" a photo in a shared stream, their names are now displayed correctly
- Contextual menu now includes an Import command to import all the photos contained in a shared photo stream
- Addresses the reliability of Shared Photo Streams when switching between iPhoto and Aperture with the same library
- Fixes an issue that could prevent Microsoft Outlook from being used to email photos from within iPhoto
- Updated national holidays are available for use in printed photo calendars
- Includes stability improvements
Aperture 3.4.2
:
- Photos received via My Photo Stream or shared streams can now be added directly to other shared streams
- Multiple email addresses can now be copied and pasted in the "Shared with" field for shared streams
- When more than five subscribers "Like" a photo in a shared stream, all their names are now displayed correctly
- The Info panel for a shared stream now includes an Unsubscribe button
- The status line in the toolstrip now displays the number of new photos added to a shared stream
- Faces are now properly detected on photos imported into a library from a shared stream
- Adjusted photos added to shared streams are now published with EXIF metadata properly preserved
- Addresses the reliability of Shared Photo Streams when switching between iPhoto and Aperture with the same library
- Custom keyboard shortcuts are now properly preserved when upgrading from earlier versions of Aperture
- Double-clicking a photo in Viewer-Only mode now correctly toggles to the Browser view
- Addresses a problem that could prevent the Viewer from displaying images with correct color after Auto White Balance and Auto Enhance are applied
- Addresses an issue that could cause JPEGs exported with a custom ICC profile to render incorrectly
- A dialog now displays progress when deleting large numbers of photos using the Empty Aperture Trash command
- Fixes a problem that could cause duplicate detection on import to fail when the "Auto-Split Projects" option is enabled
- RAW files are no longer displayed in the Import window when the "JPEG files only" option is enabled
- Key photos made from panoramic images are now displayed at high resolution
- Addresses a problem that could cause the Info panel in the Inspector to display the wrong metadata view
- Fixes an issue that could prevent Microsoft Outlook from being used to email photos from within Aperture
- Improves stability when working with AVCHD video files
- Fixes a problem with using the Zoom navigator on a second display - Addresses issues that could cause web journals to export incorrectly
- Includes stability improvements