Latest Skype Is Connected With Outlook
Microsoft's today rolled out a new version of Skype for Windows Desktop
version 6.1
, now with Outlook integration and a visual update to the toolbar. The updated version is for PCs running 32- and 64-bit versions of Windows XP, Vista and Windows 7.
In short, the new software allows users to send a Skype instant message, start a free Skype to Skype call, or make a call to any mobile or landline - all within Outlook.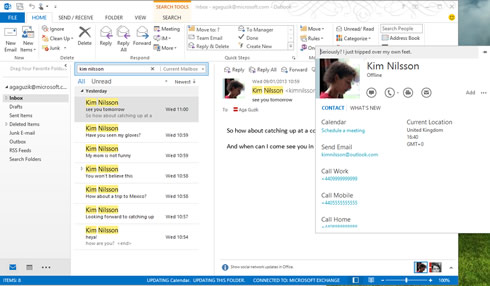 Micrsoft's Skype team has integrated Skype and Outlook to display contacts' online status, contact information and mood message within the Outlook contact card.
When you want to call someone on their mobile or landline from Outlook, Skype will initiate the call for you. You can call anyone as long as you have their contact information in Outlook, but you don't need to be friends on Skype. You can use your existing Skype credit or subscription to reach them.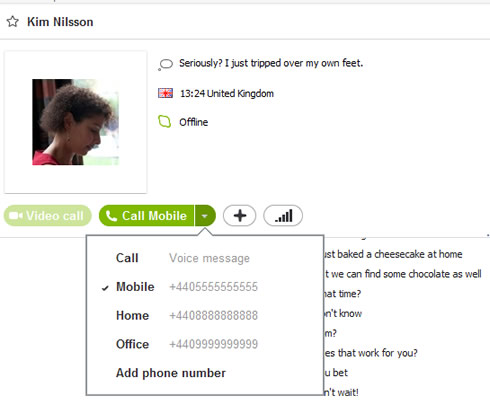 You can also instant message, audio or video call with anyone who is already in your Skype contacts list from Outlook. This feature works with Outlook 2010 or higher and enables you to connect over Skype when email details match.
Besides the Skype integration with Outlook, Skype 6.1 allows you to add a contact in Skype easier. You can now add someone by searching for them directly out of your contacts list. If they're not in your contact list yet, results will come up so you can add them in 2 clicks.
In addition, Skype 6.1 allows you to add a new person directly from the list of available results if they're not yet in your contact list.
Finally, Microsoft has updated the account information area to make it easier to navigate around your account data.
Earlier this week Microsoft officials sent notes to some Live Messenger users to remind them that Microsoft is planning to pull the plug on its Live Messenger service and replace it with Skype. The date when this will happen, according to those who received the email, is March 15. Microsoft is prompting Live Messenger users to merge their contact lists.
Microsoft's Skype unit also updated Skype for Mac to version 6.1 on January 10. The Mac update allows Skype users to dial numbers from Safari on Mac, and adds an improved user-profile view.