Lenovo Chromebook Duet Now Available in North America
The Lenovo Chromebook Duet, one of the thinnest Chromebooks out there, hits the North America market today.
Designed for mobile productivity, the 2-in-1 detachable Lenovo Chromebook Duet has a 10.1-inch screen and comes with a detachable keyboard.
Made from aluminum alloy, the device sports an adjustable stand cover in a design that incorporates a removable back cover of fabric featuring a hidden kickstand with a 135-degree free stop. Combined with a detachable keyboard, this smart configuration allows for three separate modes designed for typing (with the keyboard); watching (with the stand cover); or just browsing (holding in your hands like a tablet by detaching the keyboard).
Switching from laptop mode to tablet mode on the Lenovo Chromebook Duet is as simple as detaching the keyboard. And with the latest Chrome OS update, the Lenovo Chromebook Duet is even easier to navigate with touch, while further improving on its multitasking functionality. Updates such as the new "tab strip" on Google Chrome will be coming to the Lenovo Chromebook Duet first — and with good reason. The Lenovo Chromebook Duet is also compatible with USI Stylus pens for when you want to take notes or sketch.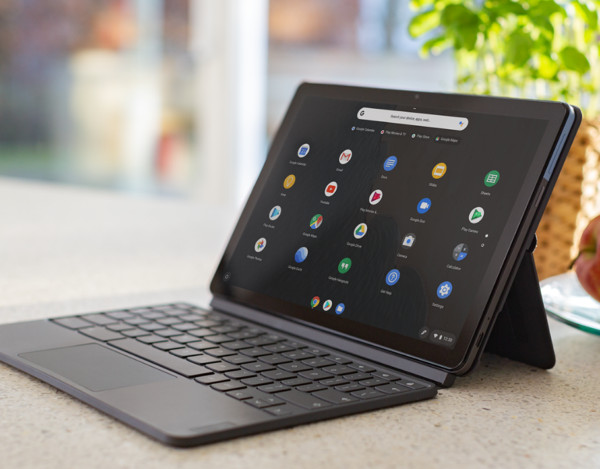 The keyboard's tactile keys feature an 1.3 mm of key travel, along with one of the longest pitches (18mm) on a 10-in device keyboard, so you won't feel cramped as you type. The one-piece trackpad is also a nice size at 87mm x 49mm.
Taking away the keyboard and activating tablet mode makes the Lenovo Chromebook Duet a touch-first device with its 10.1-inch high-definition display and four-sided narrow bezels. Meanwhile, the 1920×1200 IPS all-screen FHD display with 400 nits, dual speakers and dual mics make watching shows, browsing and gaming a much more engaging experience.
Weighing in at less than a pound and 0.29 inches thick, this device is lighter and thinner than many tablets, while staying effortless to hold and carry around. And with up to 10 hours of battery life2 you can take it nearly anywhere without low power anxiety.
The Lenovo Chromebook Duet also comes with a number of smarter attributes, such as Instant Tethering to your phone and offline access to productivity applications. And the newest Chrome OS update extends the "picture-in-picture" feature to all Google Play Store apps. That means you can minimize any video app (or other app) such as YouTube and Prime Video™, and work on something else while continuing to watch the minimized video.
The Lenovo Chromebook Duet is available now starting at $279.993 on www.lenovo.com, Best Buy and soon at Walmart.