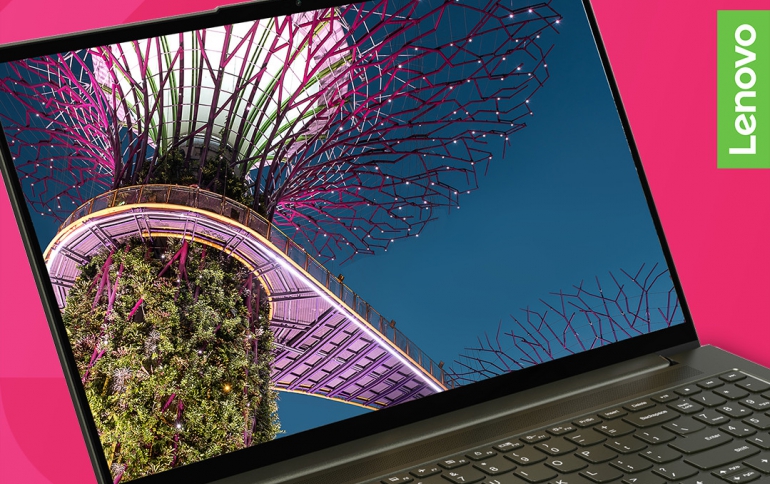 Lenovo Details Creator Series, Gaming Devices and NEC Partnership
At CES, Lenovo introduced its Creator series, gaming lineup and new devices from its NEC partnership.
The Creator series is aimed at PC-based users who enjoy photography, digital storytelling and dabbling with creative software tools and cool equipment. It's this special "prosumer" group of hobbyists, freelancers and social media buffs that inspired this Creator series of Windows 10 PCs and monitors that are unveiling at CES. But each is also designed to help writers, artists and designers collaborate and use technology to work on projects, while offering the high-performance productivity tools needed for a day job.
The series includes two portable laptops, a powerful desktop tower and two high definition 27-inch monitors.
At the top of these new devices is the Yoga Creator 7, which comes with up to 10th Generation Intel Core i7 processors (coming soon), NVIDIA GPUs and is 4.18lbs (1.9kg) and 0.64 inches (16.4mm) thin. With the help of artificial intelligence, Lenovo's Intelligent Cooling feature adjusts itself to the user's performed tasks to cool and optimize battery life of up to 20 percent. Artists and designers will also appreciate the 15.6-inch Full HD optional glass display with 100% sRGB color gamut that offers the full range of Pantone Matching System colors. Lenovo Smart Assist enables hands-free login and auto-logoff via the infrared camera with Windows Hello or its integrated fingerprint reader. It has up to 13 hours of battery life with Rapid Charge that provides up to 80% battery life in one hour of charge when working on the go.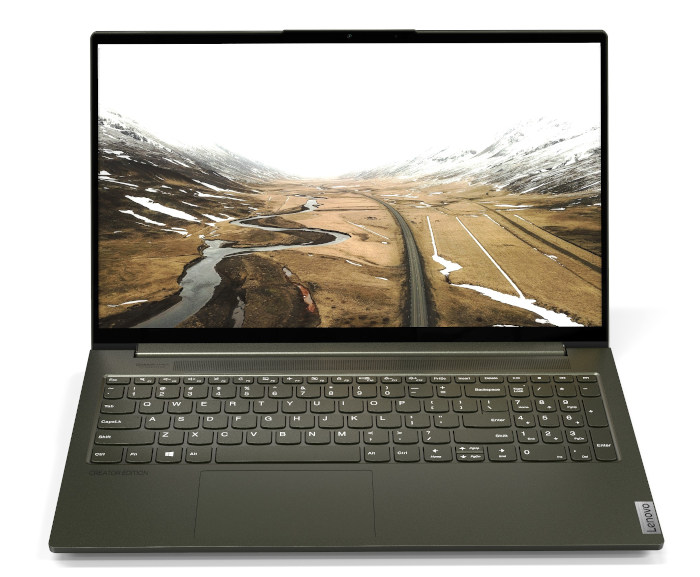 Also coming later this year to Yoga Creator 7 and to Lenovo PCs with Windows 10 are even more Alexa features such as the ability to broadcast an announcement throughout your home on active Alexa-enabled devices and a new Smart Light accessory that illuminates when Alexa is listening.
The Lenovo IdeaPad Creator 5 also has up to a 10th Generation Intel Core i7 processor and a 15.6-inch Full HD in-plane switching (IPS) display with 100% AdobeRGB. And it's also powered by the latest NVIDIA GPUs and Studio Drivers, which work well for streaming vlogs, along with the laptop's built-in HD webcam and integrated privacy shutter. It weighs in at around 4.85lbs (2.2kg), with up to 16 GB DDR4 of memory and 1TB PCIe SSD of storage.
Available in its Dark Moss color, it's the ideal laptop for creating graphics and video on the go with up to 8 hours of battery life with Rapid Charge.
The Lenovo IdeaCentre Creator 5 is Lenovo's multipurpose desktop PC offering content creators the silent operating thermals they need as they unleash their creativity. It has up to the latest Intel Core i9 processors and up to 16GB DDR4 of memory, premium Dolby Audio speakers and up to NVIDIA GeForce RTX 2060 GPUs, which will come in handy for video editing. It'll start at $1,099.99 and is expected to be available in October 2020.
Designed for content and media creators, the new Lenovo Qreator 27 Monitor has a 27-inch 4K UHD (3840 x 2160) IPS Smart Crystal Sound display and a four-sided near-edgeless infinity screen design. Content creators will find immersive sound effects with the Smart Crystal Sound Display. They can also manage productivity with the Smart Power function that optimizes power consumption by identifying which compatible devices are charging when tethered to the monitor to allow the right amount of power distribution to each. Photo retouching and video editing will be a snap when you view colors the way they were always meant to be seen, with the high-quality natural color range of the Lenovo Qreator 27 Monitor with 10-bit color depth, 98% DCI-P3 color gamut and the support of more than 1 billion colors. The one-cable solution simultaneously delivers power, data, video and audio signals, making connections to laptops, smartphones and other compatible devices seamless. Plus, enjoy the convenient wireless charging function built into the base. It starts at $899.99 and is expected to be available in March 2020.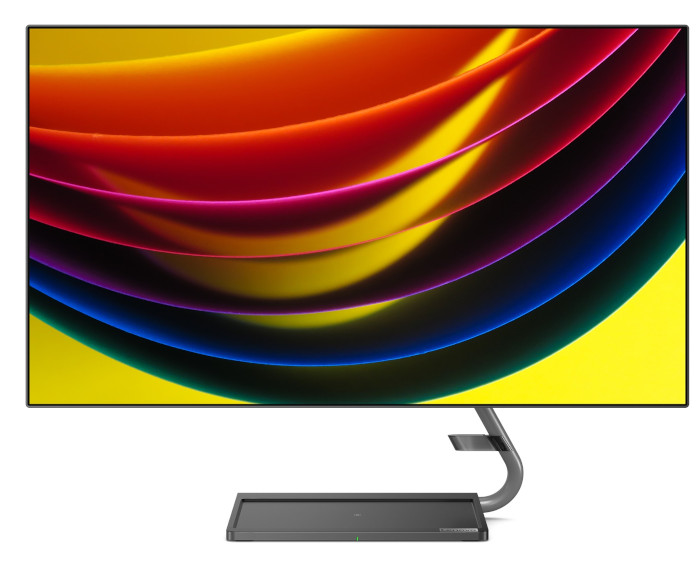 With the new premium Lenovo Q27h Monitor, users can switch between entertainment and their latest creative project. Its 27-inch QHD (2560 x 1440) provides IPS high-resolution ​and 350 nits of brightness. Like the other monitor, it also enables the right distribution of power to different devices for fast audio signal, data and video transfers—all simultaneously. The four-sided near-edgeless bezel brings a noticeably wider viewing experience when playing the hottest gaming titles in your spare time with super-fast 4ms response time, and a smooth 75Hz refresh rate to reduce motion blur in the game. It starts at $349.99 and is expected to be available in April 2020.
North America Pricing and Availability
The 15-inch Lenovo Yoga Creator 7 is expected to be available in select markets, not available in North America.13
The 15-inch IdeaPad Creator 5 is expected to be available in select markets, not available in North America.13
The IdeaCentre Creator 5 will start at $1,099.99 and is expected to be available starting October 2020.13
The 27-inch Lenovo Qreator 27 Monitor starts at $899.99 and is expected to be available starting March 2020.13
The 27-inch Lenovo Q27h Monitor starts at $349.99 and is expected to be available starting April 2020.13
A joint venture company of Lenovo and NEC Corporation, NEC Personal Computers, also announced three new NEC LAVIE devices, which will be available in the U.S. starting this spring. Aimed at professionals on the move, the LAVIE Pro Mobile weighs in at just 1.85 pounds, with up to 15 hours of battery life.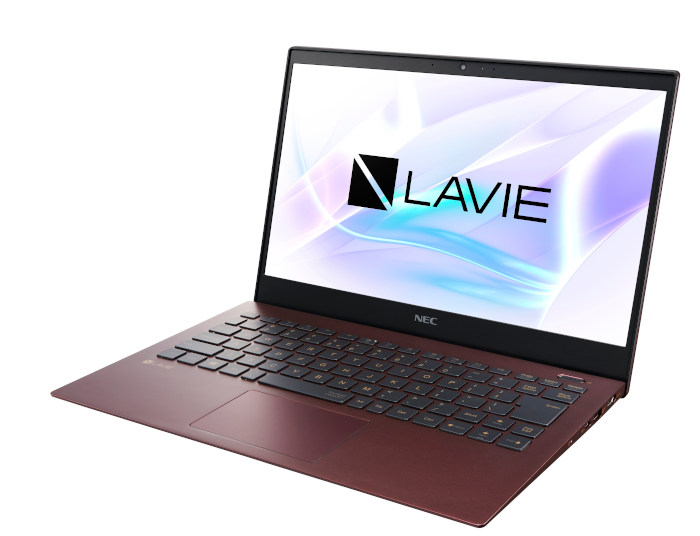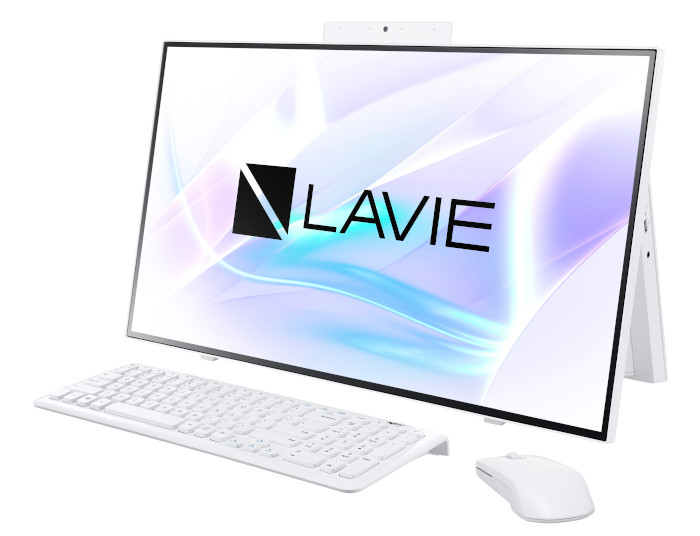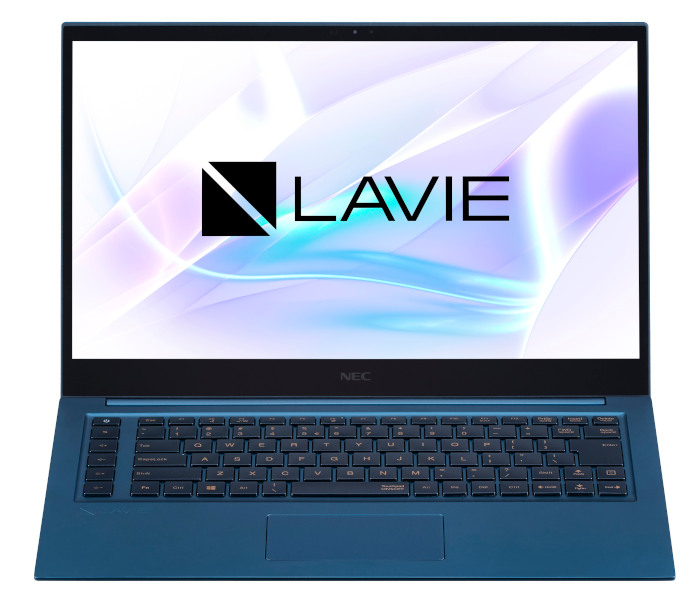 The new LAVIE Home All-in-one desktop comes with a Crystal Sound Display that delivers an immersive experience with high-quality sound emanating from the screen, simulating a true theatre experience.
The blue glass top LAVIE VEGA laptop brings together key features of both of these devices, along with a Yamaha sound system.
Smarter Lenovo Think Devices
Lenovo also announced the all new ThinkCentre M90a All-in-One (AIO) desktop, the 1000-nit ThinkVision Creator Extreme and the ThinkVision T34w-20 curved monitor. In adition, the latest ThinkPad X1 laptops continue the focus on incremental improvements for smarter productivity. The ultraportable business laptops will be powered by 10th Gen Intel Core vPro processor based systems coming later in 2020 and feature display options including a 4K HDR display with Dolby Vision or a bright 500 nit FHD PrivacyGuard display.
ThinkCentre M90a AIO
The latest all-new ThinkCentre M90a AIO features:
10th Gen Intel Core processors and a 23.8-inch FHD display. Modern Standby for instant access to the latest messages and Dolby Atmos audio.
An 23.8-inch FHD display with optional PrivacyGuard to protect sensitive data. Furthermore, software can automatically blur the screen when the user turns away from the display. The IR Camera with ThinkShutter blocks the lens to ensure you are only seen when you want to be, and the camera can also provide face recognition biometric login through Windows Hello.
The ThinkCentre M90a AIO is designed for a premium user experience with a common Think brand ID with ThinkVision displays. Connect a second ThinkVision monitor and the narrow bezels and shared look and feel provide a clean and consistent design experience. The hidden cable management system is integrated into the ergonomic stand and provides cable routing within the stand cover to provide a clean desk AIO solution.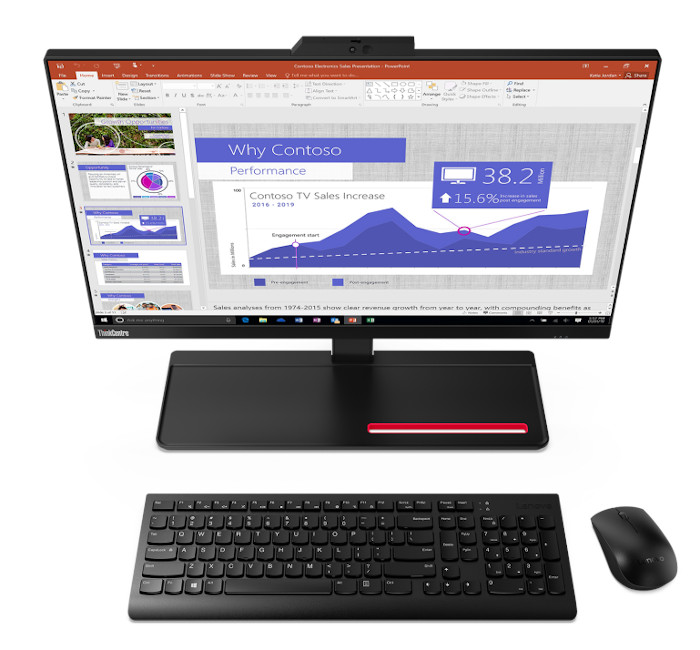 Lenovo's latest selection of displays is ranging from 24-inch FHD up to 4K mini-LED HDR display.
The new ThinkVision Creator Extreme is a 27-inch HDR1000 compatible display that delivers lifelike images thanks to 1152 mini-LED zones and 10,368 LEDs for dynamic local dimming. Designed for professional content creators, the display also includes factory calibrated color accuracy with 99% DCI-P3, 100% sRGB and 100% BT.709 color gamut. The slim design contains the latest in port connectivity with HDMI 2.0, DP1.4 and USB 3.1 Type-C Gen 2 ports with up to 90W delivery to compatible devices. Creator Extreme also features Smart Power that keeps a check on and regulates power delivery ensuring secure device connectivity via USB Type-C.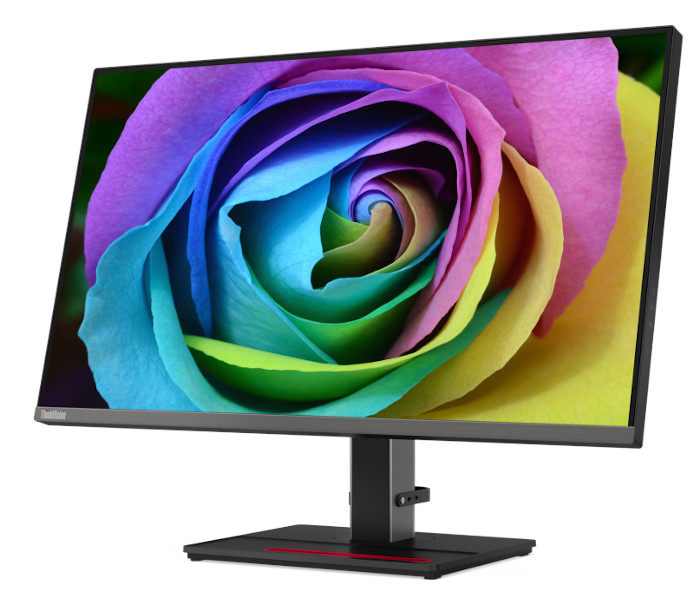 The new ThinkVision T34w-20 offers a 34-inch 21:9 1500R curved display with 3440 x 1440 resolution and a USB Type-C one cable solution, with Smart Power, that delivers up to 75W power, data and video throughput.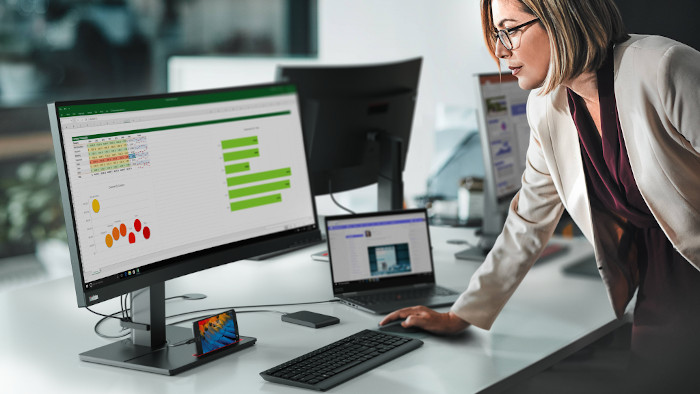 ThinkVision P27h-20 has near-edgeless borders on all sides, QHD clarity and integrated speakers. The one-cable USB Type-C solution with Smart Power offers up to 90W power delivery, ethernet passthrough, audio, video and data. Multiple displays can be simply daisy-chained together using the DisplayPort.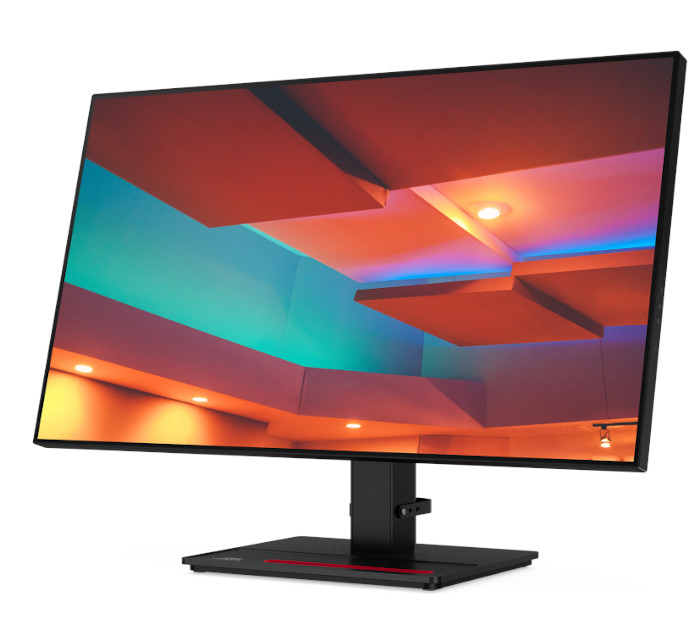 ThinkVision T24v-20 includes a Full-HD IR camera which supports instant and secure facial recognition login with Windows Hello and remains secure with ThinkShutter camera cover. VoIP meetings become a breeze with dual-microphones and integrated stereo speakers or connect headphones to the 3.5mm audio port for more privacy. The 23.8-inch display provides an intuitive user experience with adjustable angles for the camera and ergonomic stand.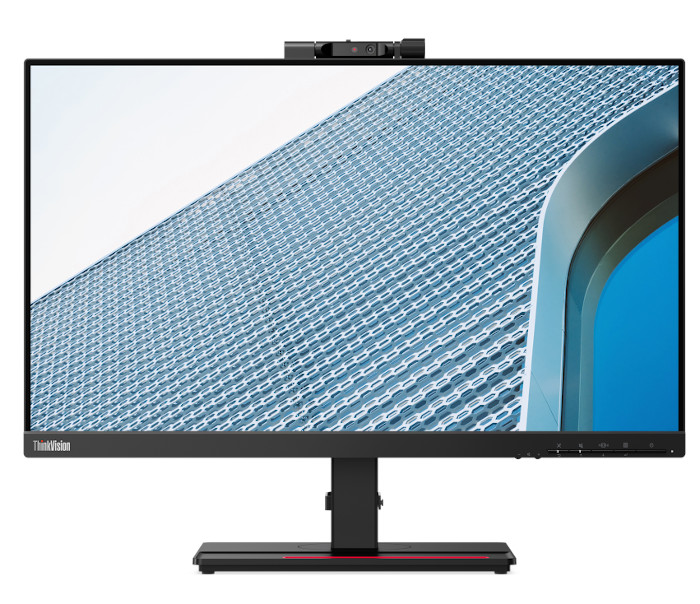 The latest ThinkPad X1 Carbon and X1 Yoga offer Mil-Spec tested build quality with a keyboard that offers the best in typing comfort and includes new unified communications function row buttons for instant Voice-over-IP access. Lenovo's currently available ThinkPad X1 Carbon is part of Intel's Project Athena innovation program. The company will launch these new platforms with the plan to meet the program standards for PC experience targets and hardware specification for responsiveness, battery life and instant wake. Combined with Dolby Atmos audio and optional Dolby Vision supported displays, the latest ThinkPad X1 laptops are productivity powerhouses.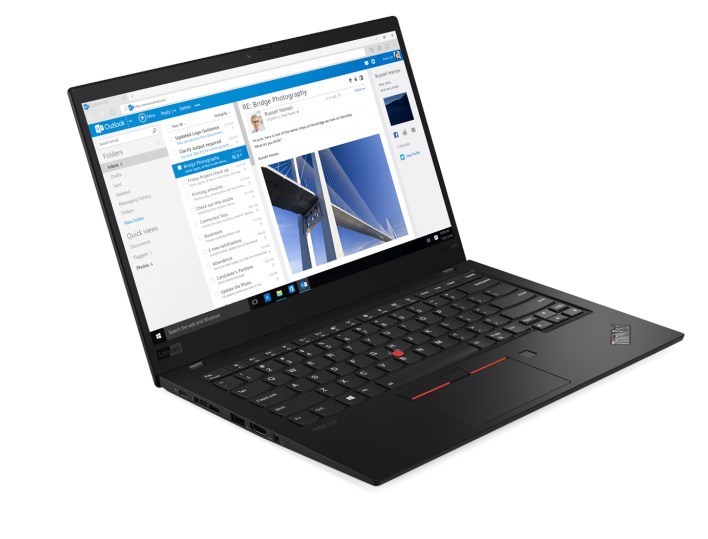 In addition to being secured-core PCs, ThinkPad X1 laptops are protect by Lenovo's security solutions portfolio, branded ThinkShield, providing offerings to safeguard users from sophisticated cybercriminals. For example, both ThinkPad X1 laptops can include ThinkPad PrivacyGuard which protects the end users screen from prying eyes. ThinkPad PrivacyAlert is a unique software feature that warns users if anyone is looking at their screen, and if so, it will automatically turn on PrivacyGuard on supported displays.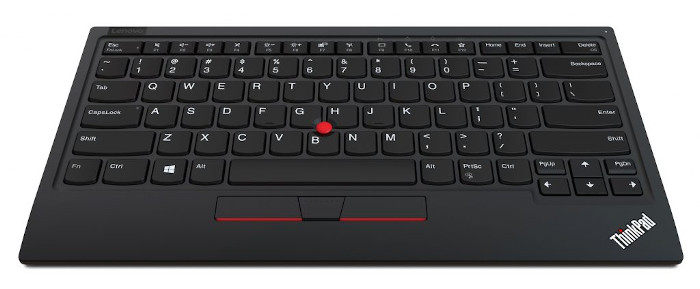 ThinkPad is renowned for its keyboard, but what if you have your laptop docked and connected to an external display? The new ThinkPad TrackPoint Keyboard II mirrors the same design and function and provides a familiar touch and feel. Connect via 2.4Ghz wireless or with Bluetooth 5 made easy through Microsoft Swift Pair in Windows 10 for a cable-free desk environment. The new rechargeable keyboard offers up to two months battery life on a single charge and just fifteen minutes of charging via USB Type-C delivers up to a week of life. ThinkPad Trackpoint Keyboard II can connect to up to two devices with support for Windows and Android and also includes 6-point entry for the visually impaired.

Pricing and Availability
ThinkPad X1 Carbon Gen 8 is expected to be available later in 2020, starting at $1,499.
ThinkPad X1 Yoga Gen 5 is expected to be available later 2020, starting at $1,599.
ThinkCentre M90a AIO is expected to be available from June 2020, starting at $1099.
ThinkPad TrackPoint Keyboard II is expected to be available from May 2020, starting at $99.99.
ThinkVision Creator Extreme is expected to be available from April 2020, starting at $2,499.
ThinkVision T34w-20 is expected to be available from March 2020, starting at $799.
ThinkVision P27h-20 is expected to be available from March 2020, starting at $499.
ThinkVision T24v-20 is expected to be available from April 2020, starting at $264.